Joined

Oct 4, 2021
Messages

520
Reaction score

713
Location
Hi All, another 'sharing my experience so maybe you'd want to do it differently or not at all' thread, haha.
I have a decent folding poker table but often I'd just like to set things up on and use the dining room table. I've been using beach towels and more recently, a Mexican blanket but wanted to take a step up from that.
I bought a table mat -
https://www.discountpokershop.com/roll-poker-table-top-green-p-603.html
it fit Ok and was rock solid/steady but it was a tad small (table is a little over 40" wide and the mat was 35" wide) and only 2-2.1mm thick and hard (so I wasn't happy about the increased difficulty in picking up cards from the surface). Was able to return it (thanks for the heads up Offalo) for a full refund.
Then I looked into thicker softer rubber mats - gaming mats were kind of pricey and AFAIK the PCF mats aren't currently available. I decided to give cheapy yoga mats + cheapy speed cloth from Amazon + 3M 77 adhesive spray a shot.
https://offerup.com/item/detail/1322714834
(these are 27" wide)
https://offerup.com/item/detail/1299308923
(these are 32" wide)
https://www.amazon.com/YH-Poker-108X60Inch-Section-Two-Tone/dp/B0791FX7X1
My intentions are to make roll up poker mats for the dining room table and for a couple of standard 6' plastic folding tables (that's still pending).
Still need to work on these two (showing one of the two)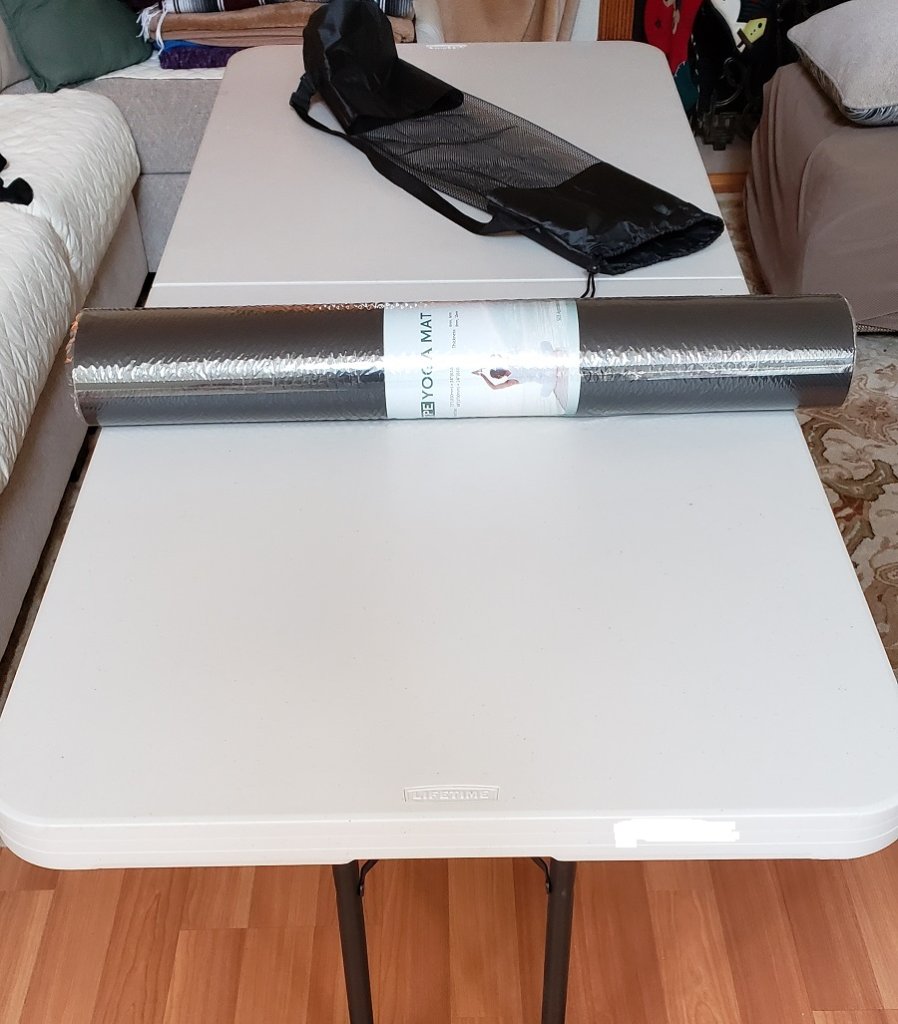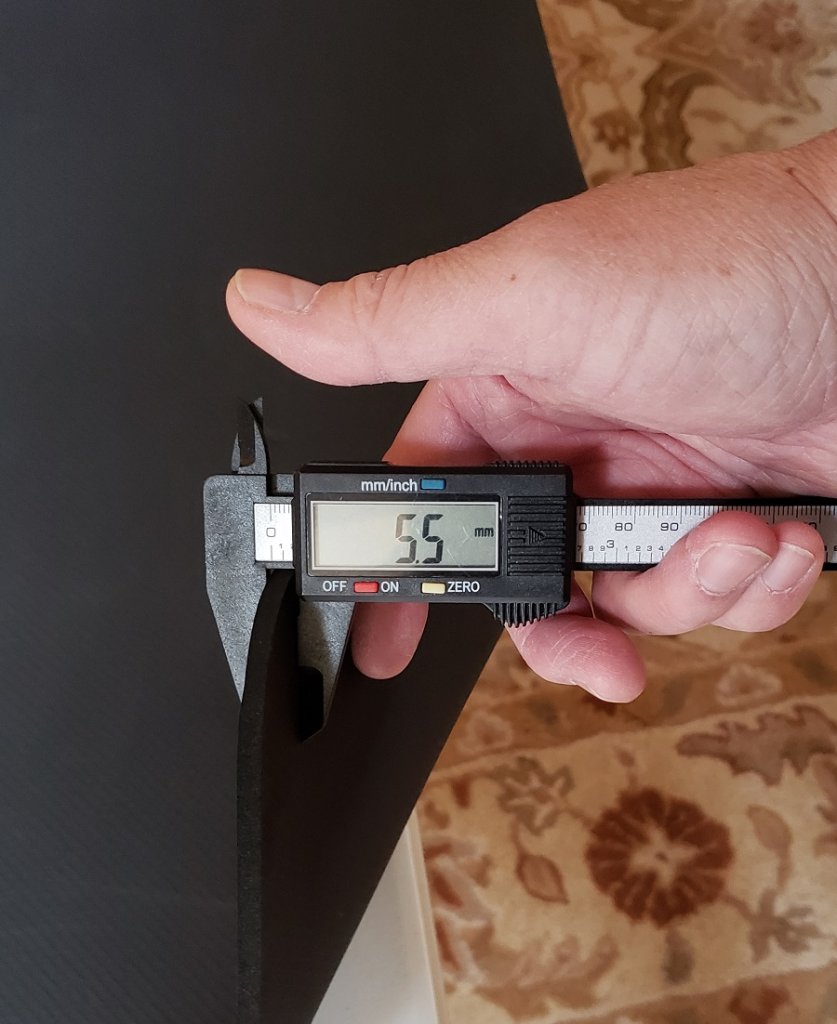 Here's the one just finished yesterday:
Table and yoga mats. Many cheap yoga mats are 24" wide, it was a little harder to find cheap 27" wide like these below or 32" wide like the black mats above. I have a 6'x4' mat (not pictured) as well but for my first go around, wanted to use the cheapies as guinea pigs.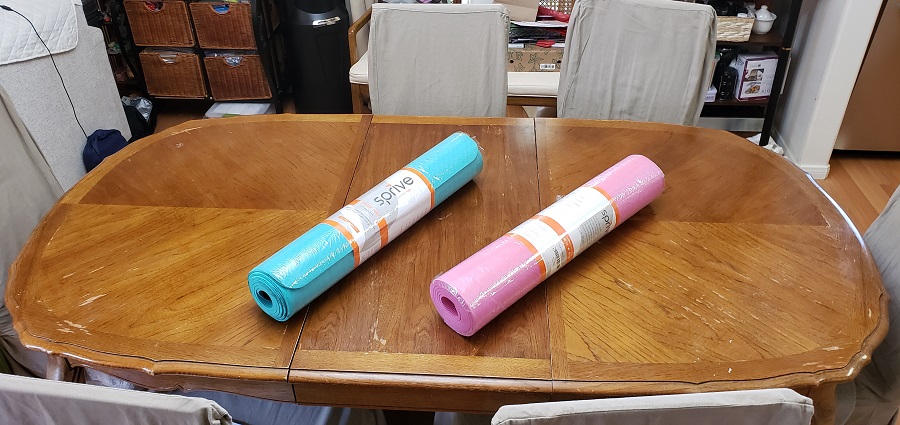 After a bunch of trimming (and simultaneously rewatching The Dark Knight Rises), I got the basic shape down (the mats came up a little short).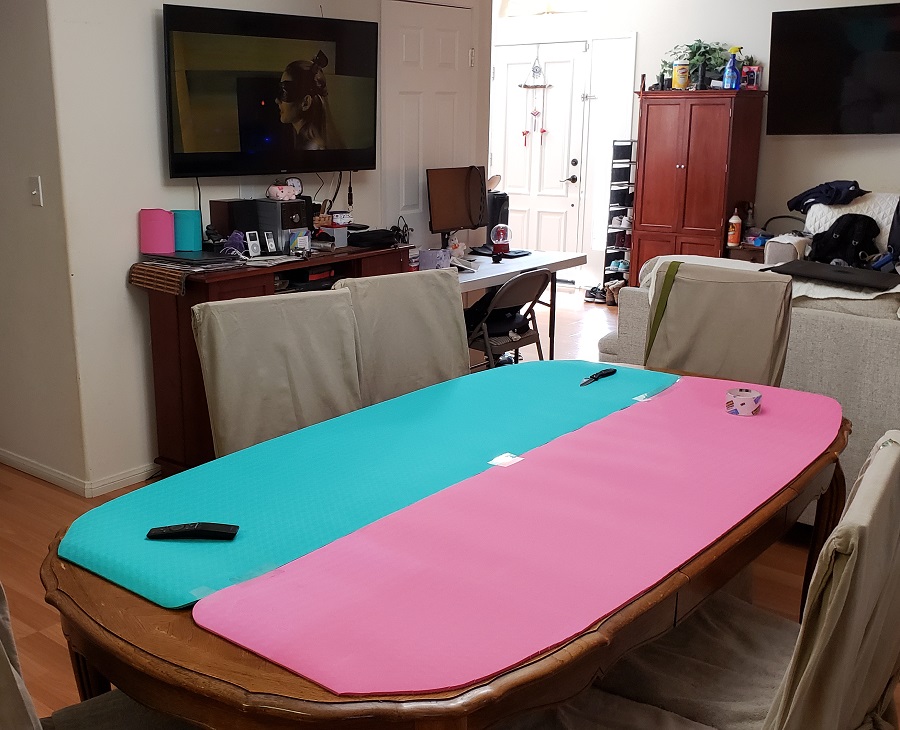 Because I was planning on wrapping a border of speed cloth underneath and didn't feel too confident with my abilities to do that cleanly around curves, I decided to remove the curves. (and I probably should buy a straight edge at some point).
The cloth. The speed cloth from Amazon comes folded up in a small package. I read that people had complaints about creases and wrinkles so I put it in the dryer for a few timed cycles of med-high heat and that seemed to work ok.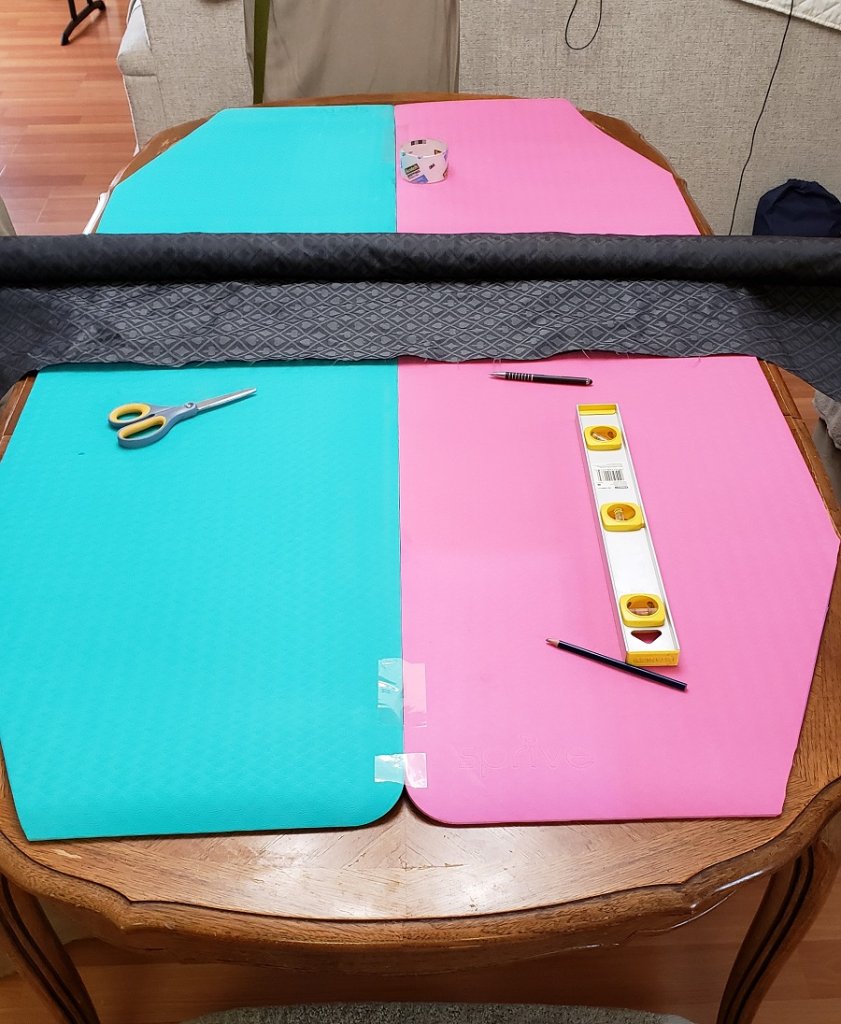 Taking it outside. I ended up spraying twice and relaying the cloth because I apparently didn't spray enough the first time and the cloth peeled away pretty easily, even after drying. You can't see it but I had duct taped a couple of hardwood dowels (36"x1.25") on each end of cloth hanging down to help keep it stretched out.
Trimming
Flipping and more trimming. See that vertical gap in between the mats? I didn't pay enough attention to it. I should have taped the mats together on the bottom side before applying the cloth. (Of course using a one piece mat instead of two separate pieces would be even better).
Gluing and folding tabs over
Bringing back inside. There's that crease from the gap and a few haphazard wrinkles... :/ Overall, I give myself a B, I think it's useable and not bad for someone who never finished college... haha
Next one or two should turn out much better (hopefully!).
A couple of additional things. The plan is to store this rolled up, maybe in a lacrosse gear bag (not too easy to find a narrower/smaller diameter 40"+ duffle bag). I tried rolling it up and it didn't like being rolled up very much - as you can imagine, the speed cloth has a different modulus of elasticity than the rubber mats underneath and I heard some of the adhesive peeling away from the mats as I rolled it. It didn't come apart completely but I may go back later and either apply more spray adhesive or better yet, use some clear silicone RTV instead, just for the tabs underneath.
Another option was to cut the mats matching the curvature of the table, apply the cloth, and then trim the cloth to match the curvature as well with nothing wrapping around underneath. I might give that a shot if/when I make another one with the 6'x4' mat but I'm not sure how the bare edging of the cloth and mat will wear or last. Again, better and easier to do this with a one piece mat than two retro Miami Vice looking mats.
Last edited: