Full House
Supporting Member
Joined

Apr 15, 2019
Messages

4,443
Reaction score

9,225
Location
Please read below before voting:
I have another rack of $5 chips on their way to me and my game does not need two racks of $1 chips. I typically only put one rack in play. The Flamingo picture may seem more appealing because of the two racks but please vote solely on the merit of which set you like better visually. If you are a person who needs two rack+ of ones just think of the set with multiple racks of Strats or Flamingos when making a decision. Whether you judge by spot progression, contrast between denominations, inlay design etc. etc. is up to you! Feel free to ignore the $100 chip in the Strat iteration, that was just a stand in. The easy answer is keep both and interchange them, but that is not what I'm asking lol.
My thoughts....
Progression wise, for me the Flamingo's are a clear winner. It also leads to many great options with some kind of a bear claw $100 chip. I'm currently looking for some including but not limited to Highway 9 $100s, BTP T100 which I will relabel, and a few others.
I think the Strat chips have a better shade of blue which contrasts well against the other chips. The light blue on the Flamingo chips looks pretty, but each denom is already a light shade which I feel in stacks will possibly take away from each other a little. Chipper problems...
Overall, I think I can't go wrong either way, but I thought this would be a fun way to gain some input from varying opinions. I learned some very cool stuff in the past when I posted about and formed my mixed leaded THC cash set which went through a few changes over time.
THE PR0N


Strat Iteration: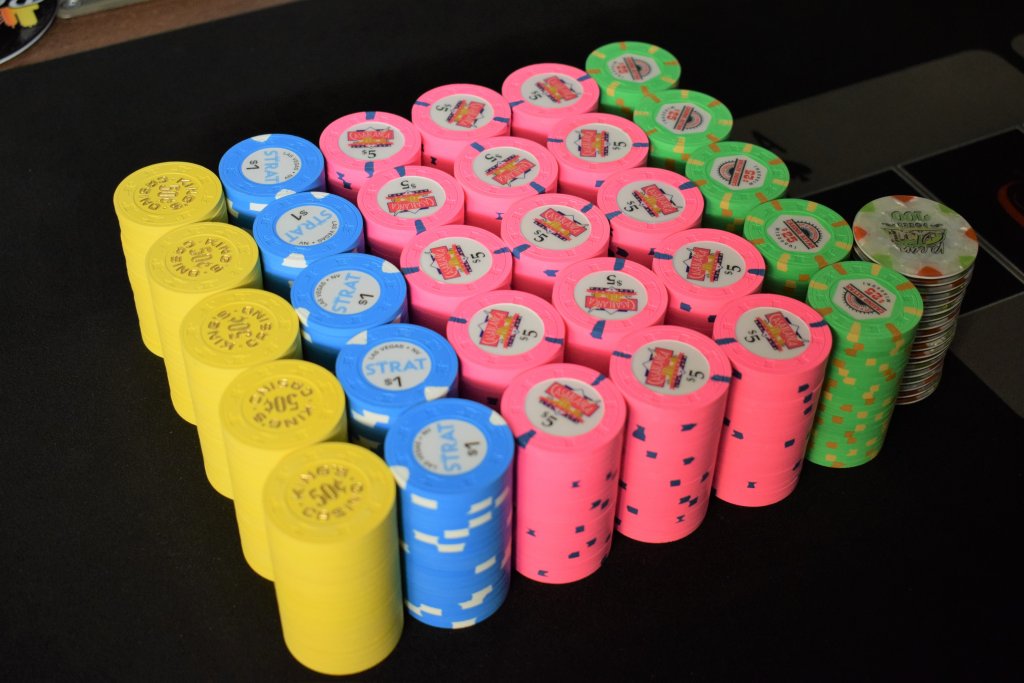 Flamingo Iteration: