Joined

Oct 5, 2015
Messages

2,070
Reaction score

1,630
Location
I have been thinking for years about the best cupholder solution for me. Everyone has their own opinions. For me personally, I don't like food, drinks, phones, etc on the table. Even having cupholders in the rail is not my cup of tea. I think drink carts are a good solution, and I do have a few, but if you have tight space, they get in the way. On the first two tables I built, I installed dual swing out cupholders between seats. I think this is a very good solution, but the only problem with them is that they are in a fixed location. Depending on where you are sitting, it will either be on your left or your right.
So now I'm trying to improve the slide-in/swingout cupholder implementation. The main goal is to allow each player to choose a cupholder not permanently attached to the table and allow them to place it where they want it. This would also allow me to supply a mix of jumbo and standard cupholders. I would also like to support small snack trays in the same way.
@JMC9389
provided some inspiration by showing these cupholders in a game table he has. I think this is a great system. I'm not a woodworker though, so I'm not sure if I could do that.
The other slight complication is that I am trying to do this on a round table. I will post some pictures and diagrams. I am thinking another method could be similar, but where you slide the cupholder in and it would lock in place somehow. Any ideas on how this can work? This is a diagram of the table.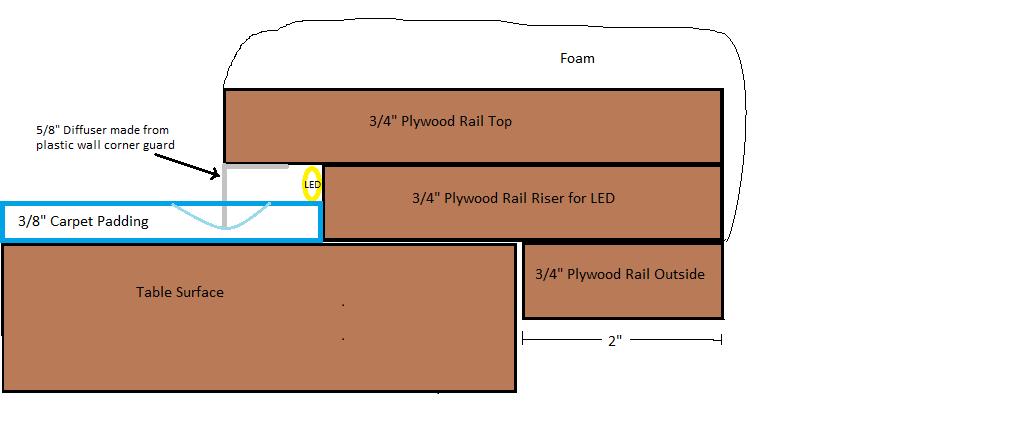 This is the same diagram with a potential solution.
Any other ideas for how to implement cupholders that can be movable? Maybe someone already has a good method for this.