Joined

Jun 14, 2022
Messages

3,409
Reaction score

6,709
Location
Hey party people. Friend's party is coming up and they want a 3 table tournament using their poker set. Fine, but breakdown is 400/300/200/75/25.
Messing around in Tournament Director trying to figure out the best breakdown/starting stacks for 28 people tops. Definitely not ideal but seems doable. Most players are not poker players, the thrill of playing in a tournament and knocking their friends out is more appealing than the tournament having optimal blinds/stacks.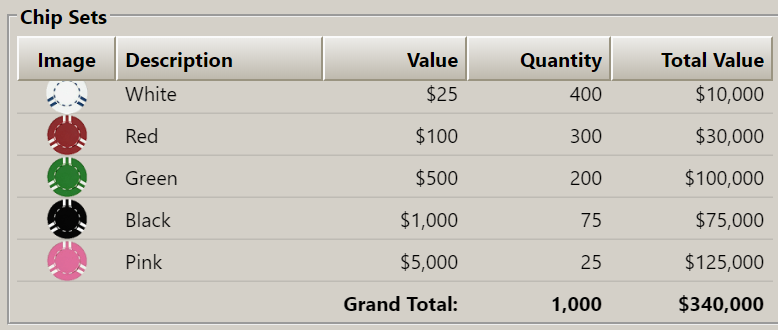 If T25, I was thinking 12/7/7/2. These players like stacks of chips so I wanted to give them the 12 tiny denominations hoping it means they'll play more. Not sure about rebuys or addons, I can steer them either way.
Thanks for any and all advice, I run cash and haven't put on a tournament for so many people. I'm comfortable moving tables and generally playing floor but was curious about how y'all would use the breakdown. All the threads I see are for up to 2 tables and don't have the weird denomination breakdown. Not sure how much this sucks, feel free to tear it up or help me use the search function properly.