Joined

Jan 8, 2018
Messages

233
Reaction score

499
Location
Preface:
I previewed these 44mm CPC A-Molds right after they arrived on Feb. 19th, but I wanted to show them off with all their accessories now that they're clean & oiled. Additionally, I also wanted to use this write up to express my sincere gratitude to the folks tagged below who helped transform my ideas into reality. This is my first clay set and my first custom set & I'm beyond happy with how everything turned out. I couldn't have done it without your help.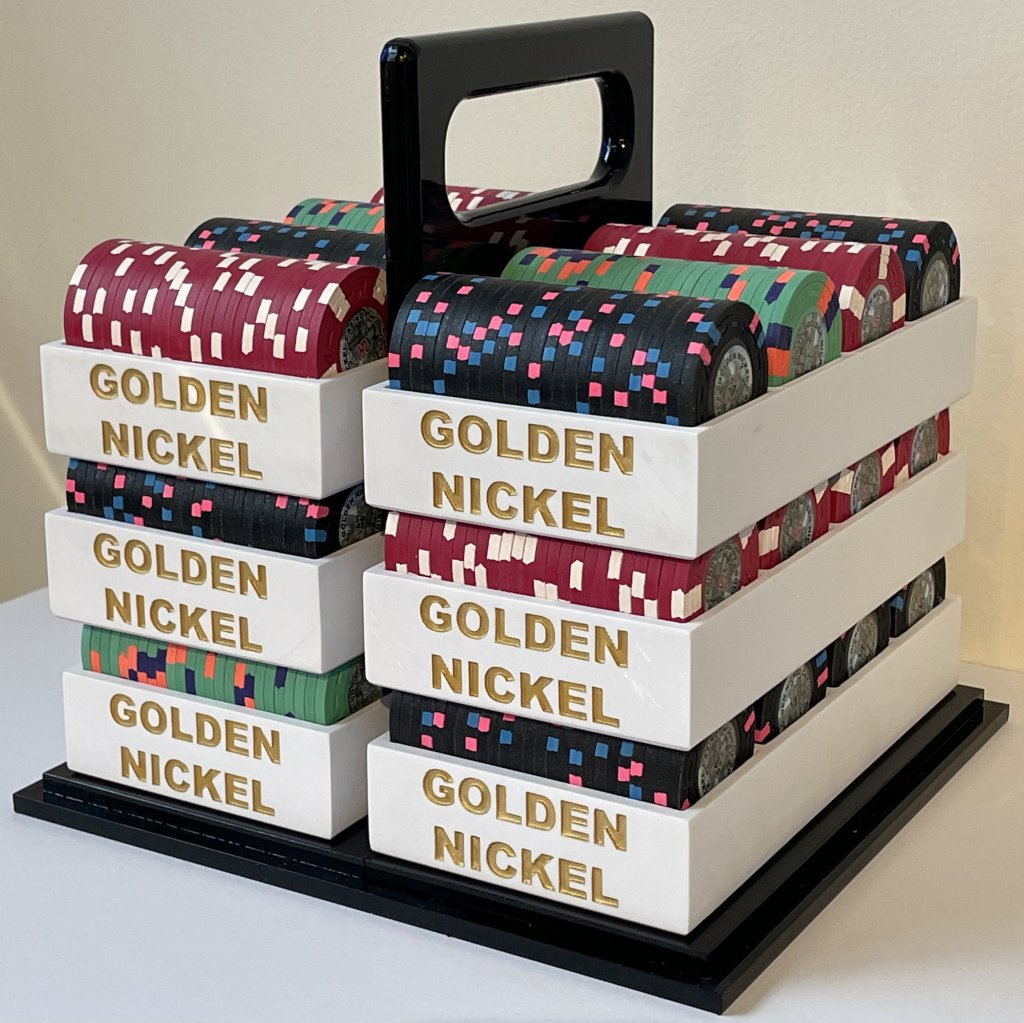 Theme:
Tribute set to my hometown of Baraboo, WI. Ho-Chunk Gaming Wisconsin Dells, to those that are familiar, used to be named The Golden Nickel Casino up until a dispute between a management company and the tribe led to a lawsuit, settlement & rebranding in the mid 90's. Now with all of the tribe's gaming venues operating under the Ho-Chunk moniker, I thought I'd use their old name as a fun throwback.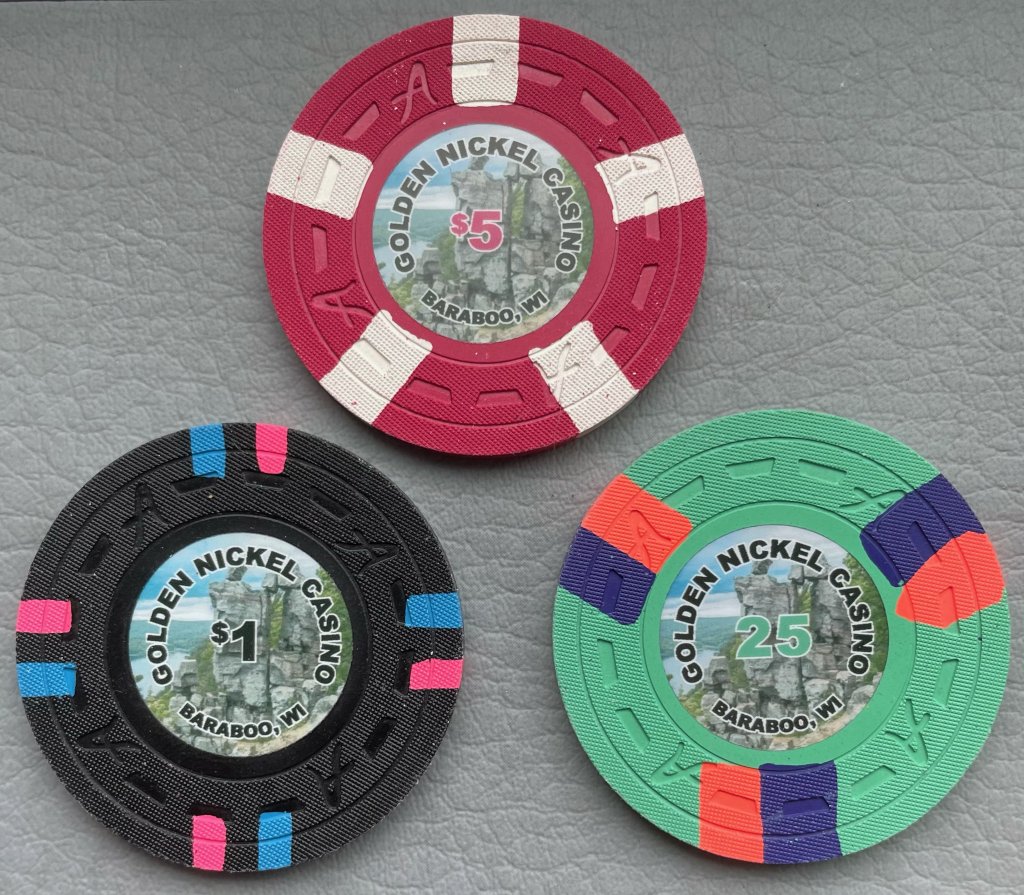 Inlay Art:
Created by
@David Spragg
and his CPC team. The picture on my inlay is a rock formation named Devil's Doorway located at Devil's Lake State Park in Baraboo. I understand that my use of an actual picture on the inlay runs against the preferences of some folks on here who don't like 'busy' inlays, but this picture is pretty much the brand identity associated with Baraboo and no graphic art could elicit the same feelings of home like this image.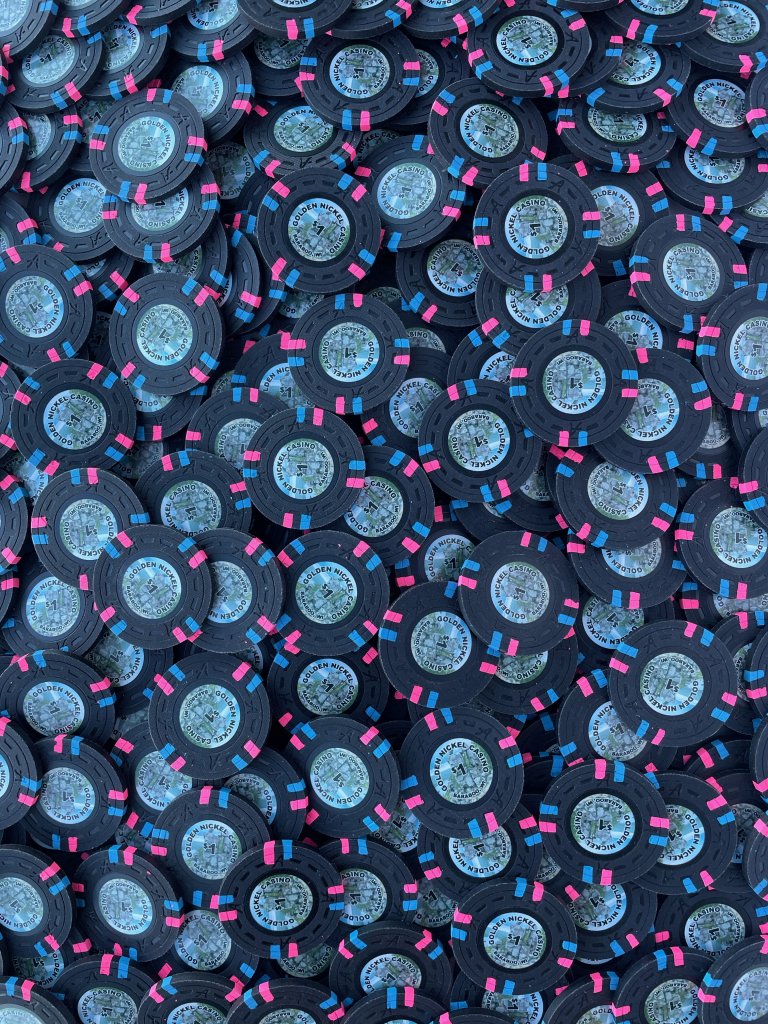 $1 Chip:
4DS18+ spot pattern, black base, dayglo peacock & dayglo pink spots. Inspired by Le Noir $100's & a love for the Miami Vice color scheme. #TeamBlackDollar
$5 Chip:
514+ spot pattern, retro red base, bright white spots. I chose this spot pattern because it's exclusive to the 44mm's and when combined with the classic red & white color combo, it makes for a natural $5 chip.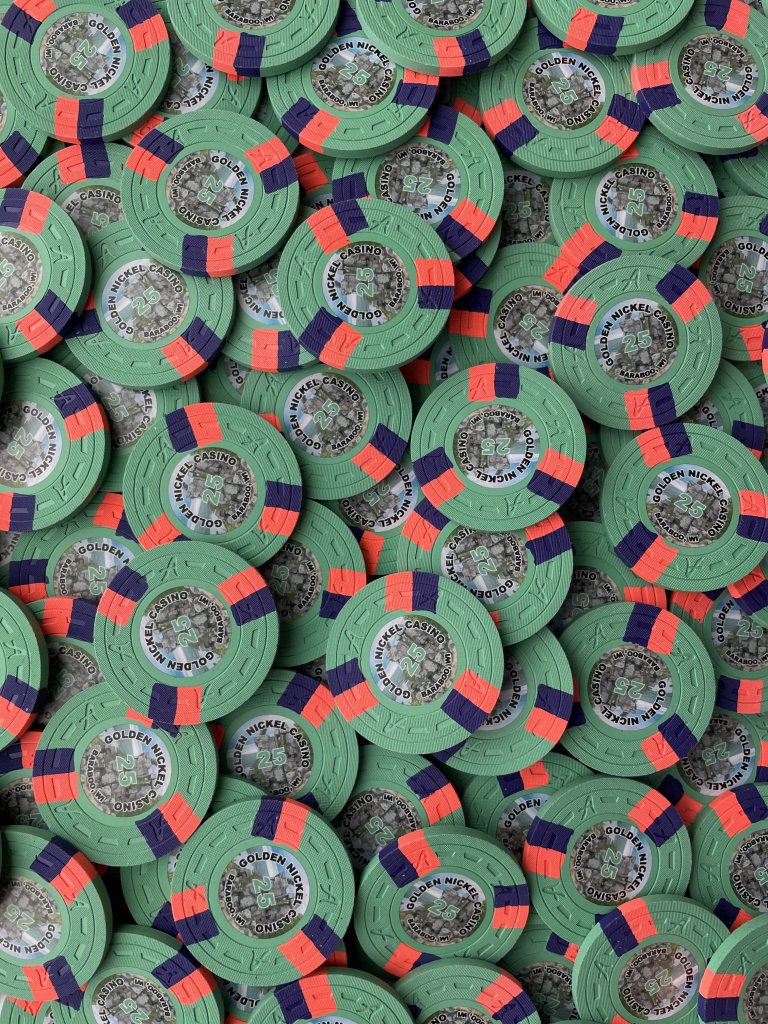 25 Chip:
3D14+ spot pattern, light green base, blurple & dayglo tiger spots. This chip will be worth 25¢ in games with <$1 small blinds, and $25 in games with dollar-plus blinds. I realize this dual value chip goes against the security preferences of the forum, but I wanted to control costs by keeping this set in a 600 chip carrier while also being a little deeper in each denom than the 100/200/200/100 setup would allow. The goal is to be able to play for stakes as low as 25¢/25¢ up to $1/$3NL on a full table with minimal change-making.
Credit for this chip goes to my loving, patient girlfriend who has endured me showing her countless poker chip pictures and mockups. I was worried the light green and dayglo tiger would clash, but she assured me the blurple would balance it out. Seeing it now in-person, she was correct.
Racks:
Created by
@Ken
, six 3D printed racks, 4x25 setup
After settling on the 44mm CPC's I ran into the same problem that all 44mm owners do -- storage. Some options, like the 43mm Paulson racks, can be made to work but are less than ideal. Fortunately I came across pictures of Seeking Alpha Social Club's 44mm racks, which I love. I shot him a message & he referred me to Ken and his 3D printed racks. Ken isn't a vendor and I'm sure has more profitable uses of his time, but he was so gracious in going out of his way to explain what he had made for others and let me choose between 4x20 and 4x25 racks that fit the 44mm chips.
He even sent me a time-lapse of my racks being printed --
Once the racks were delivered from Ken, the lettering was still white like the rest of the rack. I decided to play up the gold theme by gilding the inside of the debossed lettering. I started by painting the letters with a burnish sealer then I painted on top of that with a gold paint (gold shell, more accurately) that I made by mixing 24 carat gold powder with gum arabic.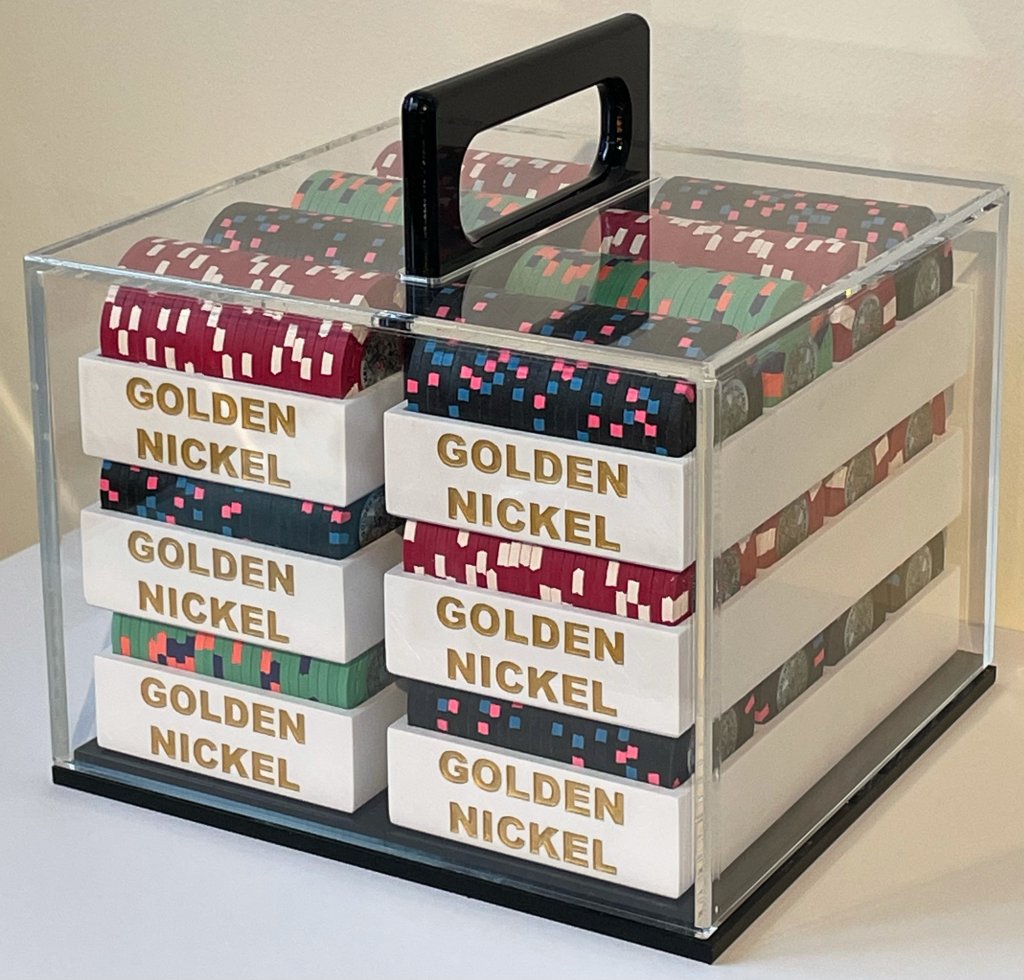 Birdcage:
Sourced through
@T_Chan
Having chosen the 4x25 setup, I now needed a custom-sized birdcage to fit my non-standard sized racks. I asked around the forum for help and eventually Tony took pity upon my cause and was able to have his supplier make a one-off birdcage to my specs.
Dealer Buttons:
A year ago I started reaching out to folks about having a custom laser-etched clear acrylic dealer button made. I sent PM's and made a wanted post just crossing my fingers that I'd find one designer who would help me out. As it turned out, I had two designers reach out to me and both put forward designs I really liked, so I did what any scrub donkey would do and went forward with both of them. I'm so glad I did & I can't wait to get them both designs in-rotation.
Button on left created by
@PokerChipsDesign
, buttons on right created by
@Amish Rabbi
What's next?
An astute observer might notice that none of my pron was taken on a poker table. I have an order in with Tony that is in the queue for late May or June. Tony has agreed to take on the challenge of some unique design features and I'm really looking forward to sharing more details and pics in the months ahead.
And of course I can't wait to host a cash game with PCF'ers to break in the chips & table around June or July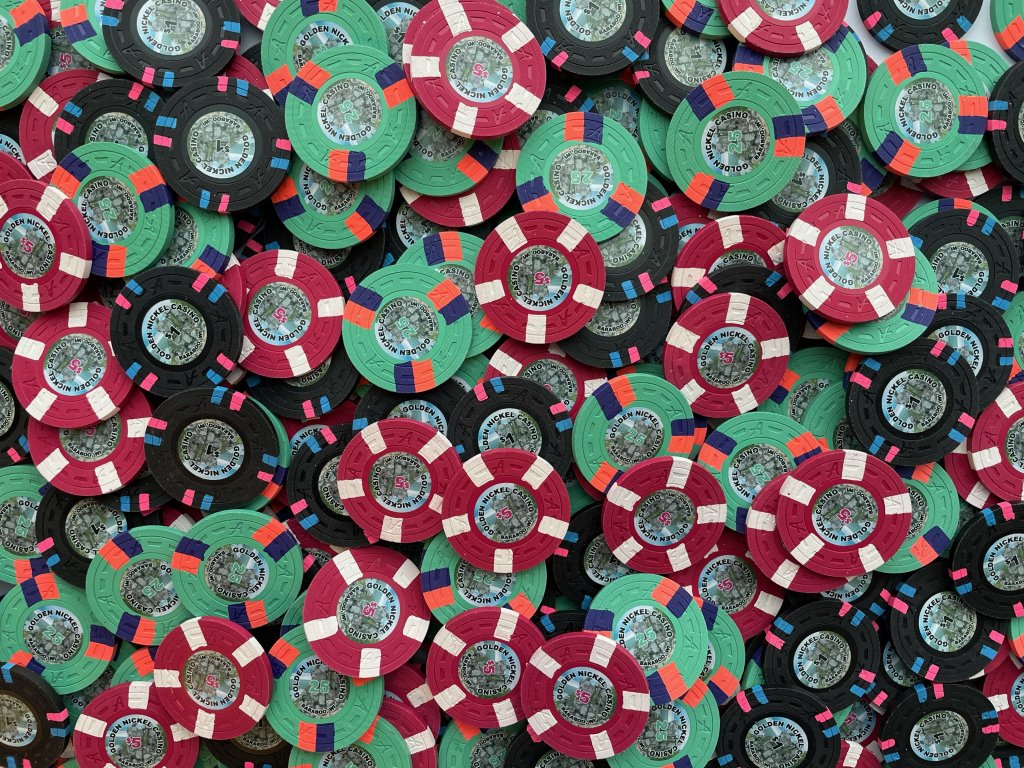 Last edited: