Joined

Sep 27, 2020
Messages

1,380
Reaction score

3,008
Location
Introduction
My name is Angelo, I am 36 years old married, a son and another baby on the way.
I live in the beautiful city of cologne, germany.
When I joined PCF in september last year I was just another long time poker player looking to spruce up his homegame with some "nice" chips during the covid break.
Budget: $300
Well as most of you know this could only last a few weeks on this site.
The backstory
As soon as I knew what the differences between dice chips, china clays and paulson were, I rummaged through my sample sets from apache-poker and found two paulson chips that were pretty underwhelming in color, but awesome regarding feel and sound.
And then it hit me. Don't I have this one souvenir chip I brought with me from that trip to Vegas a few years ago?
Somewhere in my closet I found it and was blown away by its simplicity yet still so much grace and beauty.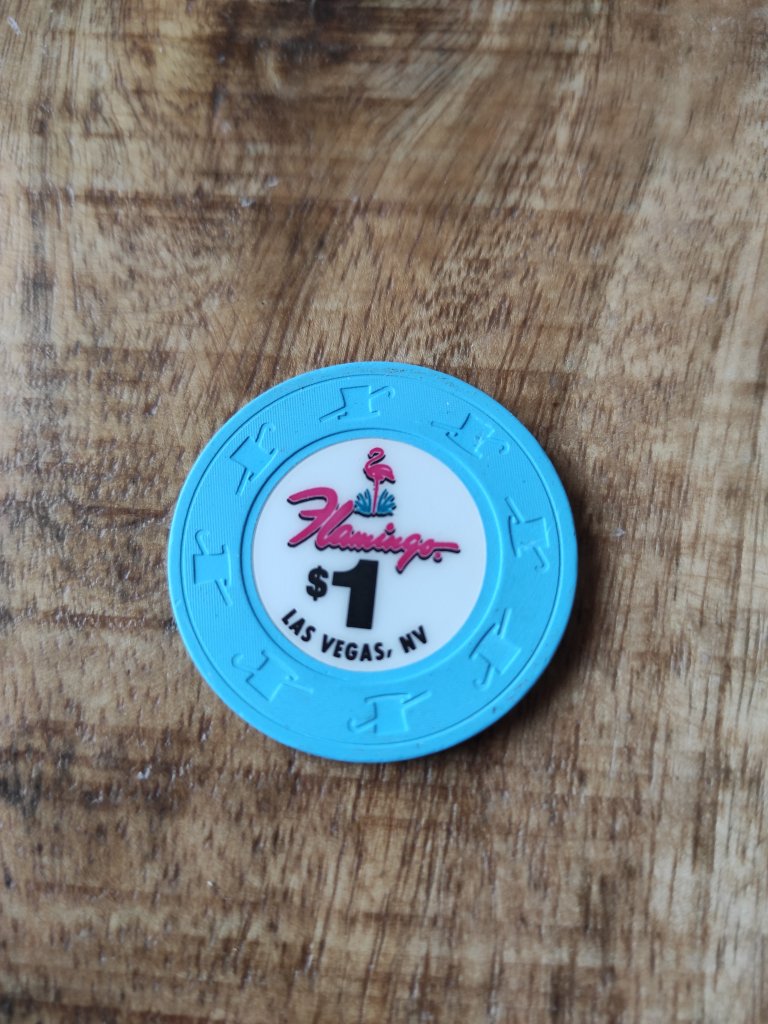 I had it in my possession for years but never gave it a second glance. Silly me!
A quick search on PCF brought me to the flamingo set that
@WhiteMamba1646
built. It was immediately my favorite set, even after a trip through the
@Windwalker
pr0n thread. (Ok ok, the starlite and lakeshore sets are alright too, I guess)
So a decision was made, the budget thrown overboard, never to be seen again.
With the help of awesome chippers like
@LeGold
,
@Josh Kifer
,
@jpietrella
,
@arch3r
,
@WhiteMamba1646
and many others who sold (or straight up gifted) me chips or helped me out with a tip or other generous gesture, I accumulated THC solids to have my own flamingo set somewhere in the future.
Status of the set
This is what I managed to scrape together sitting on my shelf in germany right now: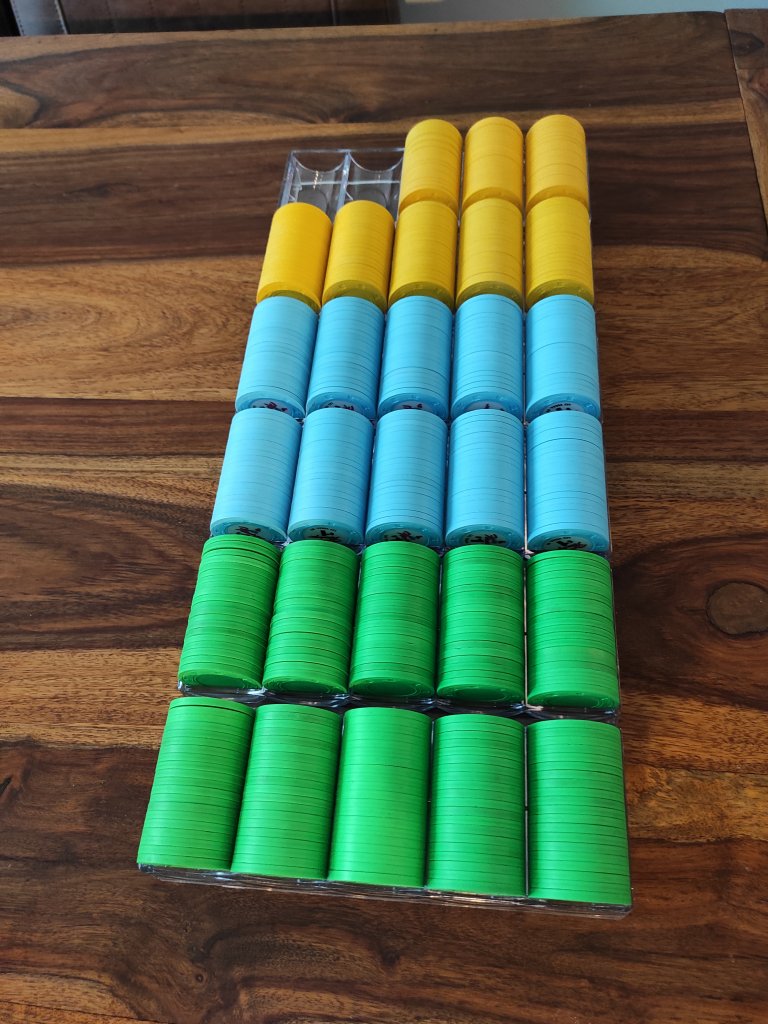 In addition to that I have
@SpaceMonkey420
s worker bees combing Vegas for another excellent rack of flamingos to be all set on workhorse chips for the 25ct/25ct game (with room to grow) I plan on hosting as soon as the lockdown in europe is lifted.
Also, I just managed to aquire a huge set of THC solids that
@Darthhoodie
was kind enough to let go. I wish you all the best for you and your family, sir.
The chips are in transit to my reshipper Mr
@arch3r
who was kind enough to offer this service to me free of charge.
Picture credit: @Darthhoodie
These chips finally complete my set and now I have the luxury to decide what colors to use and what I repurpose for other projects, like my solids stt set.
Please no dibs or offers to buy in this thread. This is not a sales thread.
This is purely to document the journey and gather opinions of the community.
I'm already in contact with
@Gear
and hope to finalize the lables in the next few days. Here is a preview:

Definitive denominations are:
25ct / $1 / $5 / $20
Not sure about including a 5ct and/or a $100 since both are unlikely to see much play in the stakes that I plan to use this set in. It would however free up space for MOAR chips and colors.
These are the options that I feel would look great in this set. Each barrel representing a rack of the respektive color:
#1
Bare bones cali edition. 25ct fuchsia, $1 flamingo, $5 yellow, $20 charcoal
#2
High roller edition. 25ct fuchsia, $1 flamingo, $5 yellow, $20 day green, $100 charcoal
#3
Alternate high roller edition.
25ct day green, $1 flamingo, $5 yellow, $20 fuchsia, $100 charcoal
#4
The obviously superior option that I did not think about and that you tell me in an all caps answer.
Thanks for reading and you all have a pleasant day.
Last edited: