Win an Empress Star primary tournament sample set.
Includes the T25, T100, T500, T1K, T5K, and T25K chips.
Giveaway is open to active PCF members with 500+ posts.
Free worldwide shipping by PCF!
Special Note:
If you have these chips already, I kindly ask that you exclude yourself from entering this giveaway and give those who don't have them a chance to win. Thank you.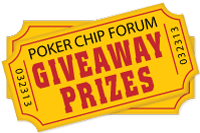 Empress Star Tournament Sample Set