Joined

Nov 1, 2020
Messages

53
Reaction score

126
Location
Hey, guys. I'm new here, but I'm loving this site!
I just finished my first build this week and wanted to share. We're getting a reunion game together next year with friends. We needed a table, and I needed a project. I went with an elliptical table, which made the build a little more difficult, but I'm extremely satisfied with the results. I hope you enjoy.
I started with three sheets of 3/4 inch 4x8 Birch plywood from Home Depot.
I decided to make my table 46'x92' to accommodate 10 players. For the ellipse, I didn't like the string method (too inconsistent), and I didn't want the trouble of building a jig. So I used a framing square at the exact center to scribe the arc with a pencil at one end and nails at half the length of the major and minor axis. Here I have some helpers to draw it out: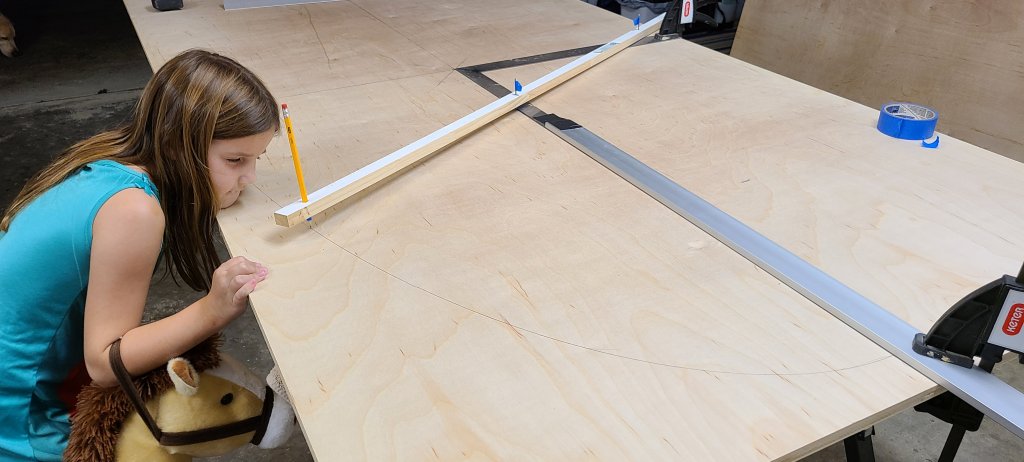 This worked perfectly, and I wouldn't do it any other way! With the ellipse drawn, I used a jigsaw to carefully cut out the table:
I then repeated the process twice more, giving me three copies. I'd use one for the base, one for the playing surface and bottom rail, and one for the top rail.
I then stacked them and sanded them so that the edges were even.
I then used a router to round over a few of the edges, such as the top rail, playing surface, and bottom support.
I got some more help to mark out the top rail (I went with a 5" rail) and then jigsawed it out.
I repeated the process for the bottom rail/playing surface, and my surfboard starts to look a little more like a poker table.
For the bottom, I got some stain and polyurethane in one. This was a disaster. I've never used the stuff, and it was both impossible to work with and left the wood looking horrible.
So, I sanded it all of and tried again with some traditional stain.
Much better!
I carefully marked my cupholders (I suck at math, and spacing these guys out on the ellipse was not easy) and cut them out with a hole saw.
I then glued two pieces of 1/2 plywood together (scraps I borrowed from a friend) and cut them into spacers.
After cutting them off on the outside with my jigsaw, I glued them in place and sanded the edges smooth again.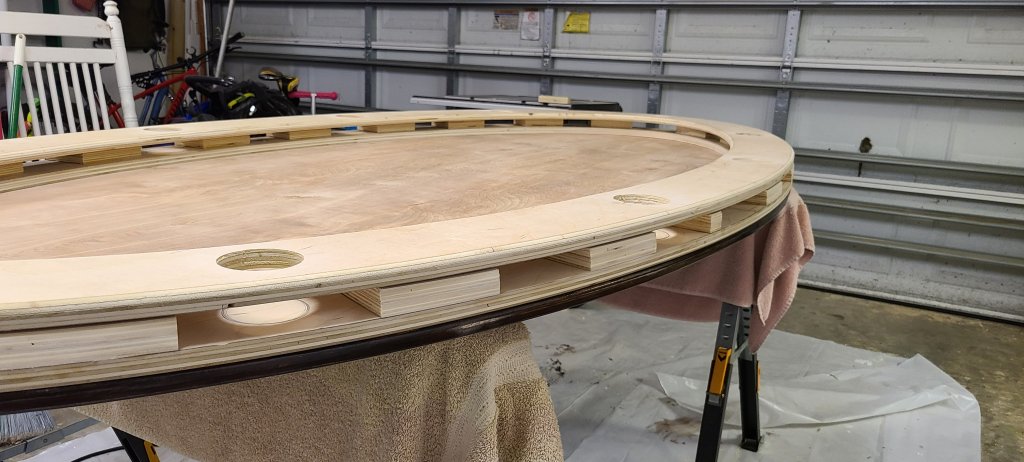 I positioned the inside of the spacers, where I wanted my LEDs to sit. I then used a piece of exterior vinyl I got from Home Depot for $5 to run a track on the inside for the LEDs to stick to.
I'm out of room on this post so I'll continue with part 2 below.