Joined

Jul 25, 2020
Messages

1,941
Reaction score

2,795
Location
I'm starting this thread to track my progress on my custom relabel project for what will probably be my primary set for quite some time to come. I hope y'all enjoy seeing it as well. Comments and questions are welcome!
---
Back in October 2020 I bought around a thousand Spirit Mold china clays. Quantity-wise, this is the second-largest set I've purchased (I bought around two-thousand sixteen-stripe chips at the same time... but that's another story for another thread).
Cost-wise,
though... Spirit Molds were nearly all out-of-stock at retailers everywhere, and the last retailer had put his last chips on clearance for
seven cents
per chip. I don't have the budget for a big set of leaded shaped inlay clays, but I can make a big set out of seven-cent chips.
If you don't know what Spirit Mold chips are: they're one of the earlier generations of china clays. They have a chalky feel, much more clay-like than current CCs like Milanos or Majestics. I really like the way they feel, and I think the mold mark (the corporate logo of the manufacturer, Eastony Industries) looks cool. They have a reputation for being quite fragile, prone to flaking, chipping, and breaking, although some chips and colors seem to hold up better than others. Several PCF members have made awesome-looking sets by labeling over blanks, or replacing the labels on the two stock designs they were imported with (Casino da Vinci and Pyramid Casino). A few examples:
(If you've got a set I didn't mention, let me know!)
The problem is, I came late to the Spirit Mold party, and the selection of colors still available was pretty limited. I had to make do with what I could find, doing my best to find a set of colors that I liked and that I could turn into denoms I would be happy with. And here's what I ended up with:
I bought what I could get before they were gone, knowing that I'd get around to designing custom labels for them eventually.
Well, eventually is finally here.
---
As I sat down last week to work out what I wanted to do with these chips, I realized one of my biggest problems was the discord between the blue chips and the white chips. I chose them because out of all the ones available those were my absolute favorites, bar none. I love the colors - big, bold, straight-forward but engaging. I planned to use the blues as $1 and the whites as $5 and bought them in quantities accordingly. But last week, I noticed that they
don't get along with each other
.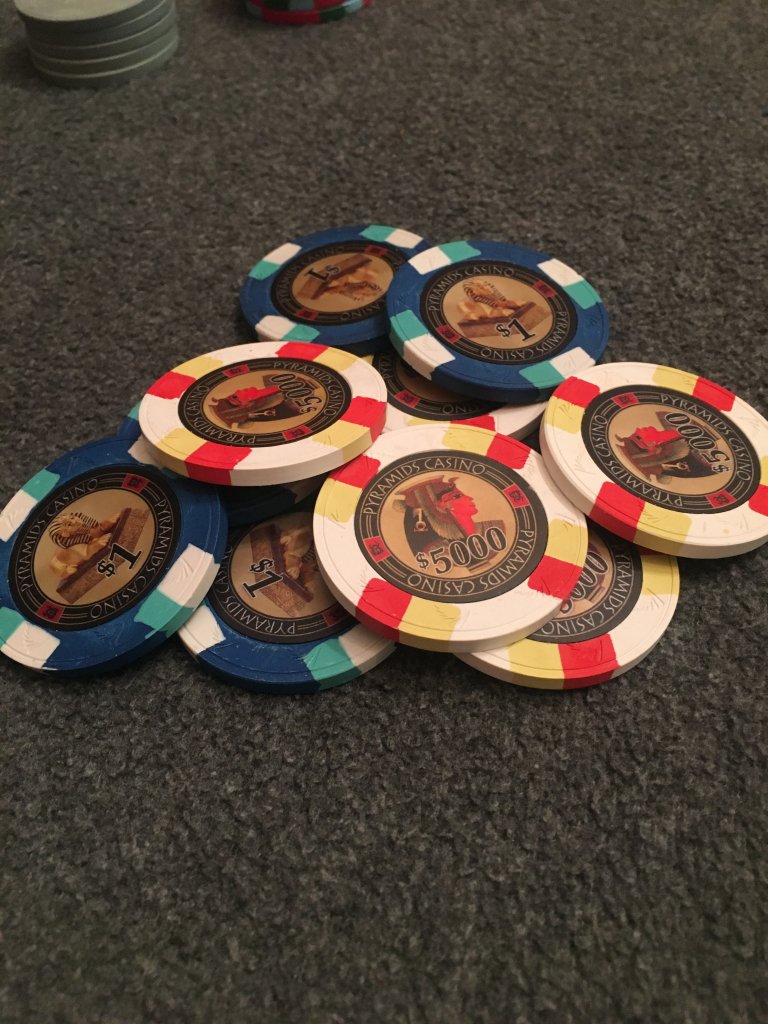 Here they are wearing their stock Pyramid Casino decals. I thought I liked that look (I'm a big fan of black), but now all I can see in that picture is a fragmented, chaotic jumble of clashing colors. Disjointed. A mess. The black ring breaks each chip up into smaller bits and pieces of colors, rather than unifying the splashed pot.
So I spent a lot of time thinking about how to make these two chips work together. They're my favorites, and I want to use them as my workhorse denominations. But how to reconcile them? They're as different as night and day. But finally, inspiration struck - wait, that's it... the blue chips are
night
and the white chips are
day
! Make them
complements
, not
contrasts!
Once I had that inspiration, the entire design fell into place before my very eyes, from colors to concept to style to theme. I sat down at my computer and did my best to bring my new vision to life.
---
And so now I present to you, a work in progress: The Solar Spirit.

And after cutting-and-pasting (literally! I cut them out with scissors and glued them on with gluestick!) I have the following crude mockups: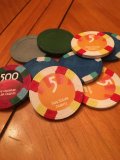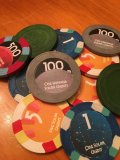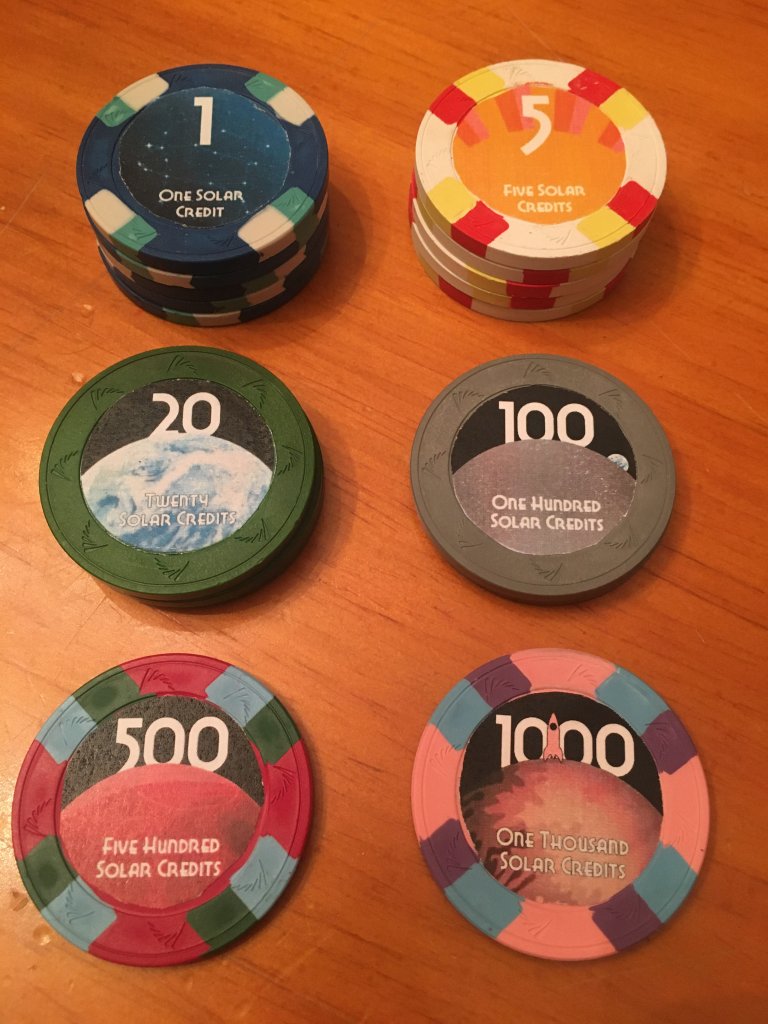 The intention is for them to have an art-deco-poster-illustration style, similar to these:
This is all just in the mockup stage, absolutely nothing is final. My plan is to get the basic design ideas in place, and eventually get a pro designer to work it over and get high-quality labels made for the final product. But I have to say, I'm actually really pleased with my slapped-together artwork even as it stands! I already know some things I want to change for the next draft, but just looking at what I've done so far makes me really happy.
And I feel like I've solved the initial problem. I think the 1 and the 5 work together really well now:
Like two sides of the same coin. Night and Day.