Joined

Apr 12, 2020
Messages

630
Reaction score

473
Location
Hi Team,
I had some time and was able to take about one of the table I acquired (it came with the shuffletech I have posted in classifieds here,
https://www.pokerchipforum.com/thre...tion-ends-fri-july-31-9pm.58872/#post-1146696
I thought I could save the vinyl bumper, but I know that would be a real tough ask, but nonetheless attempted.
The PURPOSE:
1.
Eliminate shuffletech hole (and maybe dealer tray hole/cashbox slot)
@Dix
@namsupak
@sheikh617
2.
Refelt custom or speedcloth
@T_Chan
3.
Install T-nuts system to allow for ease of rail removal/refelting for the future.
@markleteenie
@Richard Cranium
@Jake14mw
@celticnoel
@BGinGA
@Mr Tree
The way I figure, if it doesn't come out great I can always just sell it as a refurbished table; plus I have another unraised bumper table with a shuffler hole that needs refurbishing. As a novice with builds, having the cutouts already done gives me hope that a facelift would be a good start rather than a build from scratch. We all had those friends growing up that took apart things just to put them back together... this is kinda what this is... except I am grown up... and the table wouldn't have gotten much if sold with a huge shuffletech hole in it.
The DISSASSEMBLY leaves me with:

a.
Main table with cupholder cutouts and ruined clothe; shuffletech hole, dealer hole, cashbox hole;
b.
raised rail with the button beads or whatever they are called on it; cupholder cutouts;
c.
rail with wrecked vinyl partially attached; cupholder cutouts.
d.
All silver metal cupholders
The NEEDS:

i.
new felt
ii.
plywood to fill holes & strategy
iii.
new unpadding
iv.
New foam? Vinyl?
A few recommendations would be great. I am sure I am missing something, but that's why I created this post. For all I know I will need to replace everything except the actual table plywood. I do have a myriad of questions that I will leave open to any of you who would like to give me advice. I know a few of you have already helped me with ideas through PM so thank you for that!
Keep in mind this is a rebuild that I am not looking at breaking the bank - if I was i would attempt a start from scratch reuild - but hey I have these tables laying around!
QUESTIONS:
1.
Should I scrap the raised rail? Is it possible to T-nut a raised rail? [Scrapping the raised rail may allow me to reuse the rail vinyl/foam (longshot, but who knows)]
2.
Dedicated dealer spot - it tends to underused as we mostly self deal... but has anyone converted a table like this into a full racetrack? If I were to do this, it means new vinyl for sure.
3.
Has anyone successfully don't this with a hand staple guy? I am not opposed to renting/borrowing a staple gun, but has anyone been able to to this by hand?
4.
Legs - the table came with the rectangular built legs... not easy for storage, but sturdy - defeats the purpose of T-nut table convenience... Thoughts?
5.
Cup holders -
Option 1:
get rid of them and get new rail vinyl and foam.
Option 2:
keep them; attempt to keep the vinyl and foam? I am undecided.. if new foam and vinly is needed, then the cupholder convo can be had... convince me yaw or naw?
6.
Table dimensions - Thoughts on shaving an an inch or so off the edge to make it a more compact table?
I have so many more questions, but I will leave it at that for now.
Thank you for your input PCFers!
DTS
Toronto, Canada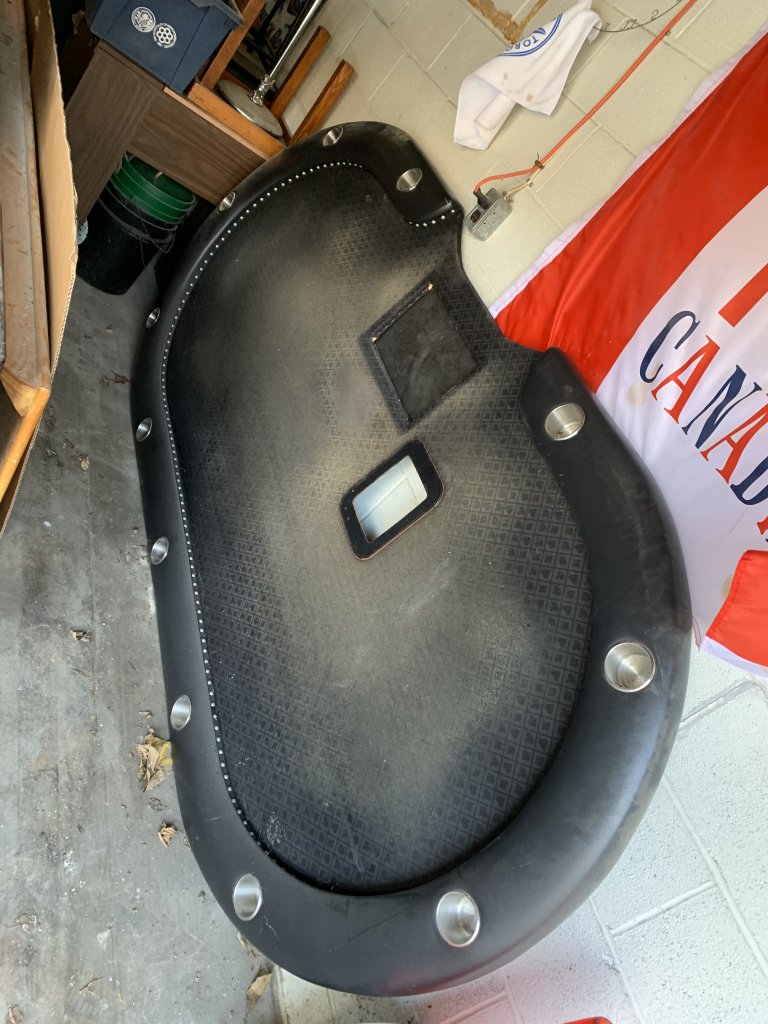 Last edited: