Joined

Sep 5, 2017
Messages

1,898
Reaction score

1,544
Location
Been back to playing fast fold (Blitz on ACR) as there wasnt enough opportunity to sit at a "regular" table.
HUD stats arent super-meaningful except BB's 3! which was a bit high but not >12
HJ RFI for 2.5BB. Hero flats. BB HUD has 11% 3! with a decent sample size so there is some risk of getting 3! here and my flat is not GTO.
But I decide to gamble with a sexy hand. BB calls and we're going 3 ways to a flop.
Hero flops the second nuts. Checks to Hero who bets small (1 BB) to get some money in the pot.
I worry that betting much larger will get folds and I want calls. I could have gone 2BB but at 3BB I think I'm getting folds on this board.
Both players do call.
Turn hits HJ's range and it X to me so I decide to go larger, hoping someone has a K or a FD.
Hero bets 3/4 pot. BB folds and HJ calls. Sweet.
River hits HJ's range again and the FD doesnt come in. I think KK & AA probably would have raised turn with the FD out there so I think I'm best here.
I am hoping V has Kx but with the A out there I feel that I need to bet smaller to get a call. I bet a few clicks under 1/2 pot.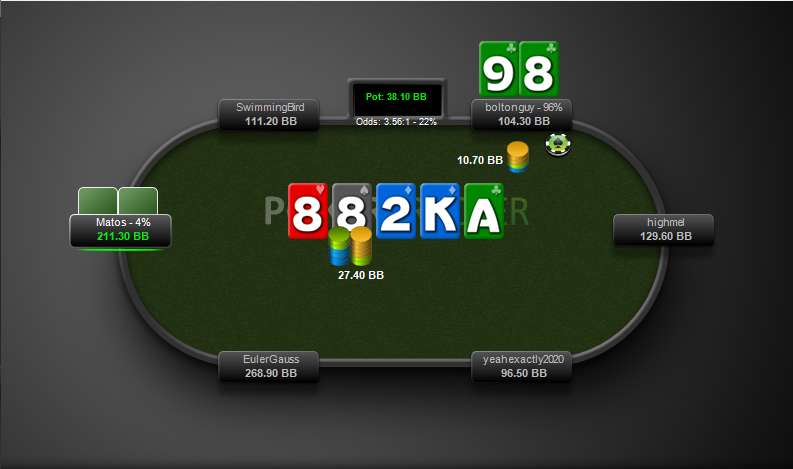 V jams - Hero?