Want to take advantage of ABC's current 15% off promotion
without
waiting for the chips to be made? What to save
an
extra $60
on top of that? Look no further!
Up for sale is my 2 table 10k tourney set. The set has been used twice, so about half have seen a few hours of felt time and some have never been used. There's a reason these chips don't come up for sale too often - they're awesome. And before you ask "then why the hell are you selling them, dumb ass?" (and before my locals freak out that these are for sale) - I'll tell you. When I bought this set, I subsequently added some 43mm bounty chips, and ever since I've been itching to get a full tourney set of all 43mm chips. So if these sell, in true scrub donkey fashion they will be replaced by the same DDLM chips - just all 5mm larger.
I'm looking to take advantage of Gene's current sale as well, so this sale will have a pretty short fuse.
Breakdown - good for 2 full tables of T10k 12/12/5/6 starting stacks with 20 rebuys and extras for color-ups or T20k 12/12/5/6/2 freeze out with extras for color-ups.
T25 - 245
T100 - 245
T500 - 105
T1k - 140
T5k - 45
Pink NCV (I use these for bounties) - 20
800 chips total (all 39mm)
I have these priced below the current ABC sale to make it worth someone's while, which would be $475ish depending on shipping from ABC. Buy this set at
$415 shipped
via USPS large flat rate box (US only). You're essentially getting a new set at the pre-production group buy price. Post any interest here then follow up with a PM. Racks not included.
I would be OK splitting in half, but ALL would have to be accounted for, and then shipping to each would be extra.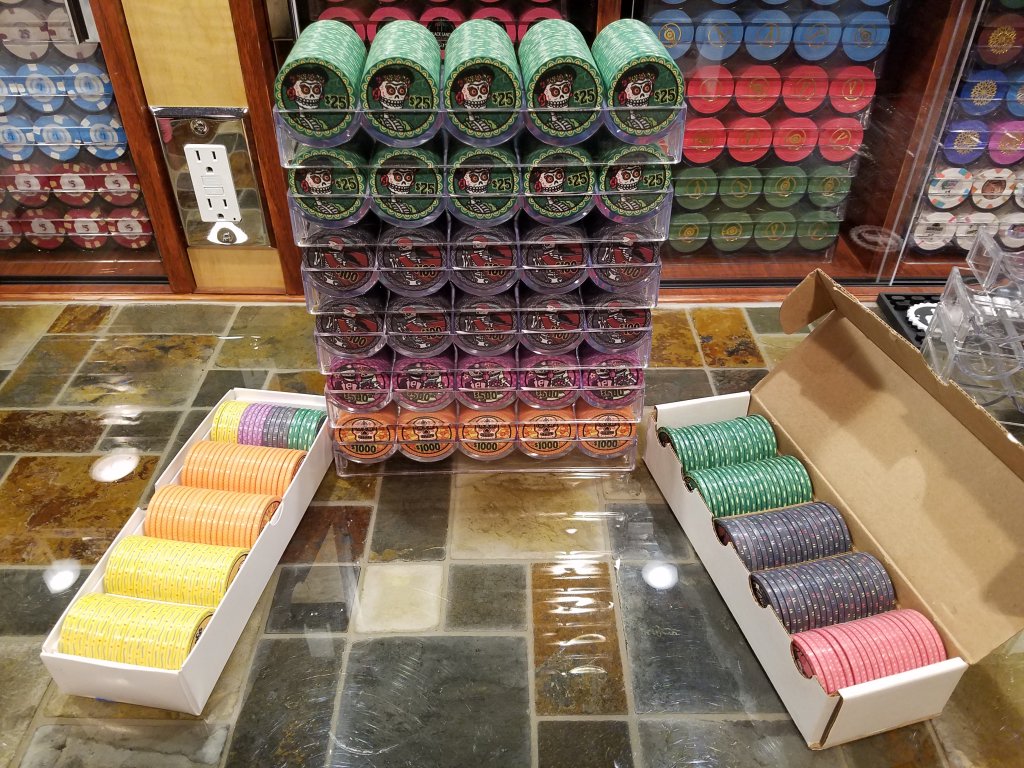 Last edited: