*Update. We have 2 types of gaming suede, Home Grade gaming suede and Casino grade gaming suede.
Here's a video
of the breakdown of the 2 different fabrics. You can print on either side, meaning that you have 4 surfaces to choose from. The default choice for any cloth orders is the smooth side of the Home Grade gaming suede. Casino grade is $20 extra.
The smooth side of either gaming suede is significantly softer than suited speed cloth*
Hi everyone,
I have been printing my own custom cloths for some time now and the process has been going very well. I print the graphics on gaming suede using the dye sublimation method. I have sold some cloths to several people from various different forums with nothing but positive reviews.
The cloths are available up to 61" wide and any length. Prices are as follows:
Up to 96" long:
$225+ $16 USD shipping for a custom cloth. Shipping is $20 for 2 cloths. First 2 hours of design time are included. $75/hour after that.
$30 off if you have your own artwork which you send to me so that it can go straight to print.
$20 off if you're an established poker table builder (built more than 5 tables).
$50 off if both of the above apply to you.
$25 extra per foot over 96".
If you need some help for installing a custom felt, see the
installation video here.
Samples are $5 to cover postage and are available upon request. PM me your address and I will mail you one.
You can chose any color you like, you are not limited to these colors. This is just a reference point for you to use since sometimes colors on your monitor differ than what is actually printed. It's also to give you a sample so you can feel the fabric. My gaming suede is NOT the same as typical gaming suede offered by other vendors. It's silkier so getting a sample is highly recommended. It's still waterproof.
File format for submitting artwork should be in .ai format. Include as much bleed as you want. Make sure you include a bleed! (extra print to wrap around the playing surface) 4" is plenty.
Examples: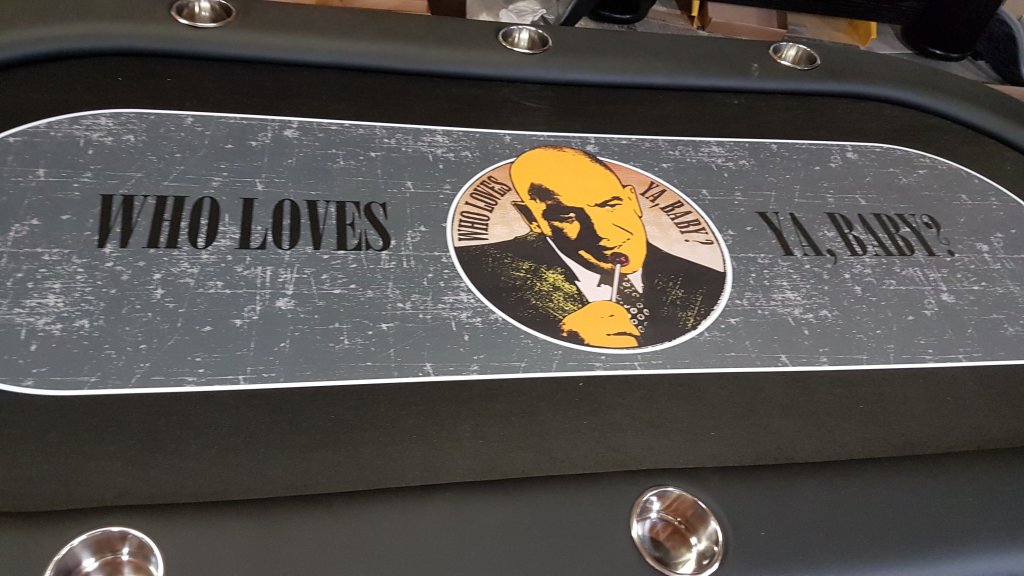 How does the process work?
Provide me with the dimensions of the felt you want and instructions as to what you want the design to be. We then adjust the design until you're happy with the final result.
As an example, here's a process of 10 revisions until we got the final product.
End result:
Last edited: