Two Pair
Supporting Member
Joined

Feb 21, 2021
Messages

302
Reaction score

236
Location
Just thought I'd share how I took my homemade folding table topper whose construction I detailed in this thread …
'Dismantle-able Table Topper & Build (w/Speed Cloth Solution)'
https://www.pokerchipforum.com/thre...le-topper-build-w-speed-cloth-solution.78290/
… and converted it to a portable folding table.
I separated the 2 halves of my topper by removing the continuous (piano) hinge in the middle, then attached them to a bifold resin picnic table.
I predrilled holes in the table and secured the plywood topper halves using construction adhesive caulk (top) and 1/4" wide lag screws + washers from the underside, ensuring they were short enough not to go all the way through.
Weight is now 60 pounds, but because it can be partially dismantled, folded, and stored, it's easily put in the nearby closet, so no long distance haul is needed and I don't have to worry about messing up the dining room table with a topper.
Pictures tell the story of how it now folds/unfolds and the final appearance once the Triton mat and detachable rails go on.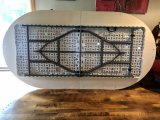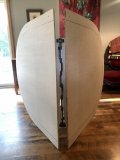 Last edited: