Full House
Site Vendor
Supporting Member
Joined

Oct 31, 2014
Messages

4,464
Reaction score

7,277
Location
Various chip trays/racks/boxes ... please keep in mind shipping is from Canada.
Shipping will be combined for multiple lots, of course!
LOT A
31 x Palm Gaming chip trays / racks
Excellent condition
30 USD + 20 USD shipping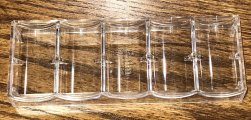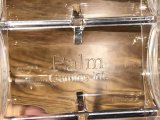 ---
LOT B
15 x stamped "Made in China", barrel length 69-70 mm
Slightly used
Note: 8 have a bluish tint, 7 are white-clear. Same rack, different batch?
10 USD + 15 USD shipping
---
LOT C
10 x Gemaco trays - 39 mm (9 white, 1 translucent and missing a small chunk)
4 x Gemaco trays - 43 mm
10 USD + 15 USD shipping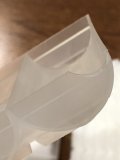 ---
LOT D
5 x Bud Jones square trays logo -- 3 block print, 2 signature
3 x blank (same style but no Bud Jones logo)
10 USD + 15 USD shipping
---
LOT E
7 x 43 mm "suits" (softer plastic like old Chipco racks, very good condition despite the picture!)
(one shown, 7 for sale)
20 USD + 15 USD shipping
---
LOT F
Various cheapo racks
3 x stamped "Game Room Supply" 68 mm
7 x generic 69-70 mm
4 x with injection mold dots 69-70 mm
1 x low-profile (69-70 mm, 7/8" tall)
1 x opaque white (67.5 mm)
3 x random singles
FREE + 15 USD shipping