Joined

May 15, 2020
Messages

42
Reaction score

45
Location
So I want 5000 chips. And I'm cheap. So I wanted to see what Chinese ceramics were like.
I found this quote in another thread.
My ranking of current (and past) 39mm ceramic blank performance (per blank):
Chipco/GameOn > ABC/PGI > Sun-Fly/Nevada Jacks > Chinese > cheap Chinese

My ranking of current (and past) ceramic dye-sub print quality (per company):
GameOn/ABC > Sun-Fly/PGI > PGI/Nevada Jacks/Chipco > Chinese > cheap Chinese (PGI print quality varied quite a bit -- sometimes excellent, sometimes mediocre. Some Chipco-produced chips had serious ink bleeding issues with some colors, particularly reds).

Combining those two rankings, your best quality choices for 39mm ceramics are ABC-printed Chipco blanks and GameOn chips (and both come with hefty price tags), with ABC blanks and Sun-Fly offering great value for the money. I recommend avoiding all Chinese-produced options, as the print quality and chip durability/quality just aren't present with their offerings to date.
I would basically agree with both lists.
The first list is also a price ranking which is why I'm going for Chinese/Cheap Chinese.
Chipcos (not that they exist) were/are still expensive plus finding something existing that I like in quantities I want are gonna be impossible.
ABC are still $0.65 in quantity of 3000+
I'm not sure what SunFly PolyChroms are (I should ask
@SUN-FLY Poker Chips
)
So let's see what Chinese "Ceramics" are like since the quote I got for 5000 was $0.21 and $0.27.
Being insane I ordered about 150 of them because I wanted to see a variety of artwork.
Sizes included 39mm, 43mm, 48.5mm x 5.5mm, and 83.5mm x 52.5mm plaques.
Here's a small sample:
There was a few designs I specifically ordered like the "Venerati" (which obviously is a cheap ripoff), The "suits" (again a ripoff), the US Dollar (which I've personally never seen but it may exist).
Here's the plauqes: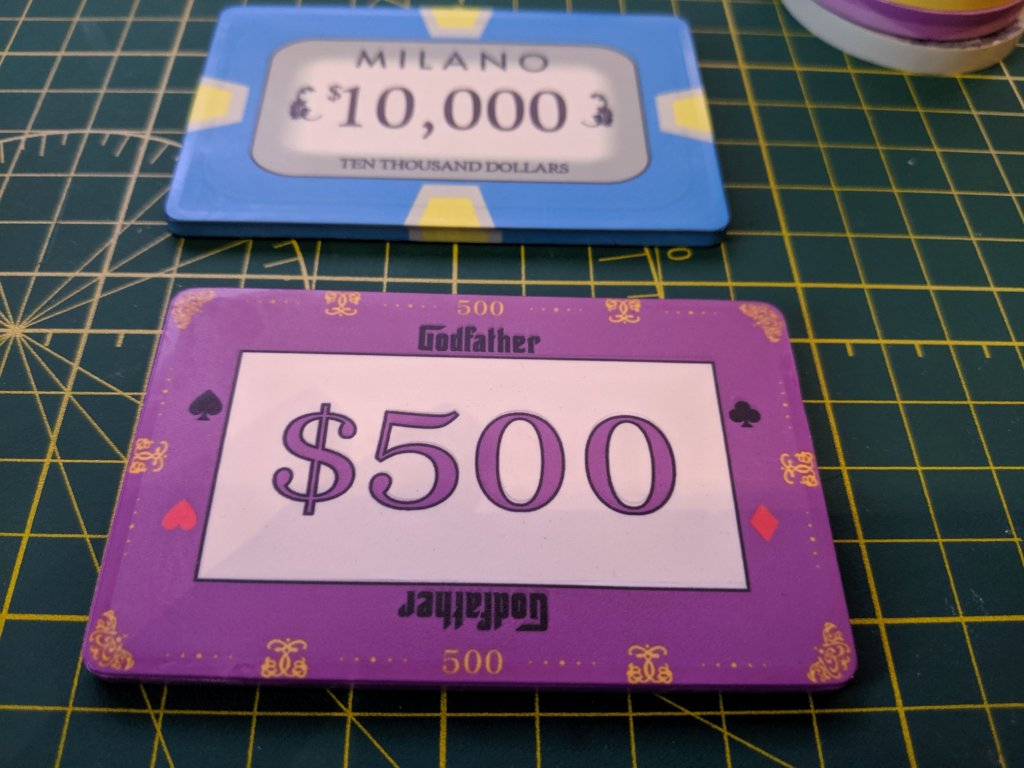 Interesting Edge alignment....
Faces look fine though. The edges look a little weird as noticed here:
Here's all the dealer buttons. I laughed at the Trump one.
Edge spots for the dealer buttons. These are much nicer than the plaque:
Here's the Veneratis. Notice the later colors are wrong compared to the originals. The texture is wrong too obviously but we'll get to that.
Here's the 43mm. Edge alignment is better here.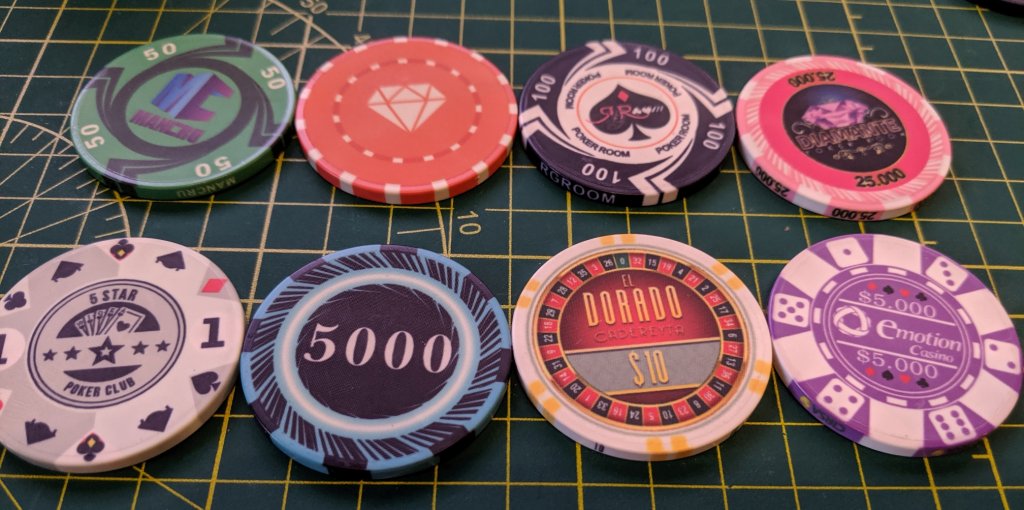 I found one odd chip in the entire lot.
I
You can really see the difference here.
Apparently they have a "matte" and "smooth" option. $0.21USD for the matte and $0.27USD for smooth.
Here's a comparison between the matte/smooth and the Venerati and "Venerati" and one of Side Pots customs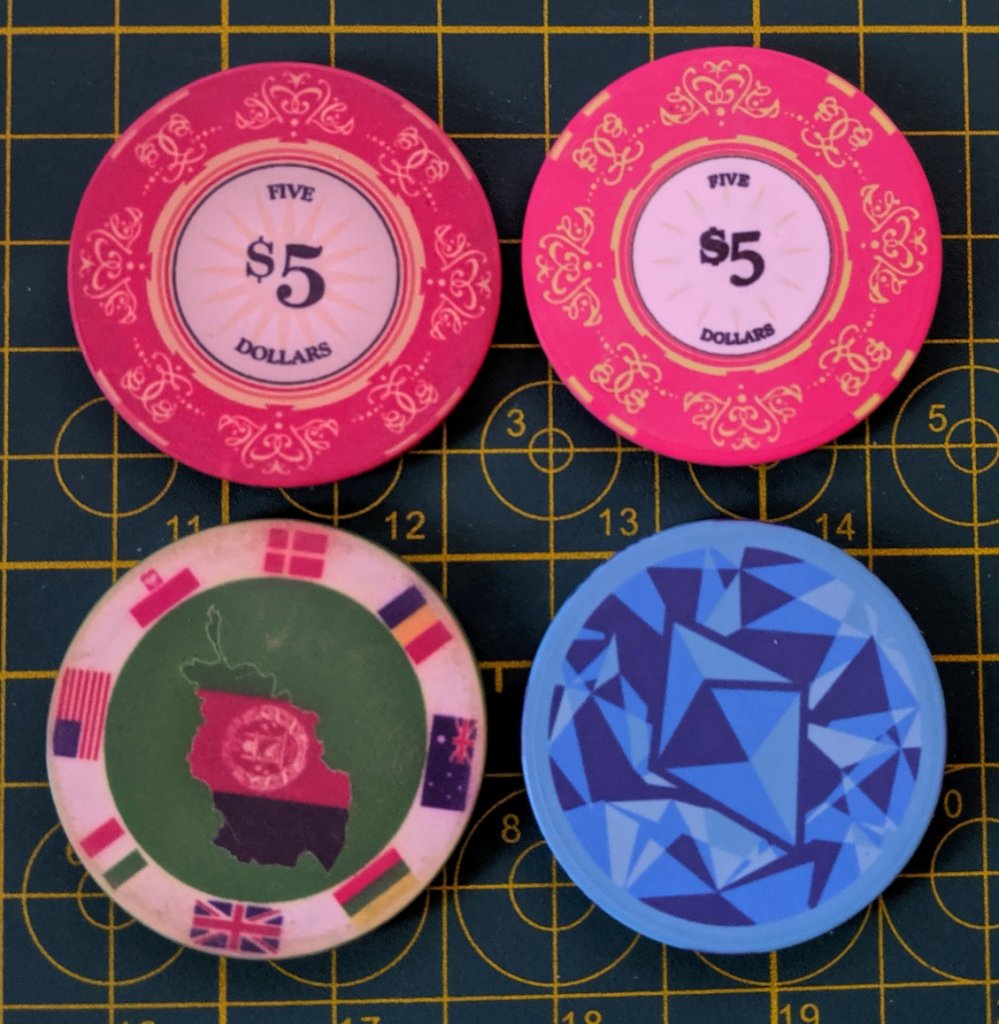 Veneratis:
Custom vs smooth:
I attached a file at the bottom but I have no idea how or how to remove it.
Last edited: