4 of a Kind
Site Vendor
Supporting Member
Joined

Nov 7, 2014
Messages

5,474
Reaction score

13,888
Location
These racks are coming from China. They will come by boat but there should not be much production time. So this should be much quicker than a Cards Mold group buy. Last order was here within 30 days.
The 2 piece racks come in three sizes as listed below.
I personally have the 43 mm racks and have my own photos at the bottom. They fit 20 New 43 mm Paulson in snugly. Much better than any other 43 mm rack I have tried. There is a tiny amount of wiggle room with 43 mm cards mold. They also fit 39 mm with about the same effect as a Matsui or Apache.
I now have the 40mm racks and they works great with Cards Mold and Paulson chips.
The do have notches so they interlock when stacked on top of each other.
This group buy will close when we hit 1000 racks total!
These prices are based on a minimum of 500 racks total:
40 mm- $2.80 each

43 mm- $2.85 each

50 mm- $4.50 each

To order please list size and quantity of each in your post!
Reshipping:

1-10 racks- $9.00
11-20 racks- $14.50
21-30 racks- $17.75
31-40 racks- $24.50
41-? racks- TBD



40 mm-



43 MM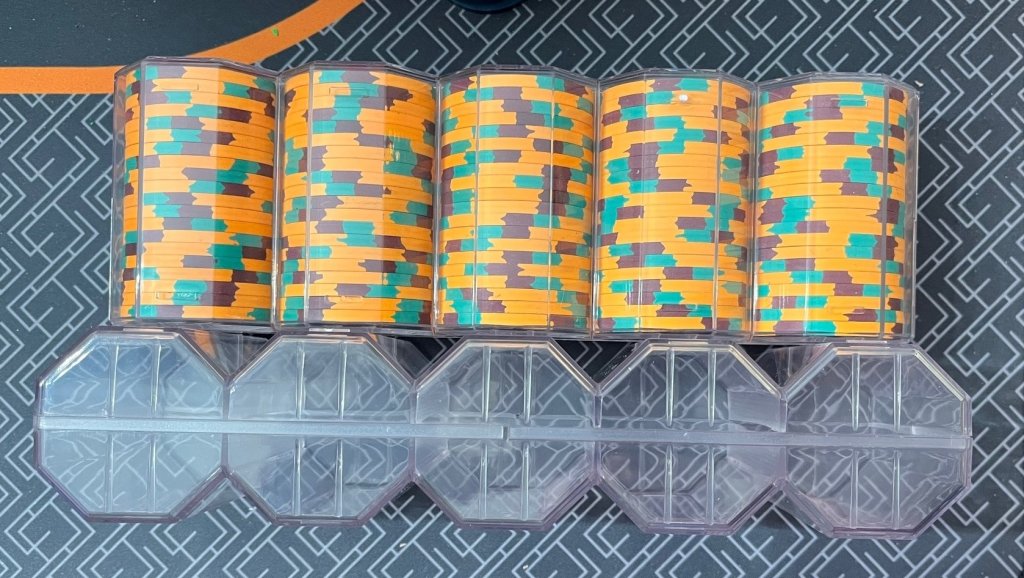 50 MM