Joined

Sep 27, 2020
Messages

1,382
Reaction score

3,019
Location
I'm in the process of building my first "real" poker table.
I did a table topper in the year 2006 but it was crude and designed to fit on my parents kitchen table.
After getting my own place a year later, it was just placed on whatever table was available and yeah, the fit wasn't perfect.
After using this thing for 14 years and having lots of time to plan, I started building a new table topper.
This time I decided to go for an oval because we only have a narrow space in our flat and a round or octagon table would just not fit.
Also I think it looks cool.
Here's the table and the spot it's gonna be placed on: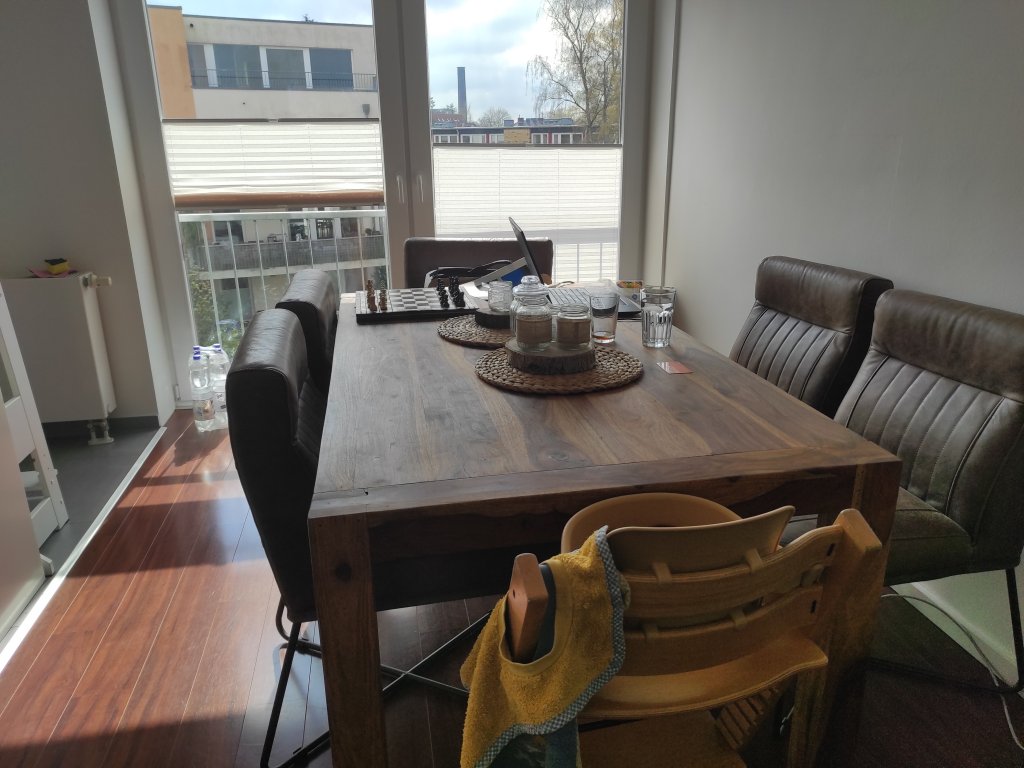 After watching hours of table builds on YouTube and getting inspiration and great info here on PCF, I decided on 82x42 inches or as we in europe call it 210x106cm. I'm gonna stick to the metric system for the rest of the measurements for my own convenience.
Things that were clear from the start:
No racetrack - just very noisy and impractical
No cupholders in the rail/playing surface - aesthetics and I don't want beverages on the table.
I did ponder a raised rail for a long time because I like the aesthetics but decided against it because I wanted to keep the project as beginner friendly as possible since this is my first real woodworking project and many of the tools needed, I'd be using for the first time in my life.
So I knew what I wanted my table topper to look like and what tools I'd be needing.
Here's the sketch I used to explain what I have in mind for the rail upholstery to my dad and brother in law: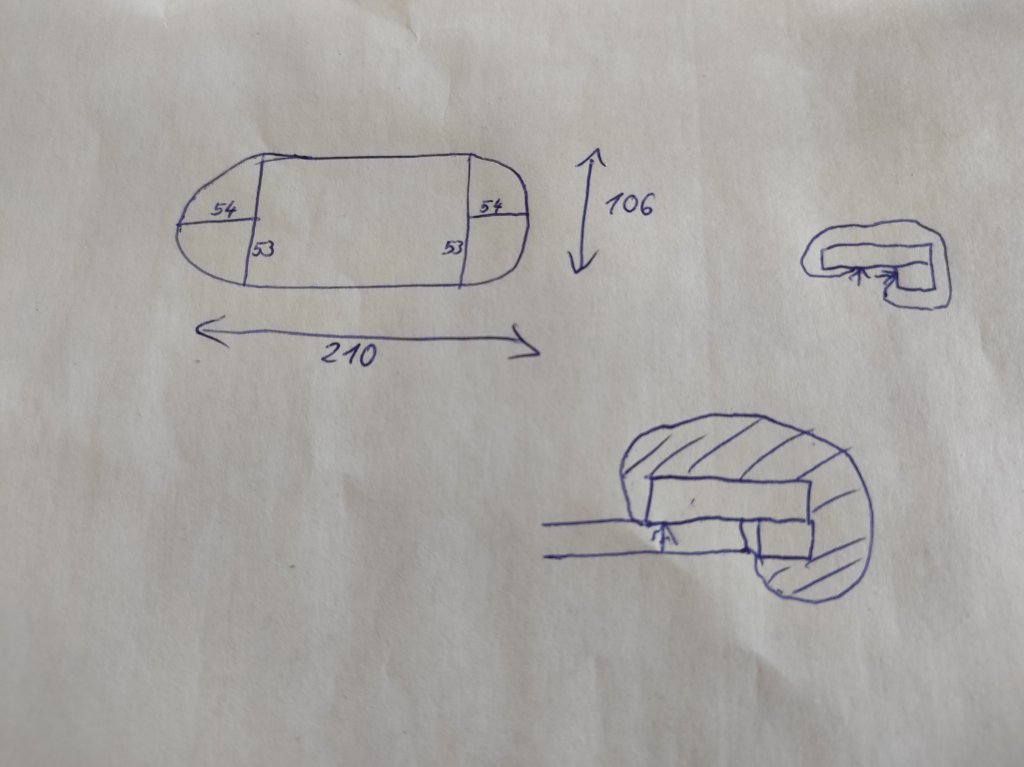 A problem I had to overcome was to get the actual materials.
Yourautotrim.com or any of the sources I found in the guide threads were not an option because of very high shipping and import costs to the EU.
In the end, I bought the rail foam from a german online foam seller and the vinyl for the rail from a company that produces motorcycle seat materials.
My playing surface foam is gonna be a 5mm xxl yoga mat under a suited speedcloth (for now).
In terms of wood I chose two 16mm what we in germany call "Tischlerplatte" or translated "carpenters board". Not sure if it's what you call plywood in the US. They are very sturdy, don't warp and keep their form for a long long time.
Here you can see my working space. Since my wife claims to be allergic to sawdust and dirt in general if it's in our apartment, my father offered his painting room.
It's not big but it's better than doing it outside my flat on the sidewalk while my wife glowers from the window and thinks what I'm doing is a complete waste of time and money.
We got to work with my newly purchased router and here are some pictures: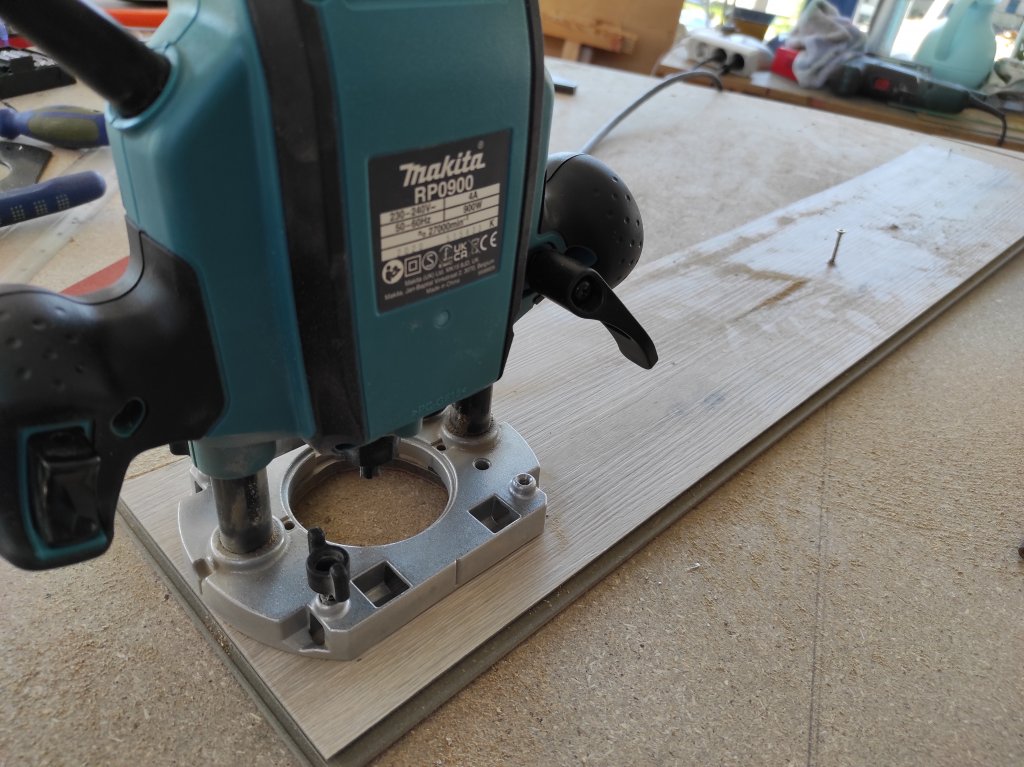 All cuts done:
Time to glue the rail:
Lots of sanding still to go to smooth the edges of the rail:
This was my plan to rail to fasten the rail to the board/playing surface: The idea is to be able to remove and reattach the rail easily to switch out the cloth when necessary.
The first trouble I encountered in my project was the following:
I drilled the holes freehand and I drilled the rail first and the base board second because I needed two different thicknesses. This led to holes that didn't match up perfectly and that were not at an exact 90° angle.
So it was near impossible to get the screws in. I made it work but it was a bitch to screw in and the counterparts to the screws that were supposed to sit tight kept moving. There was a very real possibility that those would just pop out into the rail foam when I'd be removing/screwing in the screws after upholstery.
So this would not do at all.
I removed them all and filled the holes back up with wood pins and some wood glue/repair paste.
I ordered a different kind of system which we call "Einschlagmuttern":
These should work better.
Work continues on wednesday when they are scheduled to arrive.
Also I already predrilled all the new holes and this time I used my newly aquired drill guide to get the 90° angle right:
Update to follow in a few days.
Sorry for the cliffhanger.
Last edited: