Joined

Apr 18, 2019
Messages

153
Reaction score

390
Location
Seven months ago, I turned on ESPN and re-runs of the WSOP were playing, I watch for a few minutes and reminisce about all the fun I had playing poker in high school and college. I began to think about playing again, so I texted a few friends if they would be interested in getting quarterly game going - they all said sure! The next day I ordered chips! Thinking of all the issues we had with dice chips not having denomination on them, my main goal was to find a decent looking chip with cash denominations b/c I figured we'd played cash games 99% of the time - I settled with Monaco Casino insert chips from Discount Poker chips.
Table?!?! Where are we going to play? I started looking up poker table online and thought about making one. I'm a hobbiest woodworker, with more then 7 years of woodworking experience - however I decided to look on Facebook Marketplace and CL for a table, cheaper and a lot faster then building one - especially since I didn't know if this whole "Poker Night" would stick. I found a racetrack style table in decent condition on CL for $100, I decided drive 45 minutes across DFW to pick it up. I figured 2 sheets of plywood would cost me $100 - so this had to be a decent deal even if I replaced the vinyl and put SSC on it. Thats exactly what I did, spent $80 on new fabric - $180 for a nice poker table to get us up and running.
New vinyl and SSC installed!
The only thing left to do was set a date, our first 2 poker nights we played .25/.50 NLH 6 handed - we played for about 6+ hrs each night - everyone had a blast! The next poker night, we had enough for a two table tournament, 16 showed up, we all started with $200 in chips and had 1 hour blinds. The tournament was a success, however I learned a lot running my first game - it ran horrible looking back at it now, only 7 months ago! lol
Our first Poker Tournament - 16 seat tourney.
Fast forward seven months and 5 poker nights later with 3 tournaments under my belt - things have drastically changed for the better!! We now have over 60+ people in our poker group, running 3 table $80 buy-in tournaments now. With the drastic growth, I found myself researching "hosting home poker tournaments" online and came across this awesome forum 6 weeks ago.
The first thing I changed after the tournament was my blind structure & adding a blind level clock everyone could see was a must! However I still had some room for improvement on the structure of the game. The 2nd tournament ran better then the first, with some more research on PokerChipForum I knew I needed get the folding card table replaced with another borrowed poker table & the low denomination chips had to go!!
2rd Poker Tournament
After hours of researching clay chips, I decided to sell my metal insert chips and but the Majestic from Apache for my new tournament chips - we now start with T10000 starting stack - a lot of time went into determining how many chips I would need for 30 seat tourney with 1 re-buy. I also bit the bullet and pre ordered the new 43mm Royal chips for my cash set - we play $1/$1 after the tournament now.
I bought blank orange Majestic and had labels made, I wasn't a fan of the brown T5000 chip.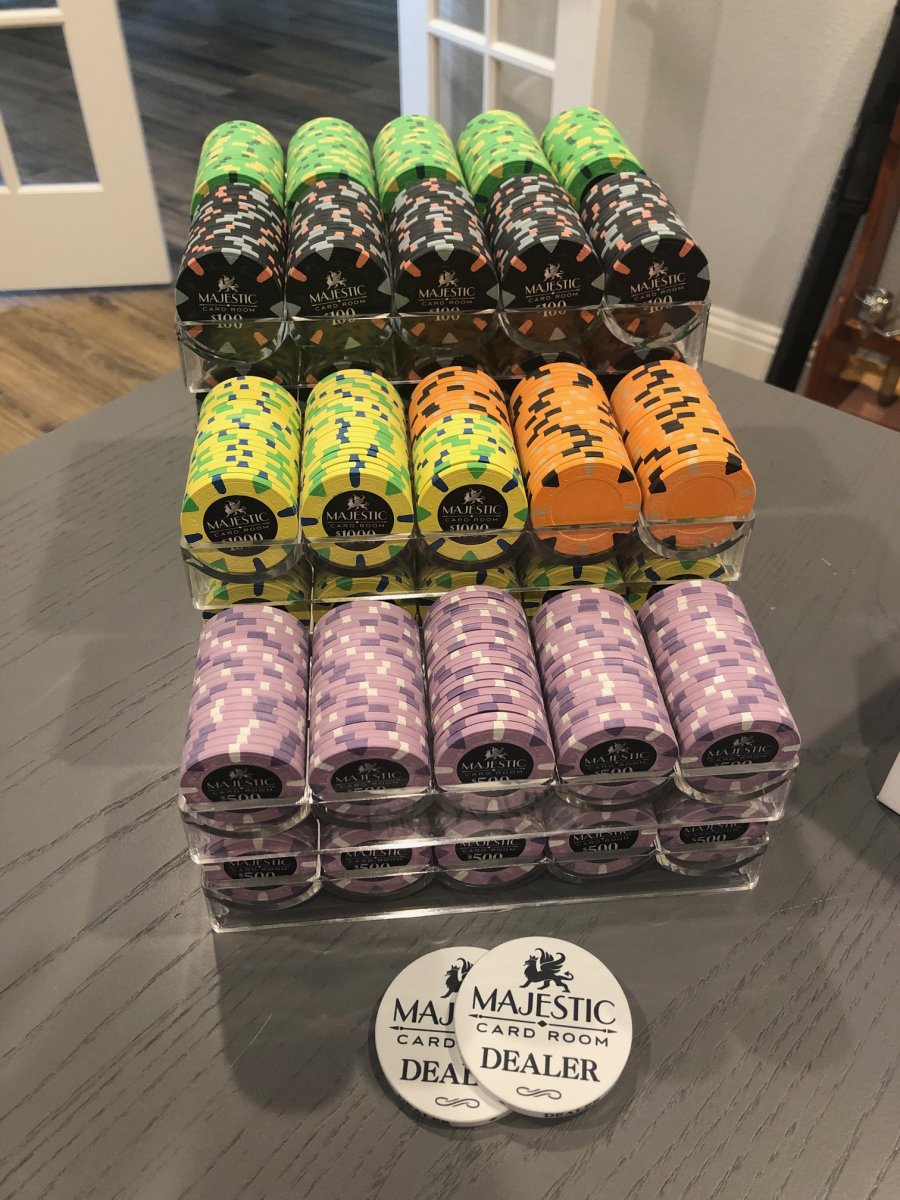 I ordered the following Royals now that I know what chips I need.
200 - $.25 (I don't really need them, just like the chip + when/if we play lower stacks games, I'll have .25's)
200 - $1
300 - $5
75 -$25
25 - $100
Showing the 2 borrowed tables - soon to be replaced!
$290,000 in play!! Love the finishing chips of the Majestic's
Our $1/$1 NLH cash game - almost $3,000 on the table at the end of the night - I had $650 in front of me before losing $200 on one hand, in for $120, out for $447 - not a bad night!
June 8th was our last poker night, we had 3 poker tables, 29 buy in's and we played with the Majestic T10000 starting stack and the tournament ran so smoothly that we've settled on this structure - P.S. T2000 bonus chips for early registration works!! Everyone showed up and we started on time!!
Now that you're caught up on the rapped growth of our Poker Night, we now need 2 new tables!! The borrowed tables worked, however they are small and a pain to get my hands on every time we play.
First off, I want to thank Bill!
bsdunbar1
He was a huge help and these tables below are his design! Thanks again Bill, I hope these pictures help someone else in their building journey.
And so here we go....................... time to start buying material for 2 tables!!
Last edited: