Full House
Supporting Member
Joined

Apr 29, 2020
Messages

3,553
Reaction score

4,454
Location
AUCTION ENDS ON

Jun 28, 2021
AUCTION ENDS AT

11:00 PM Eastern Time
STARTING BID

$1450
MINIMUM BID INCREMENT

$5
PAYMENTS ACCEPTED

PayPal F&F
SHIPPING TERMS

Winner Pays
SHIPS VIA

USPS Medium Flat Rate Box
AUCTION GUIDELINES

The highest bid at the closing time listed above will win. If there is a bid within 5 minutes of the closing time (original or extended closing time), 5 minutes shall be added to the time of the last bid, until there are no bids within the final 5 minutes. Because seconds are not displayed on post timestamps, these examples will be used as a reference.
No Reserve. The Starting Bid of this auction will be treated as the Reserve Price.
Bids must be placed in whole US dollars, using numbers in minimum increments as stated above. (bids using images or spelled out numbers are not valid)
All bids are to be placed openly in this thread. No bids via Private Message/Convo. Sellers are not permitted to bid on their own auctions.
The seller reserves the right to edit the listing to clarify statements or correct any errors.
Once a valid bid is made, the auction can not be canceled. Bid edits and/or retractions are not permitted. Violations of this rule will result in discipline at the discretion of PCF Admins and/or Moderators.
PCF (its Owner, Admins, and Moderators) are not responsible for any actions or outcomes that take place in this auction.
If you are reading this auction, you probably already know what these are. If not, here are a couple of links to bring you up to speed. Please note on David Spragg's page that only 4000 of each of these chips were made by Atlantic Standard. (ASM) There seems to be only 3-4 playable sets of Borland chips on PCF, and none of the Dunes version that I am aware of.
http://www.marlowcasinochips.com/links/davidspragg/borland/borlandfantasy.htm
https://www.antiquegamblingchips.com/Borland.htm
Nearly all of these chips appear to be mint or very close to it. But I'm not a professional grader, so please make your own decision about condition based on the photos. Feel free to ask if you want to see something not pictured. The person I obtained these from has represented that they were purchased from a shop in Vegas in 1996. It is my assumption that he bought them directly from Jim Borland's shop. He was the only owner prior to me, and he says they were only put in play a few times in the 25 years he has owned them.
I can tell they were handled some, as the lighter colored $500 chips show a little dirt. Nothing that shouldn't clean up easily. Unfortunately, something was spilled on a group of the hundreds. I did a two-minute Dawn soak with a gentle toothbrush cleaning on two of the worst of these chips, and most of it came off. I think a longer soak might take it all off, but I will leave that to the new owner. See my pics below.
There is nothing to mention regarding the condition of the rest of the chips. I've handled each barrel, and I see nothing short of a few very tiny edge nicks, too small to even call flea bites. They are in beautiful condition.
The $1 through $100 chips all have brass flecks in them. The $500 chips appear to not have these brass flecks. They are also the lightest of the denoms at about 8.4 grams for the ones I weighed. All the other denoms I weighed were between 8.8 grams and 9.1 grams.
Breakdown of this set is as follows:
$1 x 111
$5 x 160
$25 x 125
$100 x 133
$500 x 40
Total of 569 chips. Racks in photos not included.
Shipping at cost to buyer in a USPS Medium FRB. US or Canada preferred. Insurance recommended at buyer's cost as these chips are virtually irreplaceable. Will consider International buyers. Int'l please PM to discuss shipping arrangements prior to placing a bid in the thread, simply because I have no experience shipping chips internationally.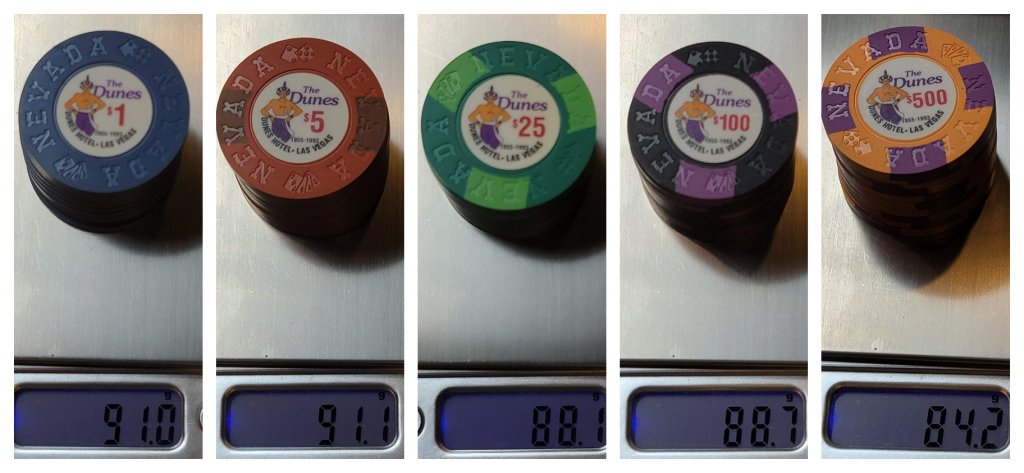 Here are photos of the hundreds that have something spilled on them. It's the barrel on the upper right. The next pick shows 10 of the worst of these, and to the right, two others that were cleaned as described above. I also lightly oiled the two that were cleaned. They are in the front of the partial barrel in the first pic below.
I should also mention that these chips are very chalky. Even after I wiped them off with a damp rag, the chalk on the edges came back immediately. They will definitely all benefit from a light oiling which should really bring out the colors in these chips.