Hosted my second annual Zombie Poker tournament on Saturday and it was another great night. We were 6 handed - 4 players hadn't played the Zombie Tournament last time around, including one player who was brand new to the group. They had all read the Zombie specific rules beforehand on Facebook but we took some time before the tourney started, as we always do, to make sure everybody is familiar with the specifics for the night.
Tournament Details
Buy in: £15
Bounties: none
Starting Stack: T10K (100BB)
Rebuys: 1 per player during levels 1—6. Remaining chips must be surrendered if not bust. If bust, rebuys must be made immediately to remain in the tournament.
Zombie Outbreak
1. If you rebuy you come back as a zombie with an extra 5k - this represents the strength of fresh zombies.
2. If you get bit by a zombie (beaten at showdown) you turn into one (you can get a T5k zombie boost but you have to pay £5 for it) - this represents the danger of encountering a zombie.
3. A zombie in the small blind position has to pay it twice (once as the blind and once as an ante). This represents the decay of zombies over time and forces them to be aggressive, as zombies should be.
Blinds
Bonuses
1. Dead Man's Hand - win with A8
2. Number of the Beast - win with 666
3. Texas Holdem Massacre - Bust 2 or more players at once
Pics below have been edited to preserve anonymity in this time of Big Brotherly "community spirit"
Dead Man's Hand was claimed first by our new member.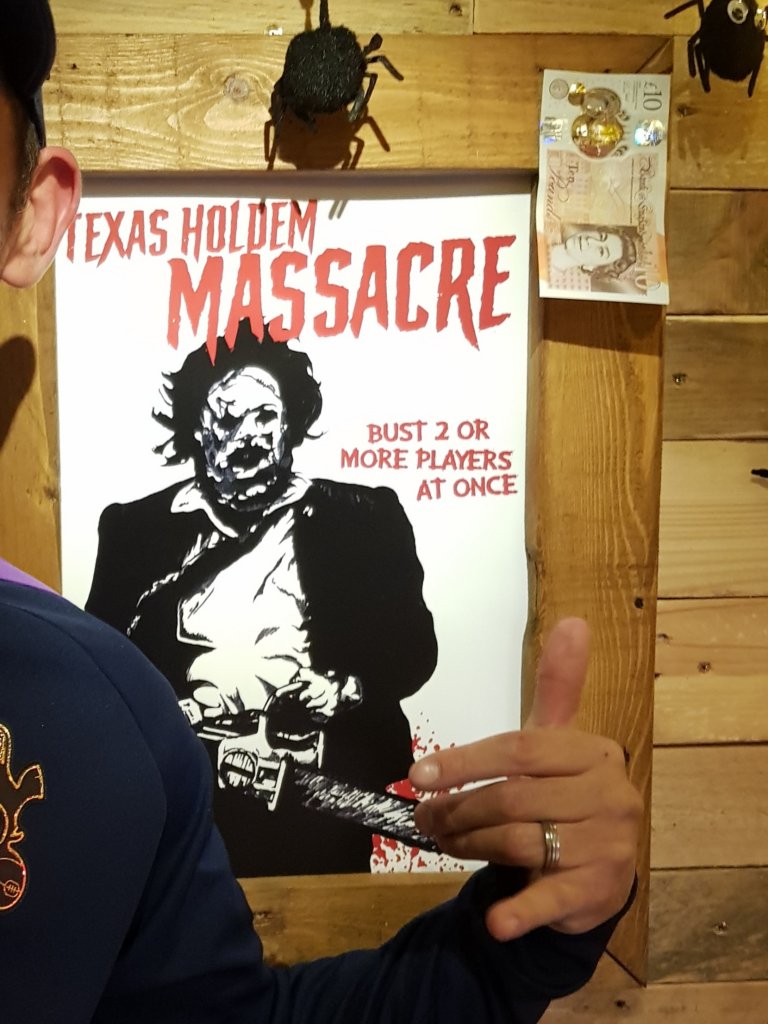 Texas Holdem Massacre was claimed by our regular LAG/Donkey/Mad as a Box of Frogs unpredictable loveable rogue
The tournament
The first Zombie was resurrected early on after one of our donkey was busted halfway through Level 3 (not unusual, he still raises 90% of the time no matter what cards he's holding). Not long after that 2 more players resurrected after the Donkey Zombie busted 2 players (including myself) simultaneously, both of us choosing to rebuy.
Another Zombie was resurrected after I busted the new guy in Level 4, who then rebought, and that was how the Zombie/Human balance remained (4/2) until Level 8 when 3rd place (who was still human) was busted after the rebuy period and therefore eliminated.
That left a human and zombie heads up, with the human having a decent chip lead. When he was beaten in a hand by his zombie opponent, thus becoming a zombie himself, he chose not to purchase the optional T5k boost due to the size of his stack. This could have been a mistake as he eventually went on to finish 2nd. My personal choice would be to always take the add-on since the zombie bleed will soon take it's toll and if you win you're essentially getting your money back, but I suppose being in the money already he figured he'd take his chances.
All in all a good night and one I look forward to. I like my way of going about it and think it incorporates Zombie lore with some logical changes that spice up the game just enough without changing things too much either.
A couple more pics