I moved into my current home about 14 years ago, and this project has been on the list since the day we moved in. After redoing pretty much every other room in the house and adding a big new deck, it's finally time to get moving on improving the poker portion of the basement. I actually originally joined the forum when Tommy had his basement thread going so I could see his progress pics, that thread was a big help in planning this work (many thanks
@Tommy
). While this project won't be nearly as large/extensive as his, I figured I'd post the progress, if only to help me keep track of things
The existing space is roughly 22.5'x 16':
Here's the overall improvement plan: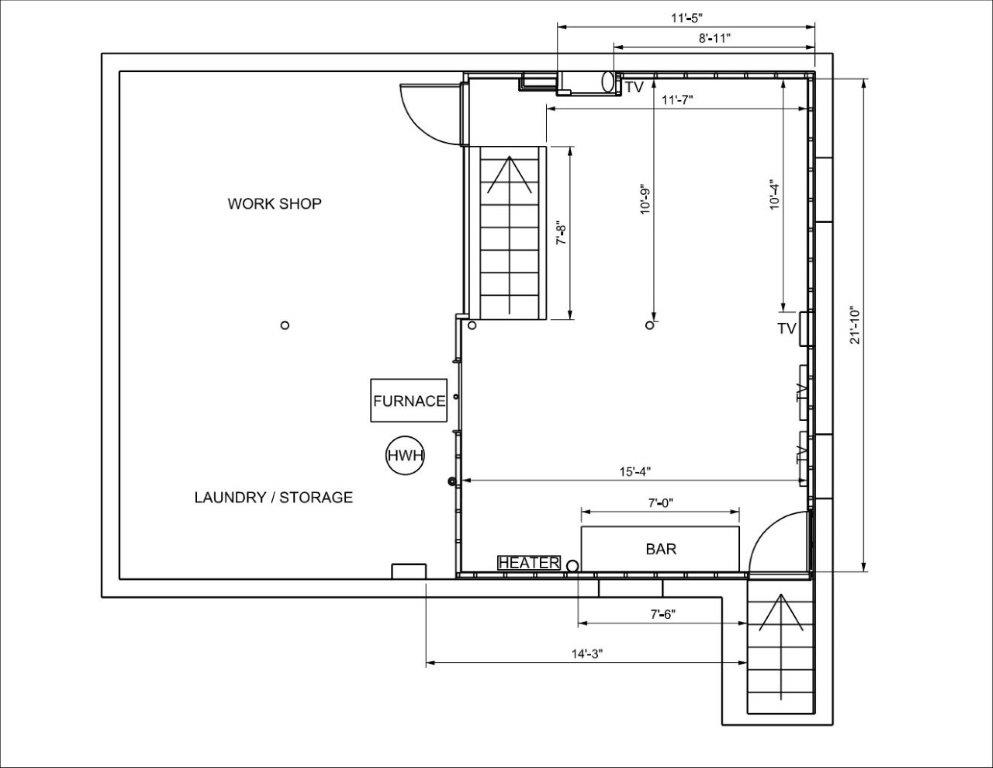 - XPS rigid foam insulation and 2x3 stud wall with fiberglass insulation & sheet rock
- TyRoc subfloor for any minor water during big storms, vapor barrier and insulation. Planning on wall to wall carpet over the TyRoc
- Cedar planks between ceiling joists to hide the wires/plumbing but allow for easy access and future improvements
- AV wiring for home theater (projector & screen) and a couple of console video game setups
- Walk up bar
The existing room functions fine as is with the masonry block walls, it's nice and cool in the summer and usually not too humid if I run a dehumidifier. It's cool but not freezing in the winter - IMHO at least
- average of probably 65F and may dip to around 60F during really cold stretches. I have a vent-less natural gas heater that heats up the room pretty quick during winter poker games, and one of the vents from the HVAC system feeds the room (though is usually shut when we're not down there). Overall, I was really looking to improve the look and feel of the room, make it less rough and cave like and more "finished". It's not a huge area though, and given that the temperature ranges aren't all that bad, I didn't mind sacrificing a bit on the insulation to maintain as big of an area as possible. Typically for this area of NJ, they'd recommend 2" of foam insulation with 2x4 walls with fiberglass insulation, which would have reduced the room size by a foot each way. I opted to cut that down to 1" XPS and 2x3 walls with insulation to save a few inches.
In the 14 years we've been here, we've (knock on wood) never had a major issue with water, and that time frame included some very big storms (where others in our neighborhood have had issues). I've directed gutters and drainage away from the house to the extent possible, though one of my neighbor's gutter drains directly to the side of my house, enough to see some standing water in a really big storm. But even in those rare cases, there's only one minor spot that has less than a cup of water on the floor in the basement. Because of this, I wanted some type of subfloor system that allowed for a little occasional moisture. After doing some research I went with TyRoc, which seemed like one of the better solutions as it provided the corrugated rubber underside for water like dri-core that's more moisture resistant (I really didn't care for the chip-board like appearance of dri-core), and also it's a thinner system that seemed easier to install.
The ceilings were an area I've hemmed and hawed for a while in planning. I didn't want to do full sheet rock, there are so many wires/pipes/AV run up there and I access them often enough that I didn't want to enclose them permanently. But I hate drop ceilings - the last thing I want in the place I escape to is for it to feel like my office. The existing ceiling is also relatively low (~7' high) and I didn't want to reduce that, if at all possible. I've seen pics of people who black out the ceiling joists with black spray paint to make it "disappear"; I did a little test area in my laundry area and really didn't care for that look (it'd probably look OK if I had taller ceilings, but to me it made feel more like a cave). Instead, I came up with an idea to add cedar planks between the bottoms of the ceiling joists, supported on quarter round molding. Maintains the clearance and access, hides the wires/pipes and I think it looks OK. It also provides enough room for insulation, so the plan is to add soundproof insulation. Here's a mock-up:
The room captures several my of main hobbies/vices/time sinks - movies, poker, whiskey/bourbon, home brewing & cigars. I'm also planning on adding a couple of TVs for console gaming setups (possibly MAME too) for my two boys (12 & 9). So the key features of the room will be the home theater & video game area, poker room (one full time table with room for a second in the theater area), and a nice custom bar - complete with a double tap for home brews, built in humidor and a display case for racked poker chips. I'm not really into doing rooms with overwhelming sports/hobby themes (mainly because I have so many varied interests), however I do plan to incorporate a few accents/features that will mimic the look of a whiskey barrel house, like adding a facade to the main support beam to give it a rough sawn lumber look to compliment the open wood joist and cedar plank ceiling. Nothing extensive, hopefully just enough to provide some neat accents. Why a barrel house? Well, that's the theme I'm working on for a new custom CPC tourney set
Here's the overall layout with furniture (normal setup)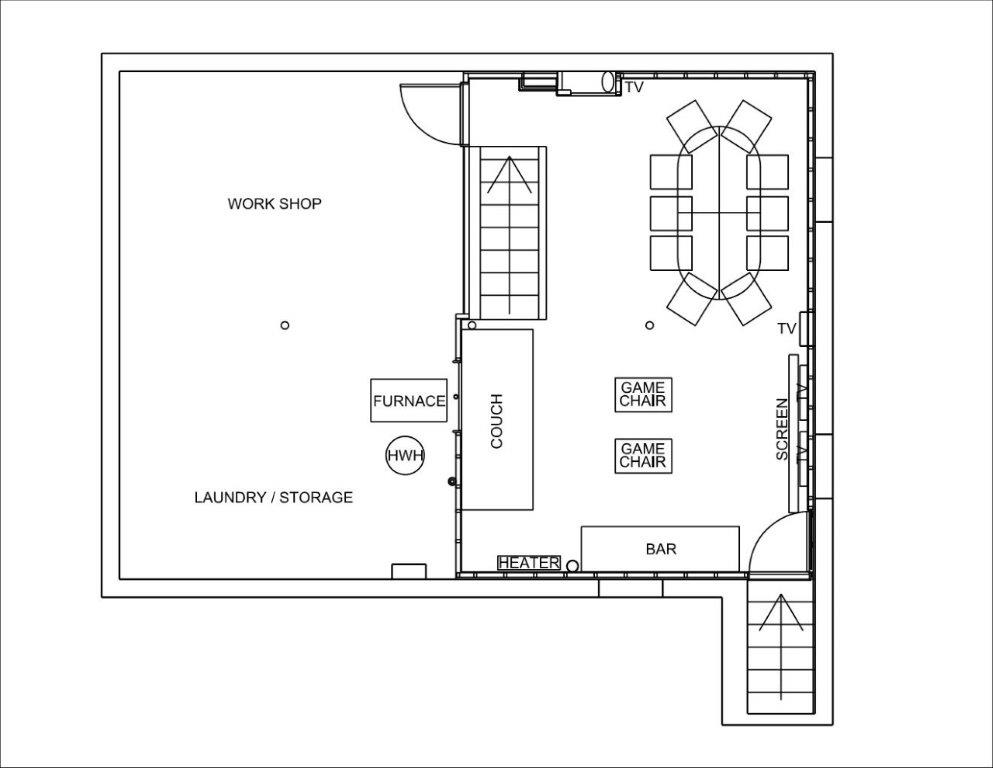 And the setup for bigger tourneys with 2 tables: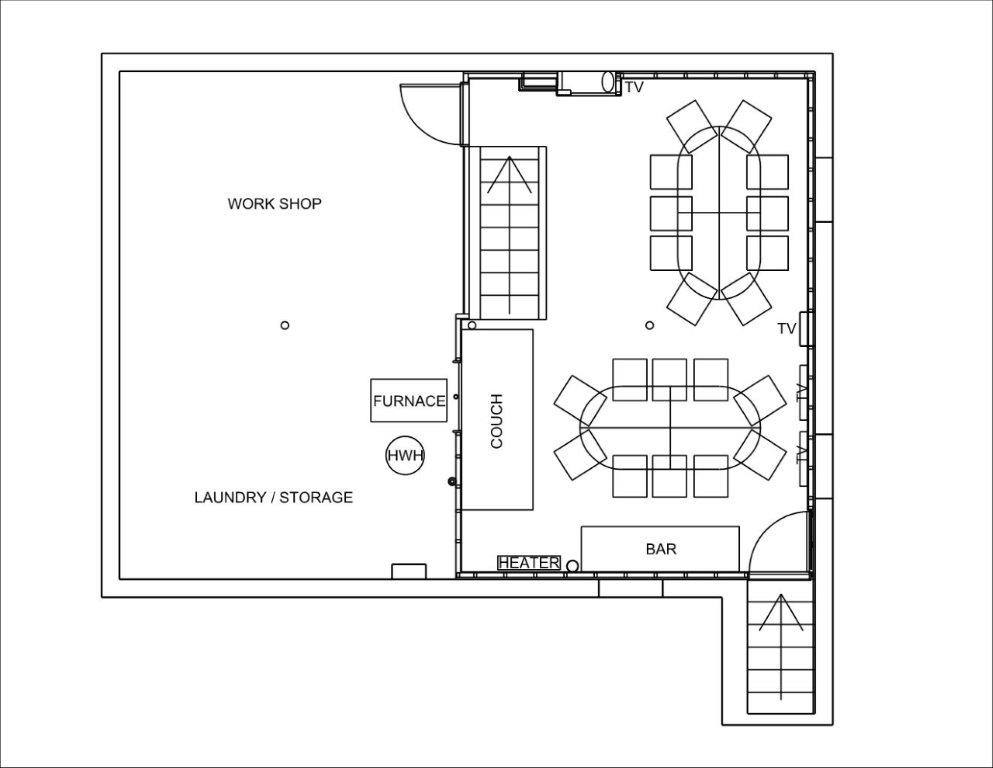 I started cleaning up, prep work (tidying up loose wires and such) and moving the metric ton of crap out of the basement a couple of months ago, but really got started with construction this past week. The wife and kids were out of town for the week, so it gave me a nice window to get a big head start. I'm hoping to be substantially complete (furniture back in and back to running poker games) by the end of September, and fully complete with the bar and all the finishings by Christmas. May be wishful thinking
On to the construction pics...
Started here - music setup
Usually I have my stereo going when I'm working, but with everything now out of the room, had to make due with this cheesy little animal speaker that someone bought my boys a few years ago. Surprisingly it worked pretty well....
OK, now onto the construction pics - started here: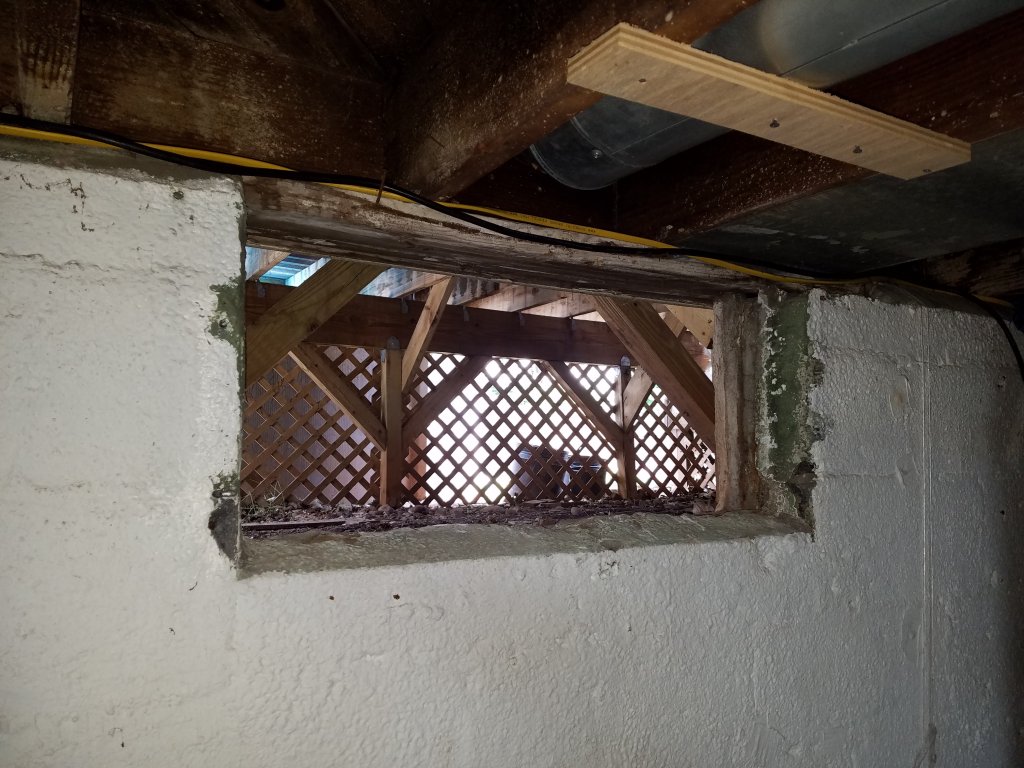 The room had 3 old single pain windows that were all broken and boarded up when we moved in. I replaced the 2 side windows several years ago, but had this last one in the back left to do. It's now covered by my deck in the backyard and pretty much useless for light - and this is where I wanted to put the bar - so I ripped out the old window and bricked it up. It's ugly but solid and leak free and no one will ever see it, lol
Next up was installing the rigid foam. This gets glued to the masonry walls to hold it in place - ultimately this will be sandwiched between the masonry and stud frame, so the glue just has to hold in place until the studs go in. Surprisingly though the adhesive held them in place pretty well. I also cut insert panels to insulate the sill above the concrete foundation.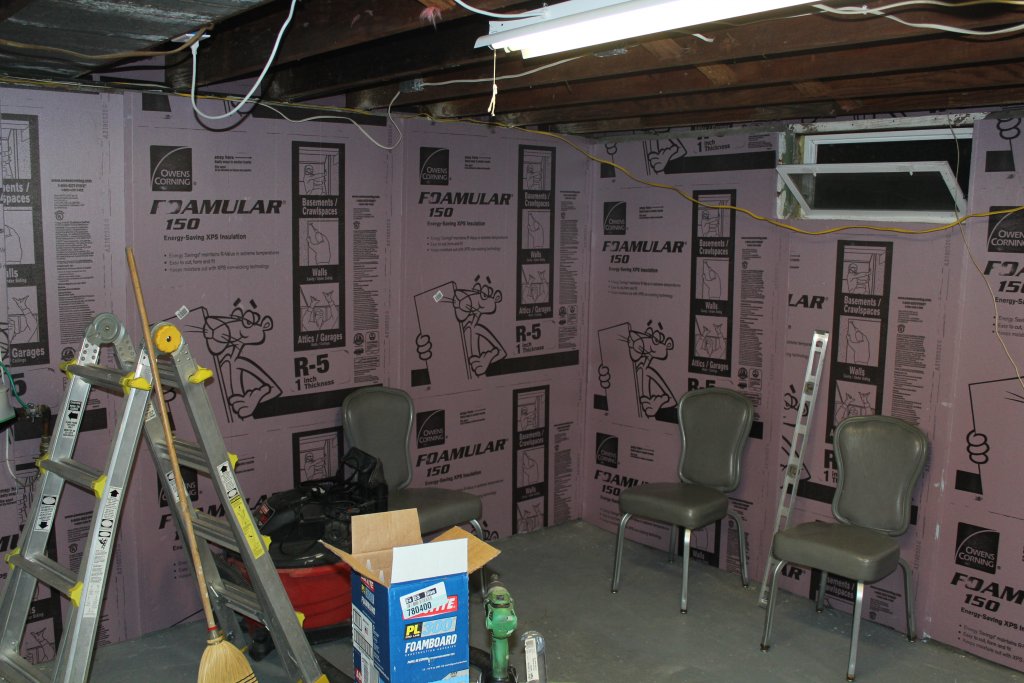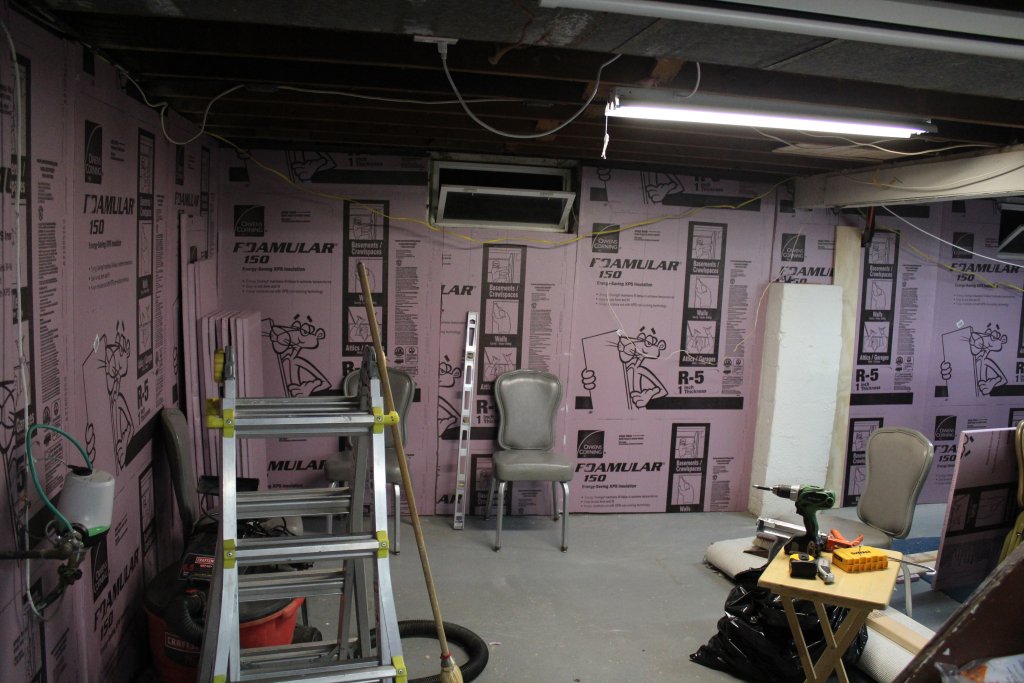 Onto the framing. I picked up a Ramset from the Depot to secure the PT bottom plate to the concrete floor. I was a little hesitant, I had read some reviews that these may not work for older homes with hardened concrete. It worked like a charm for me, as long as I put my weight into the gun when firing, it shot them into the concrete perfectly, I only had one that I had to do twice. The gun style setup is much nicer than the older hammer style ones, it made for very quick work.
First exterior wall with a small closet for the water meter (and future chip storage).
Notch for the water pipe:
Second exterior framed wall, and here you can see the masonry bump out that I'm trying to figure out exactly what to do with. It extends another few inches from the framed wall, I'm thinking this will just get XPS foam and furring strips screwed into the bump out, definitely don't want to add the full wall here, it'll stick out way too far. Any DIYers/builders with a keen eye will also spot the "mistake" I made framing (was the end of a long weekend when I finished this wall, lol).
Third exterior wall and interior wall by the furnace. This wall will be fairly close to the furnace, so I'm leaving an opening for a door to access the back of the furnace for cleaning/maintenance.
This wall needed some additional framing up top, you can see the drain/vent pipes up near the ceiling, these are from the bathtub and sink on the main floor. The wall didn't quite clear them, but again I didn't want to move the wall in another foot and reduce the room size. So I added a little bump out to clear the pipes:
And some framing around the HVAC (for the most part, I'm leaving the HVAC ducts exposed, not framing them in so as to not reduce the headroom any further)
Interior wall by the stairs/shop:
After 3 days of framing I took a break and switched over to plumbing. Ran hot/cold water lines over to the spot where the sink will go in the bar. I usually use copper, however there were some very tight spots so I opted for PEX. Used sharkbites to transition from the copper as both were out in the open and easily accessible (I still don't think I trust them enough to bury one in a wall...)
And to finish things off this weekend, I also installed the can lights and dimmer switches.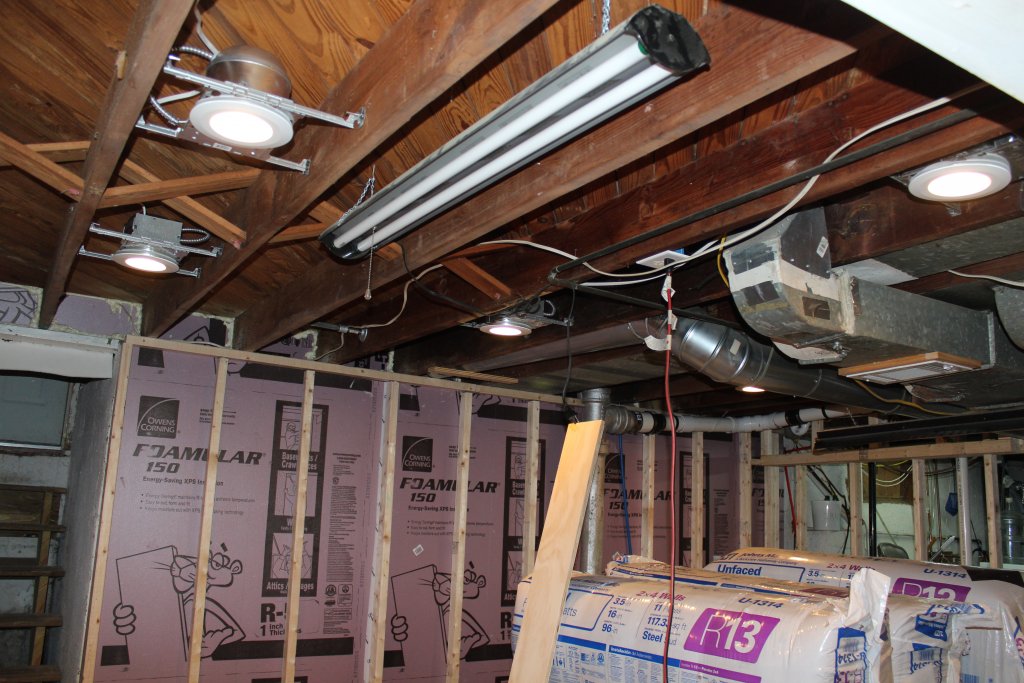 So after a week of work, off to a pretty good start. I'll likely take a few days off (need a break
) and then get back to it. I'll keep updating as the work progresses.
Last edited: