AUCTION ENDS ON

Aug 7, 2022
AUCTION ENDS AT

1:00 PM Eastern Time
STARTING BID

$1
MINIMUM BID INCREMENT

$1
PAYMENTS ACCEPTED

PayPal F&F
Zelle
SHIPPING TERMS

Winner Pays
SHIPS VIA

USPS First Class
AUCTION GUIDELINES

The highest bid at the closing time listed above will win. If there is a bid within 5 minutes of the closing time (original or extended closing time), 5 minutes shall be added to the time of the last bid, until there are no bids within the final 5 minutes. Because seconds are not displayed on post timestamps, these examples will be used as a reference.
No Reserve. The Starting Bid of this auction will be treated as the Reserve Price.
Bids must be placed in whole US dollars, using numbers in minimum increments as stated above. (bids using images or spelled out numbers are not valid)
All bids are to be placed openly in this thread. No bids via Private Message/Convo. Sellers are not permitted to bid on their own auctions.
The seller reserves the right to edit the listing to clarify statements or correct any errors.
Once a valid bid is made, the auction can not be canceled. Bid edits and/or retractions are not permitted. Violations of this rule will result in discipline at the discretion of PCF Admins and/or Moderators.
PCF (its Owner, Admins, and Moderators) are not responsible for any actions or outcomes that take place in this auction.
1 barrel of Indiana Grand Primary 25s​
If you know someone looking for these chips, please tag them!
---
Disclosures
: This auction is for one barrel or one sample set. 1 barrel = 20 chips of the same chip in total. A Sample set is 1 of each of the 19 different Indiana Grand chips for a total of 19 chips. I was going very fast when taking photos so some pics may show more or less than a full barrel. But you will be receiving 20 chips for a barrel auction or 19 chips for a sample set auction. The chips for auction are shown next to my custom JACK Cincy fracs for some kind of validation. The JACK frac chips are not included in this auction.
Primary chips were used in the casino and most are dirty and show signs of use like flea bites and/or rack check marks. A few primary chips are cleaned. These are as I received them from TCR. Please examine the photos for chip condition.
Secondary chips were never used in the casino or by me and should be considered mint.
---
Bidding starts at $1 and the bid increment is $1
Payments accepted: PPFF, Zelle, PPGS (if you
add the fee
),
USDC crypto.
I will ship to the USA only. Winner pays an additional $6 in shipping costs for one barrel/sample set or $10 combined shipping if they win more than one auction.
This auction will ship out on the 12 of August or earlier via USPS First Class or Priority mail. Insurance can be added for an additional cost.
---
---
---
It's been a few weeks, its August, and that means: Welcome back to the...
Indiana Grand

Auction

E

x

t

r

a

v

a

g

a

n

z

a

​
Redux​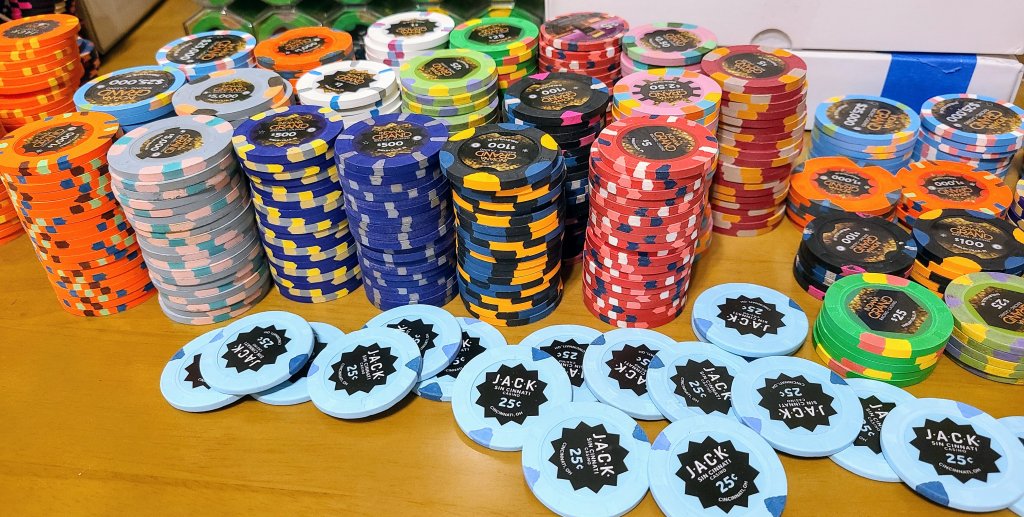 This photo shows multiple auction items and is for reference only. Courtesy of @Carnth
​
General description of all my auctions:
A full barrel of every single Indiana Grand chips is up for auction. Even the chips missing from the first extravaganza. That's right 1K secondary sloth claws are on the block! Along with every other chip from Indiana Grand. And, I have full sample sets as well. Check them all out in the complete auction listings below. Not only am I making this extravaganza bigger by having more auctions, but your favorite shipping rates are back too. Only $6 to ship one auction or $10 if you win 2 or more. Even if you win 20+ auctions. There were a number of you who saved on shipping by winning more than one auction last time.
And now for the sad news: There will be no mare barrels of IG from me after this. I am basically out-of-stock after these auctions. (I'll have a few single chips left that I'll just keep for myself for the foreseeable future.)
Remember...
With the starting bid at $1, these will sell.
Warning
: all auctions in the Extravaganza end at exactly the same time this weekend. So, trying to bid on multiple auctions all within the last minutes may be a challenge, not to mention that there is a cool-down period that the forum enforces after every post you make. Make sure you bid accordingly.
---
FAQs​
Why are you doing this... again?
Because I got more chips and I need to make room to store them. And now I can finally say that this is a full IG auction now that there no missing chips in the line-up.
Are you allowed to post this may auctions at once?
Uh... next question.
How long does it take you do do all this?
It takes a
lot
of time. Getting all the photos for twenty-something different auctions take a bunch of time. Then you have to crop them, then arrange them in table grid in the forum format. I hope the end result is a nice/professional looking auction page.
Then I have to adjust and customize each auction page. Yes, most is copy-pasted, but not everything. There is a 90 second cool-down between each auction post.
Then I have to monitor the auctions, answer any additional questions from posts on the auction or from PMs. THEN I have to follow up with the auction winners, accept payments and arrange to pack and ship everything. I would never recommend anyone doing this. In fact: only do this if you do not have a job or are on vacation or something.
Wasn't the starting bid and increment $5 last time?
Yes, and it got a bit confusing and was an obstacle for the lower priced barrels (such as the 5 GO and 25s).
So now you can outbid your rivals by $1. And hey, if
you
are out bid, the next bid increment is only $1.
Is there any difference between the 3 different sample sets?
No. I have 4 sample sets left. I am keeping one for myself and three are up for auction. I'll grab a random set for the Set A winner, and a random set for the Set B winner and a random set for the Set C winner. The condition of chip Sets and barrels falls under the "Disclosures" section found in all my "Extravaganza" auctions.
---
| | |
| --- | --- |
| | 1 primary Indiana Grand |
| | 1 secondary Indiana Grand |
| | 2.5 primary Indiana Grand (snapper) |
| | 2.5 secondary Indiana Grand (snapper) |
| | 5 primary Indiana Grand |
| | 5 primary GO Indiana Grand |
| | 5 secondary Indiana Grand |
| | 25 primary Indiana Grand |
| | 25 secondary Indiana Grand |
| | 100 primary Indiana Grand |
| | 100 secondary Indiana Grand |
| | 500 primary Indiana Grand |
| | 500 secondary Indiana Grand |
| | 1000 primary Indiana Grand |
| | 1000 secondary Indiana Grand |
| | 5000 primary Indiana Grand |
| | 5000 secondary Indiana Grand |
| | 25000 primary Indiana Grand |
| | 25000 secondary Indiana Grand |
| | Full Indiana Grand Sample Set A |
| | Full Indiana Grand Sample Set B |
| | Full Indiana Grand Sample Set C |
All pics courtesy of @Carnth
Last edited: