Straight
Supporting Member
Joined

Oct 27, 2014
Messages

972
Reaction score

1,688
Location
This sale is for a Set from all three "Star" Ships!
All chips are mint, in box, never felted, never touched! Pacific Star chips were only moved from their cloudy storage casing for pictures (and I washed my hands
)
I have a set from the Aurora Star (Hot Stamp Tournament) and Empress Star Secondary Tournament to satisfy my Paulson addiction, I have my beloved Silver Birds Cash Set for my Bud Jones addiction and of course my Redbelly Chips. These chips I hope to sell to someone wanting to collect a Set from all three ship lines.
My apologies in advance for the quick timeline on this sale. I told myself that these chips would stay hidden and boxed for our "five year timeline"! However, as we travel the country in our "trailer"... and we start year 4 I see no end in sight to our new lifestyle and thus no immediate plans for a Redbelly Poker Room to enjoy these chips. As we only travel through my in-laws once (if that) a year I will sell these prior to our planned departure on December 29th or place them back in their safe and secure home... remaining nice and minty! It is bitter sweet to sell these but they do deserve to be used and enjoyed! The price is reflecting the rarity of the offering and I mean no offense. It will not sadden me to keep them!
No split sales for barrels or racks.

I will sell to the first member that posts their desire to buy all three sets. Price $11,000 shipped USA only. Insurance paid by buyer

IF there is no buyer for the complete 3 Ship Set by the December 26th, 2020 (midnight) then I will agree to the sale of each individual set to the first member that posts their desire to buy said set.

Sold individually prices will be as follows:
*Aurora Star (1010 chips plus 9 racks) - $5,100 shipped USA only. Insurance paid by buyer
*Empress Star (600 chips plus 6 racks) - $3,900 shipped USA only. Insurance paid by buyer
*Pacific Star (590 plus 5 racks) - $3,000 shipped USA only. Insurance paid by buyer

Payment via PayPal Friends/ Family.



1) Aurora Star Cash Set (Paulson)



$1 - 400
$2.50 - 100
$5 - 400
$20 - 60
$100 - 40

Total 1000 chips + 10 extras

This Set will include 2 extra of each chip denomination PLUS 9 brand new Paulson Racks (the 100 $20 & $100 chips won't fit so no 10th rack)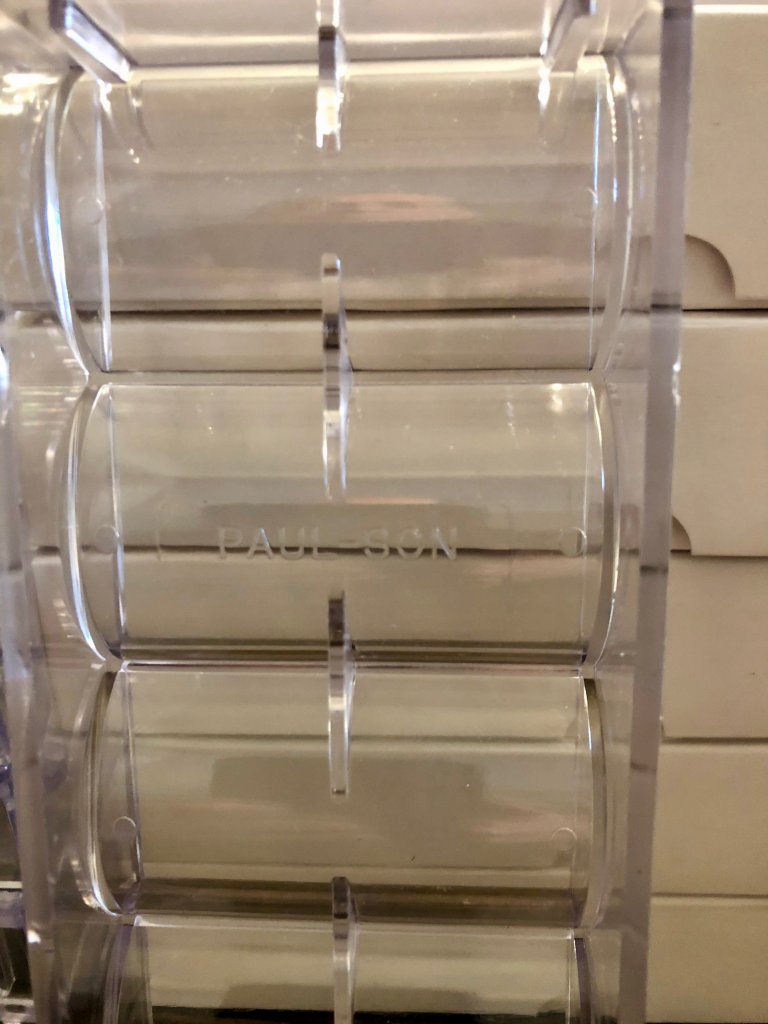 2) Empress Star Primary Tournament

(Paulson)



T25 - 120
T100 - 120
T500 - 80
T1K - 120
T5K - 100
T25K- 60

Total - 600 chips

This Set will include 6 new Paulson Racks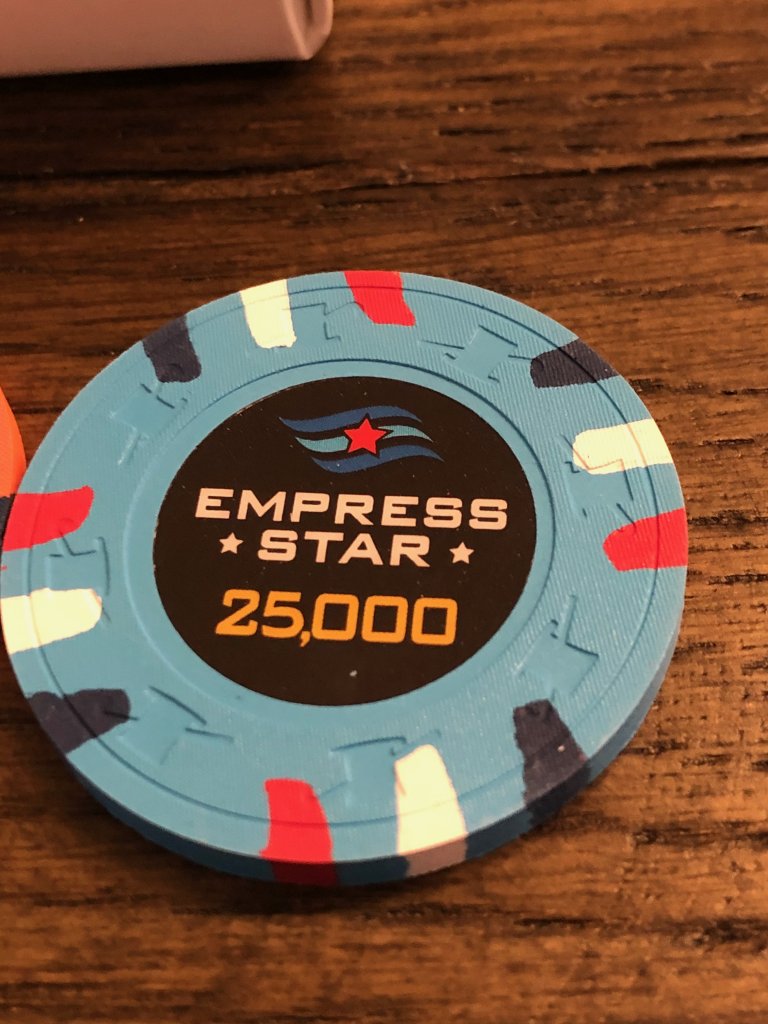 3) Pacific Star (Bud Jones)



.25 - 100
$1 - 200
$5 - 200
$20 - 65
$100 - 25

Total - 590 chips

This Set will include 5 New Paulson Chips Racks ($20 and $100 oversized and won't fit)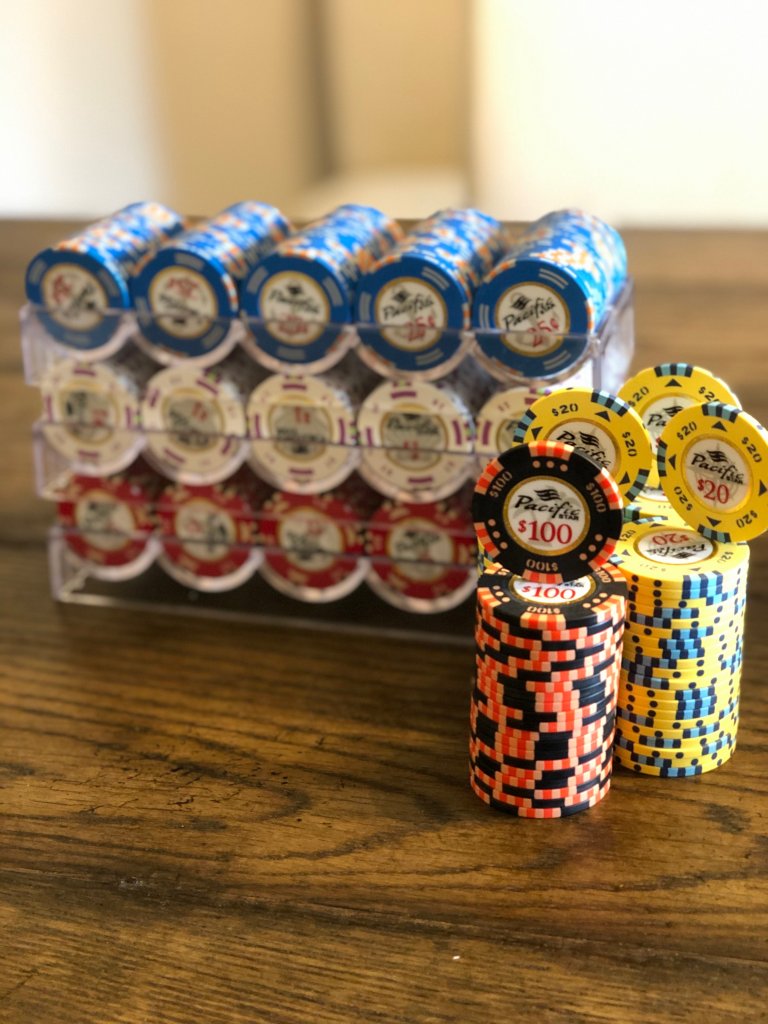 Last edited: