Joined

Dec 15, 2020
Messages

243
Reaction score

407
Location
On to my 5th table build, 3rd one with cup holders in rails. I prefer this style over the ones in the race track. Slightly more difficult with the upholstery, but worth it with the bigger and uninterrupted playing surface.
standard 4X8, trimmed off 2" width to accommodate being able to slide under bed for storage. 7" rail. Measuring out cup holder rails somewhat a pain to get exact spacing. I'm sure there is a mathematical way to do it. But I'm lazy. And I can eyeball pretty damn good when sober. About 21.5" spacing works for this one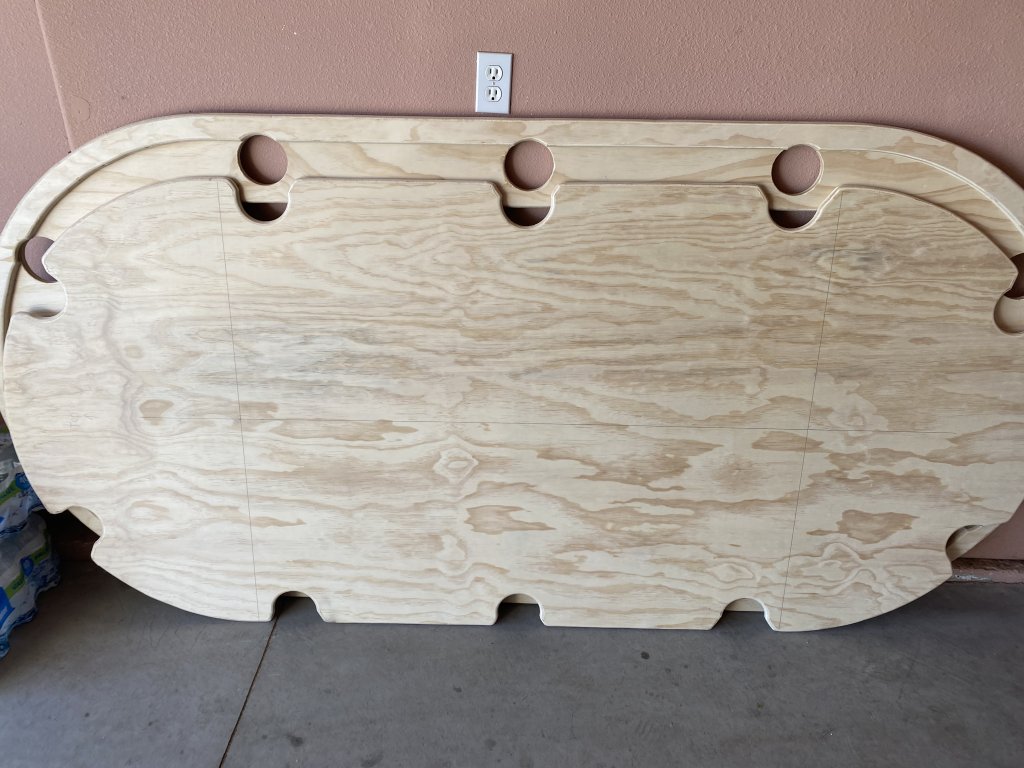 template for cup holder spacers to raise them off rail slightly in order to make room for rail foam. Gluing bottom rail ring (2")
Bottom of rail, as it sits on top of the banquet table I'm scabbing the legs and frame from. I love Craigslist. Best $20 I've spent for a table build
mounted legs and frame. Had to cut and weld the frame to shorten it about 2' from the original table. I really like using that frame support, keeps the table from flexing when leaning on it, very important when only using 2 sheets ply, as opposed to 3 when you have a race track and full bottom support piece. But those race track tables are heavy as shit... this is way better for my skinny ass to carry up and down stairs
ready to glue the cup holder spacers on.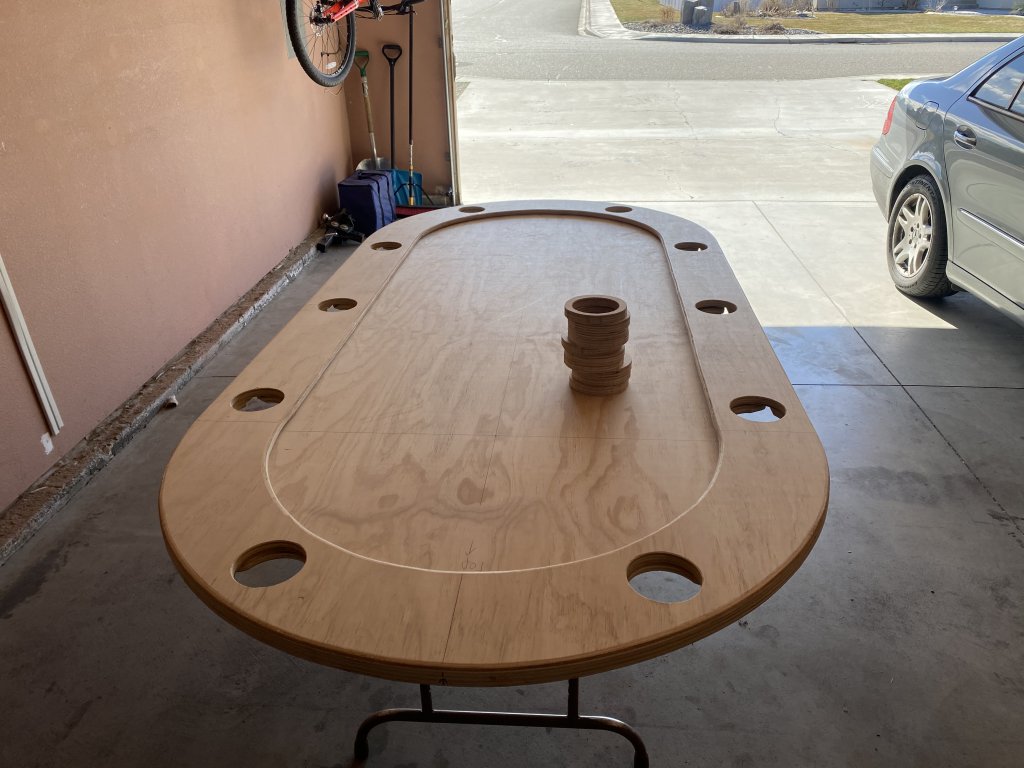 trimming the foam. Using an electric turkey slicer. The only thing you should ever use this tool for. Because turkey is gross. Stop that shit. Cook a rib roast for thanksgiving. Your family will thank you
one last pic of foam glued to the wood. Super 77 spray glue, make sure you wash your hands before taking a pee. Trust me
full disclosure. I was gonna take some in-progress upholstery pics.... but I didn't. i fucking hate upholstery work. My least favorite part of the project. I'd rather take a swift kick to the jollies than do upholstery for 2 days. And yes, it took me 2 days, because I fucked up the rail and had to cut it off and redo it.
did I mention I hate upholstery??
anyways... upholstery done. Cutting in cup holders. You can see that 3.5" buna o-ring I use for the cup holders. Really saves the vinyl from the sharp edges. Second best $10 product you can buy for your yable
All done. Let's see how long she stays clean for.
thanks for reading.
cheers!!