Joined

Feb 27, 2019
Messages

810
Reaction score

923
Location
Shortly after joining this forum and attending my one and only meet up I broached the topic of adding onto our house for my Poker Room with my wife?! Wife in turn demanded a second full bathroom (again!?) I host BBQ Parties and rather large get togethers all year as its a great way for me to network my Real Estate Business. My last pre-covid Superbowl Party had 70 or so past clients show up! My house just isn't fit for what we do! I kept running the numbers and with the Real Estate boom figured out to buy what I wanted vs remodeling and spending more then I paid for my house originally(#pukeemoji?!) I would start to loose money in just 6 years! So after almost a year delay due to covid we embarked on a whole house remodel. Wife agreed I can add a 600 square foot "sunroom" (so the village we live in approves it!) but reality is, its a Man Cave! For insight as to my wife, she is a really cool woman, I want chips and don't want to spend my cash, buy her a coach purse and its all good!! For our Anniversary few years ago, we went to Vegas and she did a spa day while I played in the Monster Stack, Day two of the tournament was our 12th anniversary and she chilled at the RIO while I played 11 hours of poker on our day! So when I purpose a 70k remodel including custom poker table, hell no wasn't the response like most wives would give. Hers was you promised me a master bath, and now lets do the kitchen too. Her must have in exchange for the custom poker table, a hot tub?! SO in January we locked in our design (sorta!) got the permits and February I started the destruction, and what has since been dubbed the "war zone" Pictures below, Step one, the inside, and we are 65 percent there or so! I've done 100 percent of the demo and framing(no pro by any means, but passed first rounds of inspections, good friend of mine is a master electrician and I sold his house for a good discount so he is running all new electric for a good discount! I hired all the plumbing, where I can do a lot, it is simply not for me! Kitchen cabinets were done by a local company, and needless to say we are in love with them! So much so we are adding a mini bar in our great room through them! Goal is maybe next year host a Fall Meet Up and if we luck out, catch a Packer Game! Worst case, play Cards as we cheer them on!
Kitchen before, prior and during the War!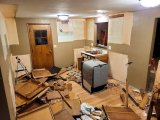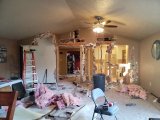 My son is a trooper, always willing to load the dumpster...
I may have bribed him "ALOT" My 12 year lab was so confused! We were worried about her health for a while, she was so sad!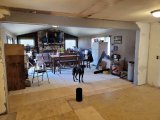 New Kitchen appliances haven't come in yet, maybe end of summer they tell us! Getting a stand alone Fridge and Freezer! Still have some lights, electric to run and vent above the stove, but coming along nicely!
End of the main hall we had 2 bedrooms, now one master suite in the making!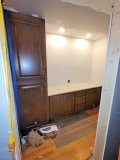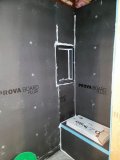 Bench, Added a Rain Shower as well as a normal shower head! Tile in progress!
Made it through all the demo and 99 percent of the framing with 0 injuries! Had an old chimney in one of the bedroom closets that I removed and I had to scab a 2 x 10 in the floor joists for code... managed to shoot myself with my nail gun!! Needless to say I screwed it in!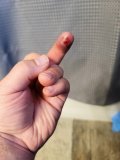 Hopefully my next post my poker table is all ordered! I have the felt design in mind, still not sure on my chip relabel them yet... almost ready to pull the trigger on a CPC set as well, again kicking around themes!! So many decisions to make!