I have been asked more than a few times what is going on in the Goldfish bowl given my, what appears to be, erratic buying and selling patterns so I figured I would list all my sets in one place for those who care/want to see what I have been doing for the past two years plus. I will say 2 things: (1) (as I have said before) it has been a fantastic chipping journey so far, not only building awesome chips sets, but more importantly meeting, and interacting with, some all around great people. I am super excited to attend
@CraigT78
DiD 2022 in two days, where I will catch up with chippers I have already met as well as see for the first time many that I have not yet had an opportunity to meet in person; and (2) YES, I have changed my mind more than a few times during my journey. I have bought chips, sold them, and bought them back a number of times. Buying and selling the same chips over and over again, a stash of nail polish remover that would make a nail salon jealous, many cleaning products including a salad spinner and ultrasonic - yes, my wife thinks I am crazy. Oh well, so be it. Now, on to the chip sets. I currently have 9 useable chips sets. Hope you all enjoy this pics!
First up is the chip set that started it all, Animal House 1.0. Created with the help of
@p5woody
, this set still sees action to this day. This set has gone through a few upgrades over the past year or so (Changed the $500s and the $5s). In fact, this is probably the second most used set in my collection.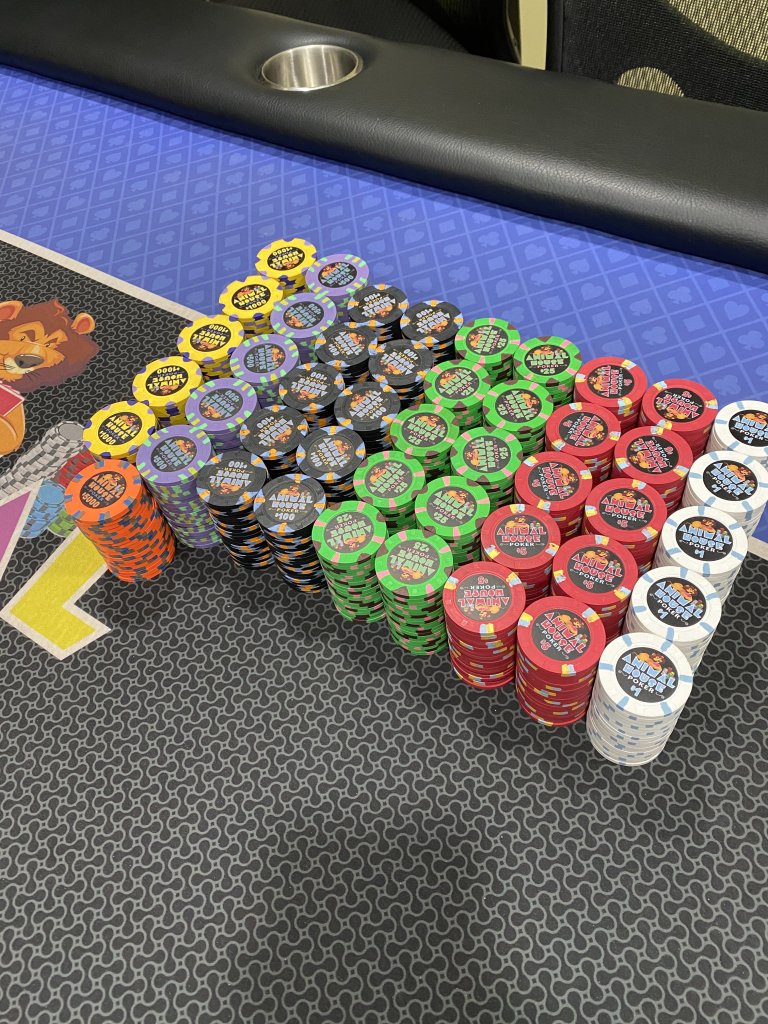 Second, another
@p5woody
creation, Animal House 2.0. A more bad ass upgraded version in the Animal House series, using a combination of THCs and IHCs. This set is brought out only for special occasions. Recently, I added .25 cent chips to expand the range of this chip set. And to answer the question you may be thinking…… YES, Animal House 3.0 is in process.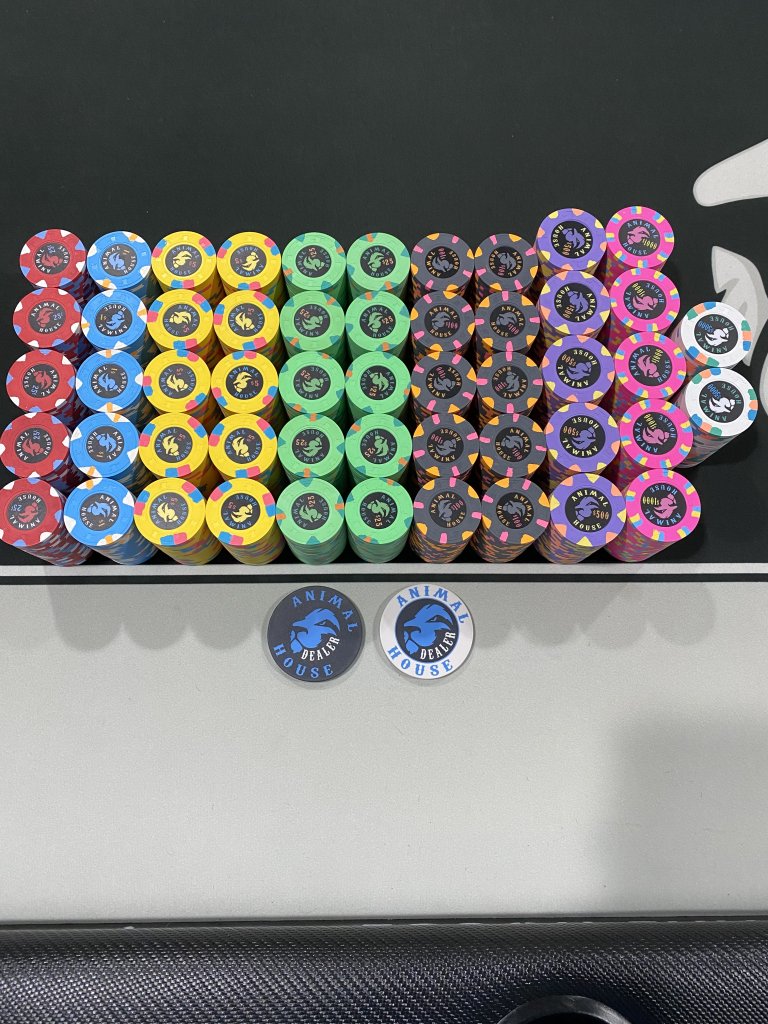 Third, is the first of two IHC sets. Those that know me know that I love 43 mm chips, especially for high denominations. So why not have a set made up of almost all IHCs. My BTP set, sets a high bar. To complete the set I relabeled Paris $1s as BTP 1s and RPC $5s as BTP 5s. Can never go wrong with a bear claw (sloth claw) set.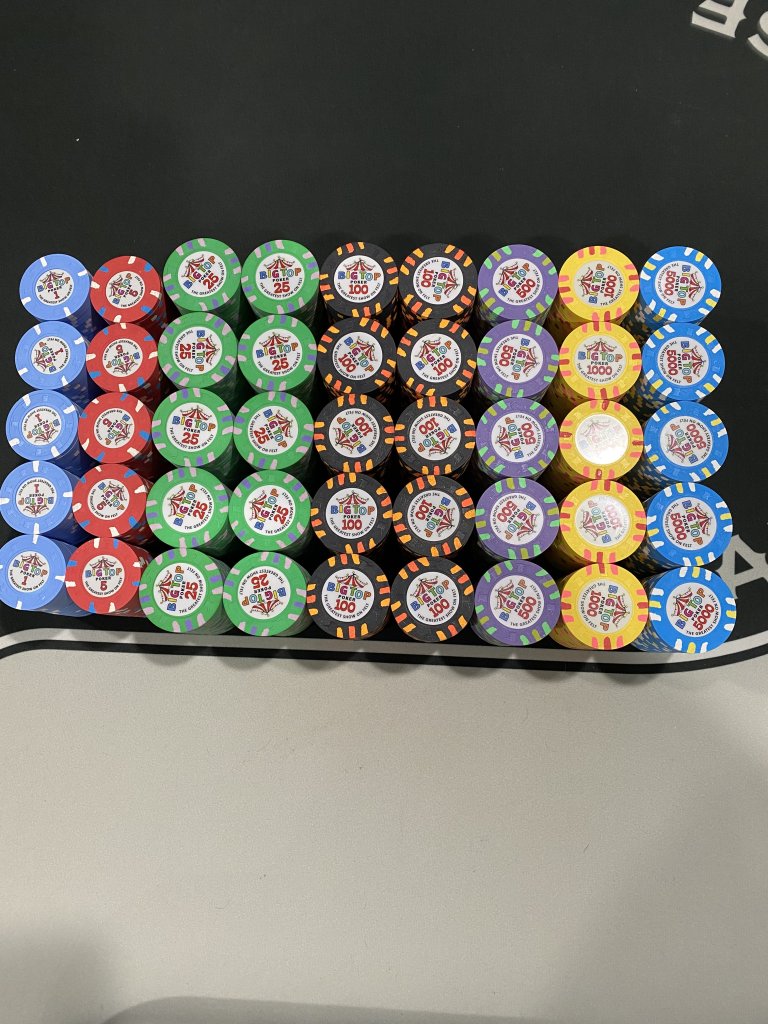 Fourth, is my second IHC set. For this set, I relabeled ES .25s as SB 1s and SB .25s as SB 5s. This set has a bit more fire power cause I think everyone needs a set capable of handling a
@Windwalker
game in case he happens to come to town. Big boy chips for a big boy game……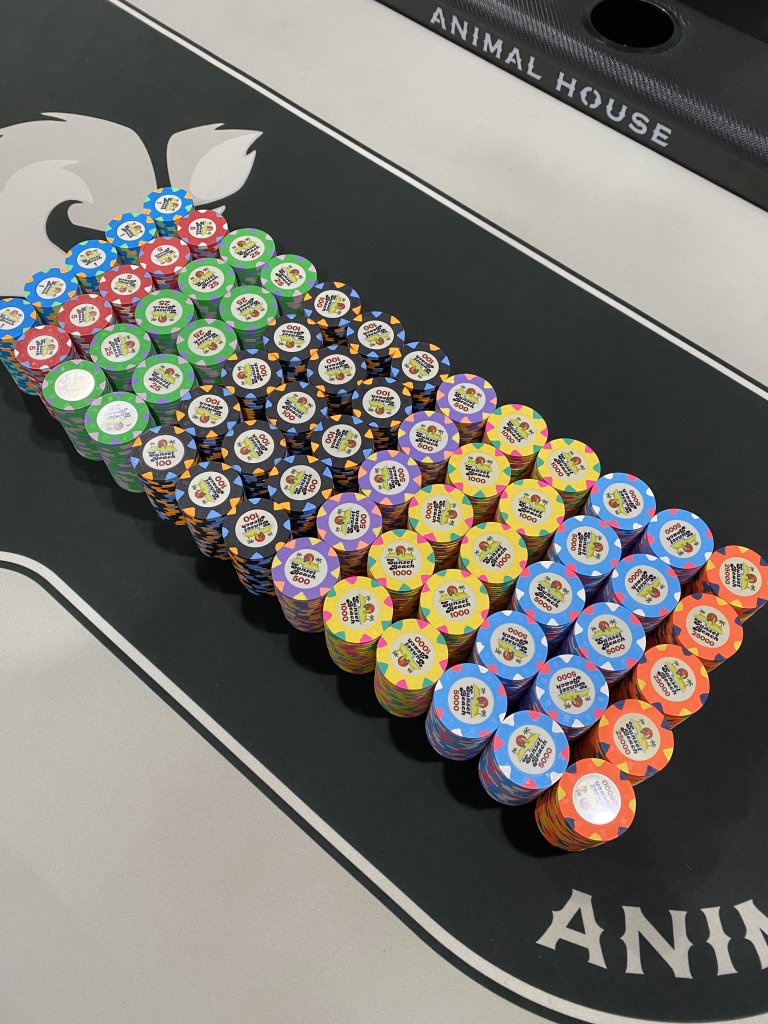 Fifth, is my FLV set. THC, leaded (except for the IHCs) and awesome. As u can see, I added RPCs as $1k and Blurpurple chickens as $500s. This is my workhorse set, the most used set in my collection. I love everything about this set, especially the sound the leaded chips make when being shuffled.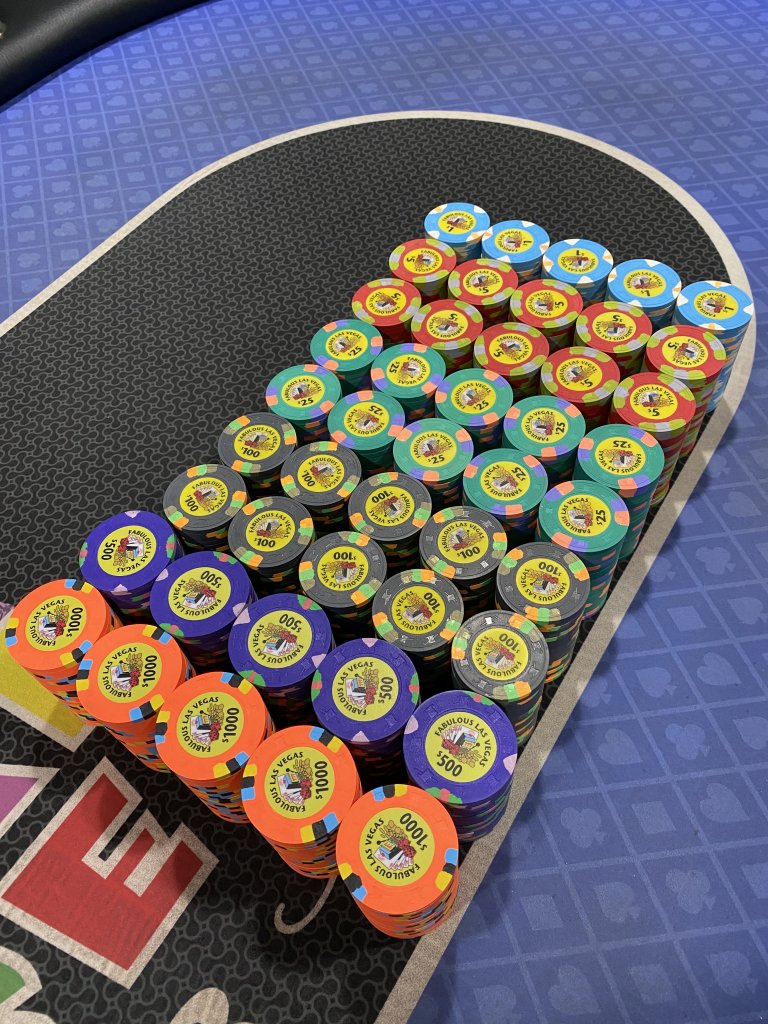 Sixth, in my effort to be a well rounded chipper, I thought it would be a good idea to have a few micro stakes options. Given my love for everything Sunset Beach, I thought the SB cash game set would be the perfect set for this category. This set was recently completed with the addition of a rack of $100s (which I had, but sold, then bought back - so it goes). Time for a PCF game. Let's go
@Ben8257
and
@FordPickup92
!
Seventh, my second micro stakes set. Card mold set. While it's not Paulson, I still love it. Great addition to the collection IMO.
Eighth, my Matsui Radisson set. I had to do some sanding to make these chips a little less slippery, but these chips are awesome. I have only used this set a few times, but people really enjoyed changing it up.
Ninth, the newest addition - the Rabbit Hole. It was tough getting the spot progression right cause I was locked into using the BTP $2s as $25s, but with the help of the community I think the set turned out nice.
Last edited: