Joined

Apr 23, 2019
Messages

860
Reaction score

1,481
Location
AUCTION ENDS ON

Dec 16, 2020
AUCTION ENDS AT

6:30 PM Eastern Time
STARTING BID

$350
MINIMUM BID INCREMENT

$5
PAYMENTS ACCEPTED

PayPal F&F
PayPal G&S
SHIPPING TERMS

Winner Pays
SHIPS VIA

USPS Flat Rate Box (multiple)
AUCTION GUIDELINES

The highest bid at the closing time listed above will win. If there is a bid within 5 minutes of the closing time (original or extended closing time), 5 minutes shall be added to the time of the last bid, until there are no bids within the final 5 minutes. Because seconds are not displayed on post timestamps, these examples will be used as a reference.
No Reserve. The Starting Bid of this auction will be treated as the Reserve Price.
Bids must be placed in whole US dollars, using numbers in minimum increments as stated above. (bids using images or spelled out numbers are not valid)
All bids are to be placed openly in this thread. No bids via Private Message/Convo. Sellers are not permitted to bid on their own auctions.
The seller reserves the right to edit the listing to clarify statements or correct any errors.
Once a valid bid is made, the auction can not be canceled. Bid edits and/or retractions are not permitted. Violations of this rule will result in discipline at the discretion of PCF Admins and/or Moderators.
PCF (its Owner, Admins, and Moderators) are not responsible for any actions or outcomes that take place in this auction.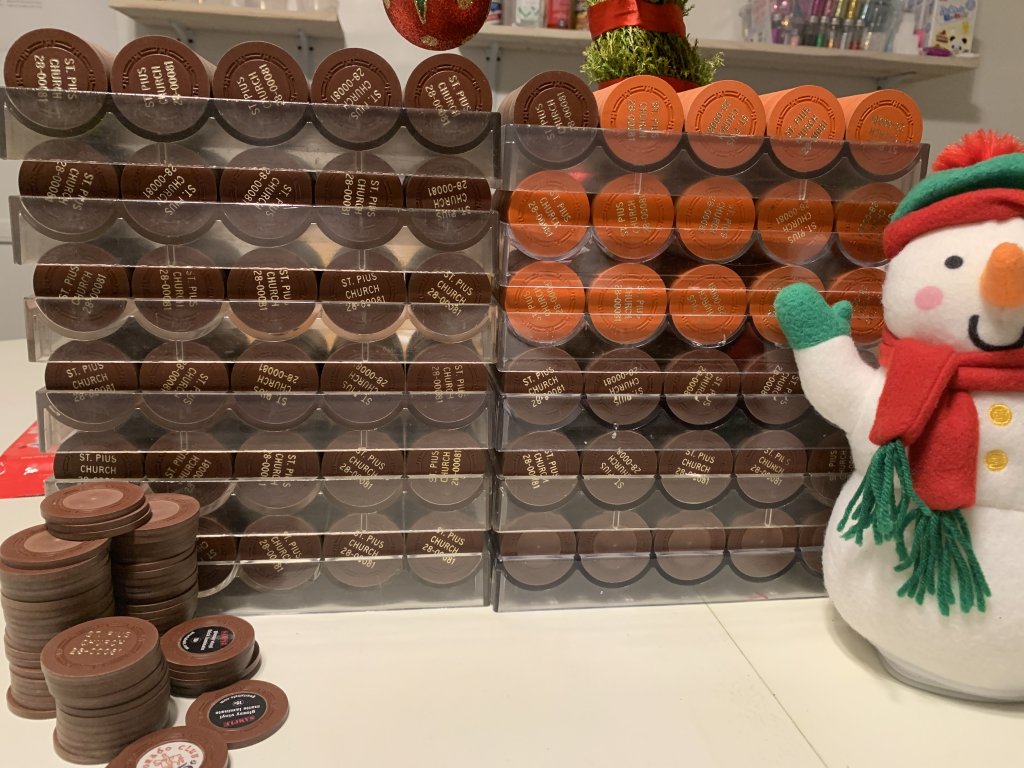 CHALKY MINT. Oils up amazing. (Tested, but chips are un-oiled, 90% of them...brand new, a few shuffled and that's it.)
1250+ chips!!!!
Stack great,
NO spinners to speak of.
820+ mint, CHOCOLATE HS H-molds.
280 Mint ORANGE HS H-molds.
And
143 milled chocolates.
The orange chips have some black spots on sides that wash off pretty easily with magic eraser or any bit of elbow grease. . The brown chips don't have that at all.
I built this set, I love it. But my HSI set is now a limit set, and I have too many other chips to mill, so realistically I'm not going to be able to mill all these, and I want to play my HSI for the foreseeable future. Never really played these at all.
Can easily do 800-200 mint untouched chips if you just want a cool 1000 piece HOtstamp set as-is with TONS of spares. Or finish the milling for a huge 1200 piece custom vintage inspired limit set.
Loved the look of this eldorado frac sample that gear had sent. Textured laminate looks great on this chip.
I would probably mill and keep this set, but I have another 2700 chips that I need to mill, these are last in line for milling because they also work great as non denom solids, trying to recoup some chip equity after going big on the HSI set.
Of the 12 racks in the first picture on top, the bottom right chocolate rack is milled. And the spares stacks. 1100 not-milled mint chips.
Happy bidding and good luck.
Merry Xmas!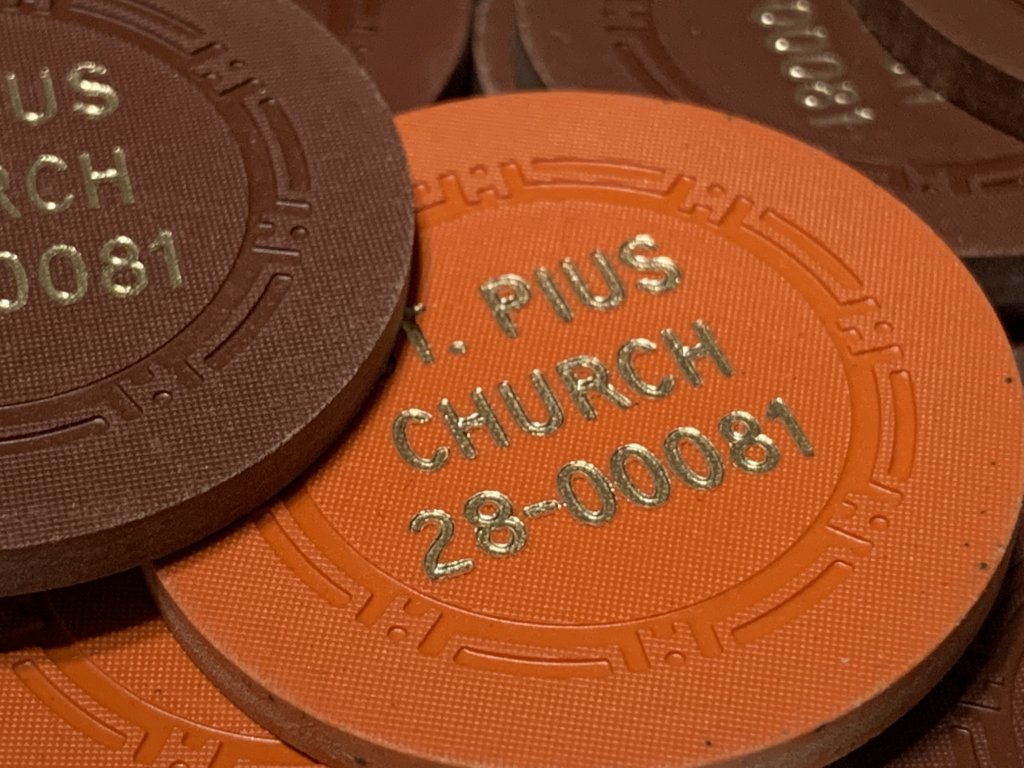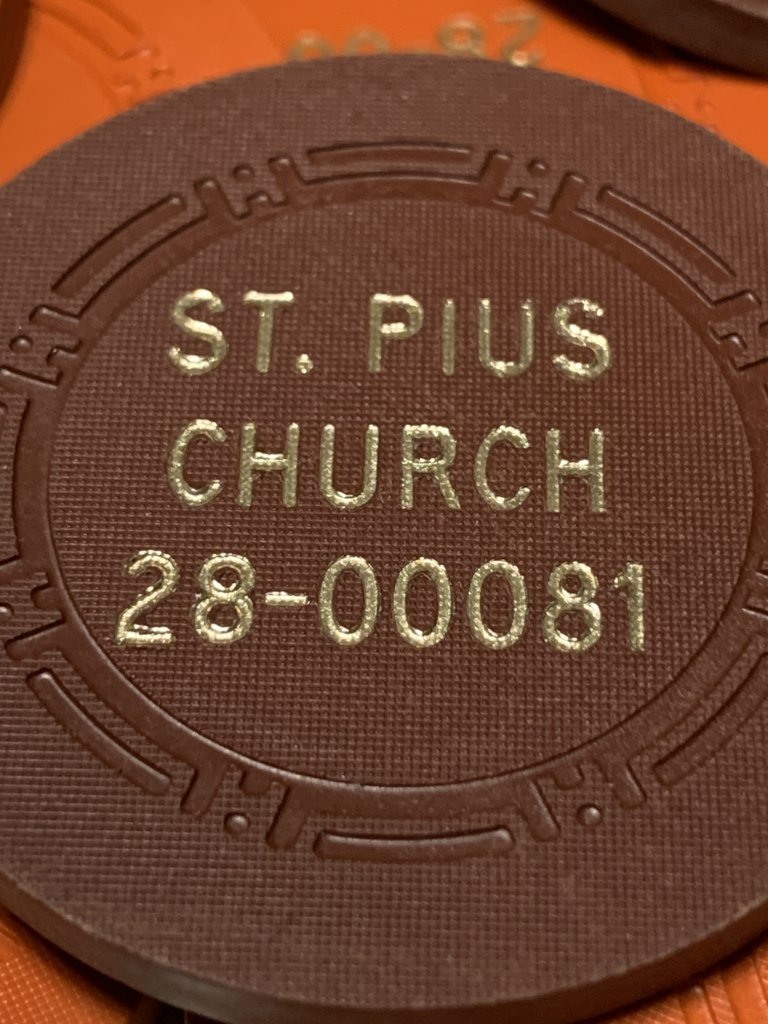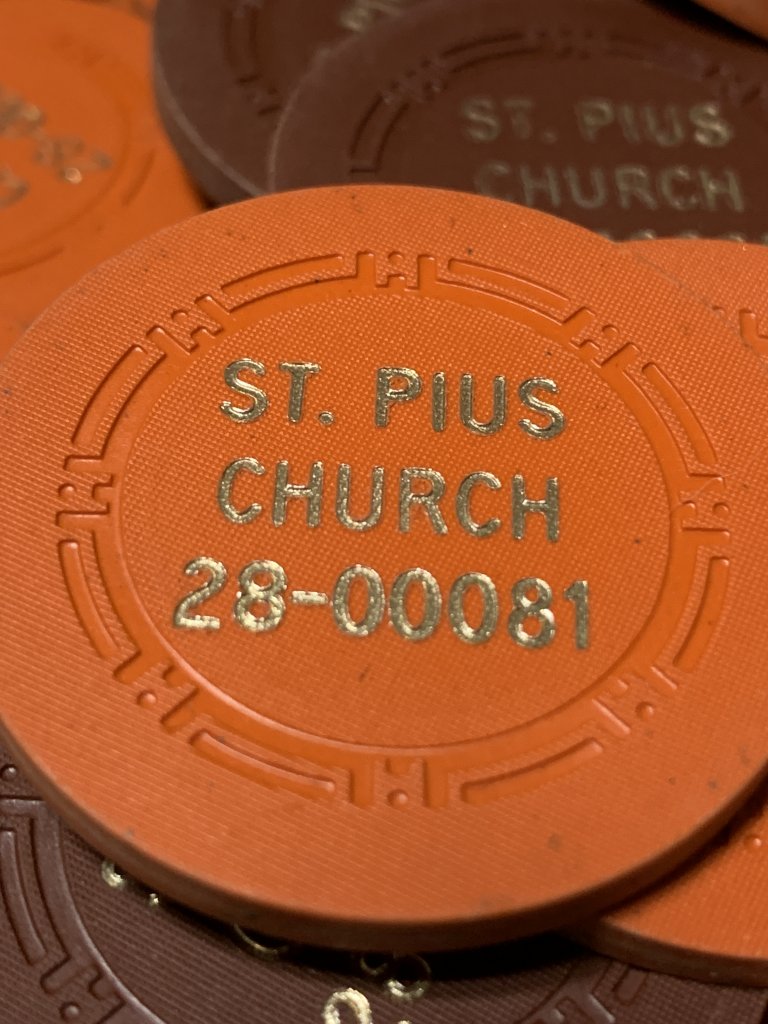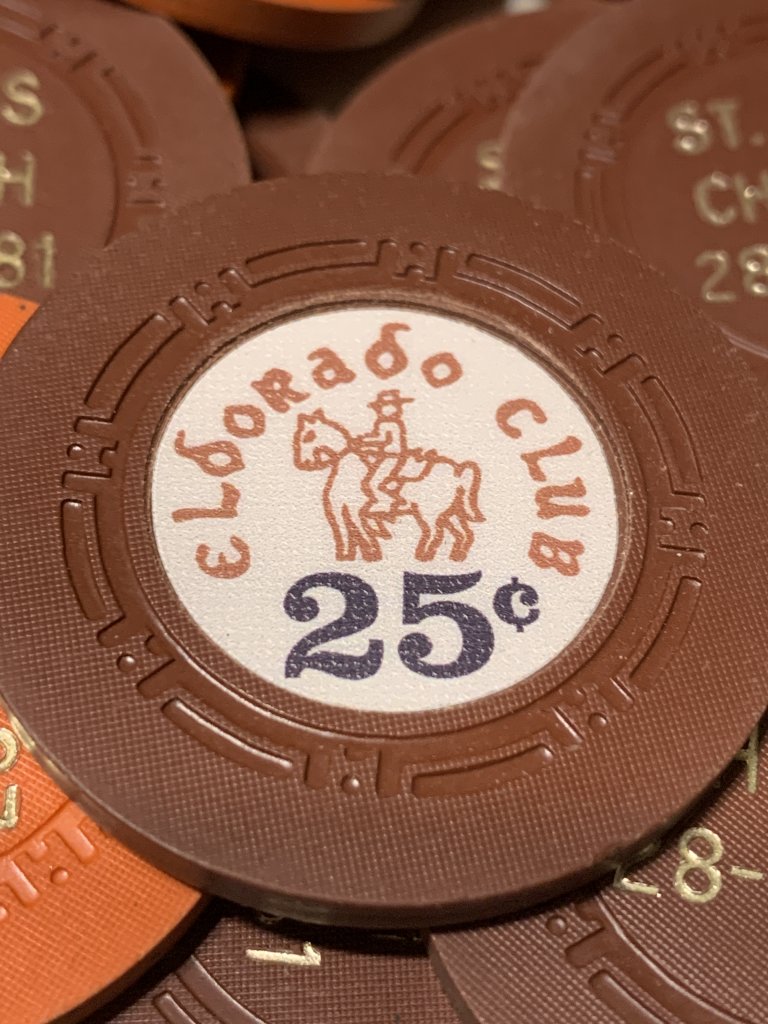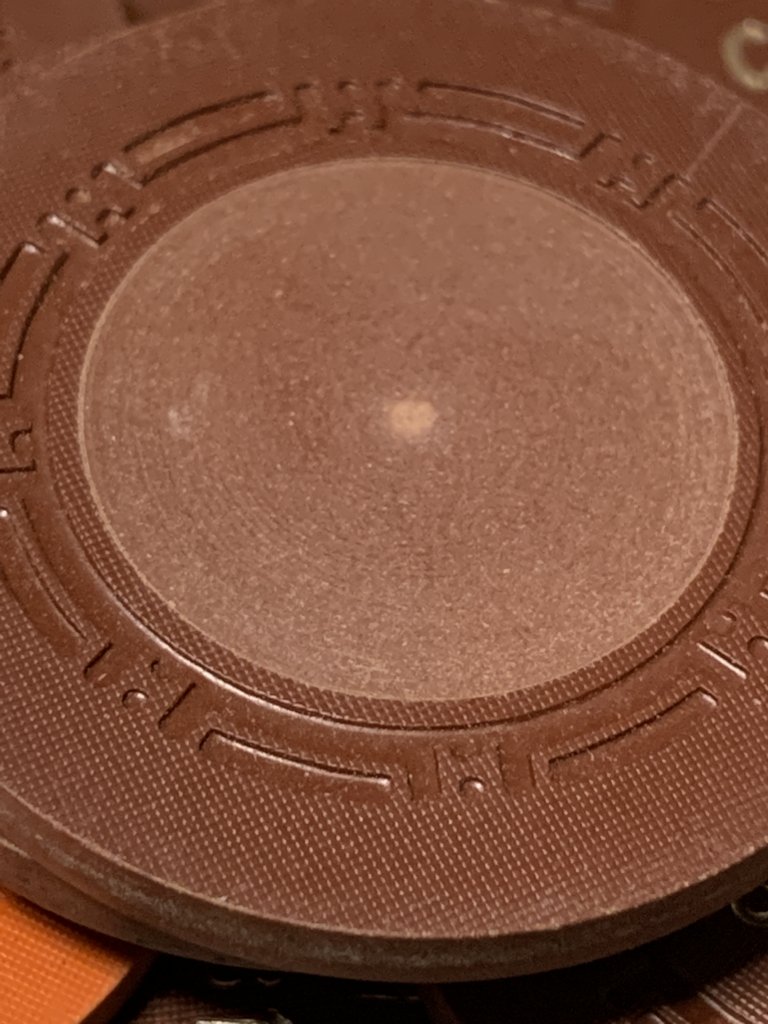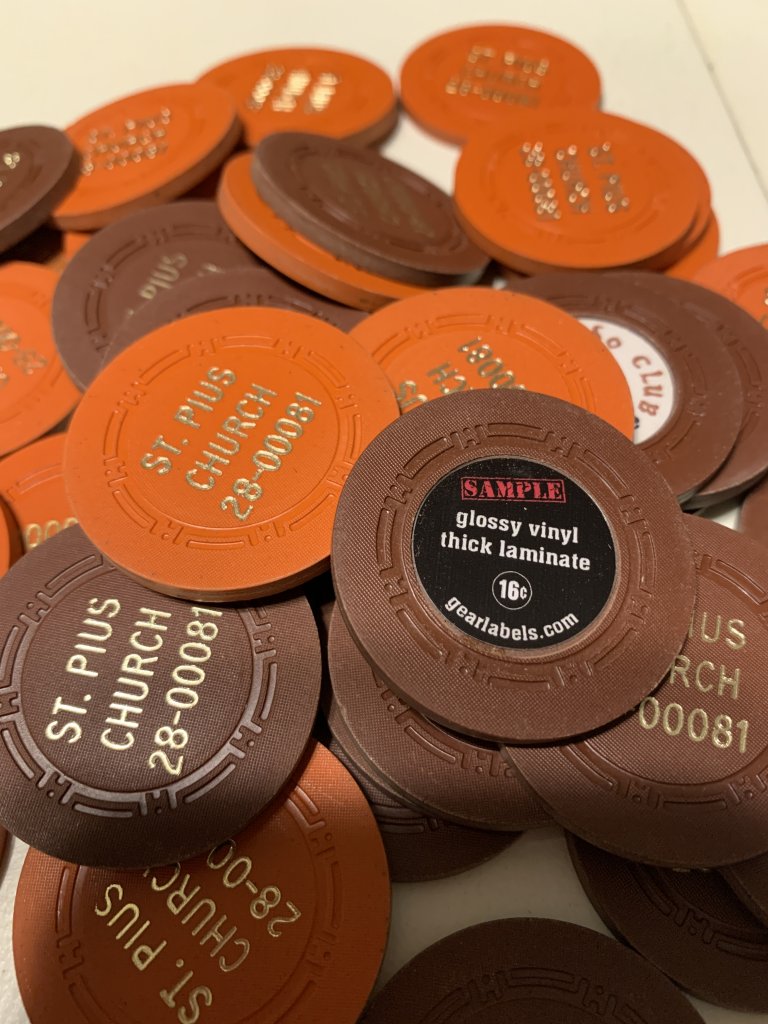 Last edited: