The Barrel House
Owner:
@Irish
Designer:
@Johnny5
Manufacturer: CPC
Mold: HHR
Showcase thread:
https://www.pokerchipforum.com/threads/the-barrel-house-custom-cpc-hhr-tourney-pron.41944/
Thoughts from the Owner:
Ever since dipping my toe into the chipping hobby nearly 15 years ago, I've wanted to build a big ASM/CPC tourney set around a Jack Daniels / bourbon theme. But, nailing down a specific theme that I really loved proved to be elusive. In 2018, my father & I made the trip to Lynchburg Tennessee to visit the Jack Daniels distillery. The distillery has dozens of barrel houses on site, and I found them to be really neat buildings - very rustic and almost dingy, but with an interesting, down to earth character that I felt perfectly matched the vibe I was trying to recreate in my upcoming basement poker room renovation. The trip solidified my desire to go with a barrel house theme for the set, and thus "The Barrel House" was born. During trip, I had snapped a photo of a barrel house sketch that's on display in their visitor center; I sent that over to
@Johnny5
along with some inlay design ideas to incorporate the logo of a whiskey related social club I belong to, and he worked his magic the rest of the way.
For chip colors, I wanted to keep to the standard green/black/purple tourney lineup and go from there. I have two personal pet peeves when it comes to my chips: I gravitate to chips that pop with vivid contrasting colors between the base color and spots, and prefer utilizing spot patterns that allow the base color to take precedence and define the chip. I had one chip in particular that's been more or less set in stone since CPC introduced DG Katy Perry - that was my T100, and it's still my favorite chips in the lineup. I built the rest of the set around that chip, drawing color & spot inspirations from several of my favorite sets, including Casino Newfoundland, Ambassador Plaza and Lakeshore Inn. I included both a T20k and T25k chip in the lineup, which I always get questions on. The simple answer is that I couldn't make up my mind which denomination and chip design I liked better, so I just got both! The latest edition to the set came in a year or so after the main set - a 44mm scroll mold bounty chip that was definitely worth the 17ish month wait
I actually designed this set as two sets - primaries and secondaries. I thought it would be neat to have two different sets, each playable for a two table tournament,
but
similar enough that they could be combined into one big set in the event that I ever got my act together and ran a larger 3-4 table tournament, like a PCF meet up. I had the pleasure to finally put this idea to the test this past summer at Jammin' in Jersey's inaugural main event, and it worked out even better than I could have expected!
Set Denominations & breakdown:
Primary set:
240 - T25 - DG Green 3V12 Retro Green / DG Yellow
240 - T100 - Black 4A14 DG Peacock / DG Green
100 - T500 - Blurple 4DSA316 DG Peach / Bright White
140 - T1000 - DG Tiger 314318 DG Yellow / DG Peacock
60 - T5000 - Imperial Blue 4D14 Light Blue / DG Tiger
20 - T20,000 - White 3143DS18 Blue / Mandarin Red
20 - T25,000 - Canary 3143DS18 Dark Blue / DG Peacock
Secondary Set
240 - T25 - DG Green 3V12 Retro Blue/ Bright White
240 - T100 - Black 4A14 DG Peacock / Light Blue
100 - T500 - Blurple 4DSA316 Light Green / Retro Lavender
140 - T1000 - DG Tiger 314318 DG Retro Blue / DG Arc Yellow
60 - T5000 - Imperial Blue 6D18 Bright White/ DG Tiger
20 - T20,000 - White 414418 Blue / Green
20 - T25,000 - Canary 414418 Blurple / Retro Lavender
Bounties
50 - 44mm scroll mold - Retro Red 4DSA18 DG pink / Bright White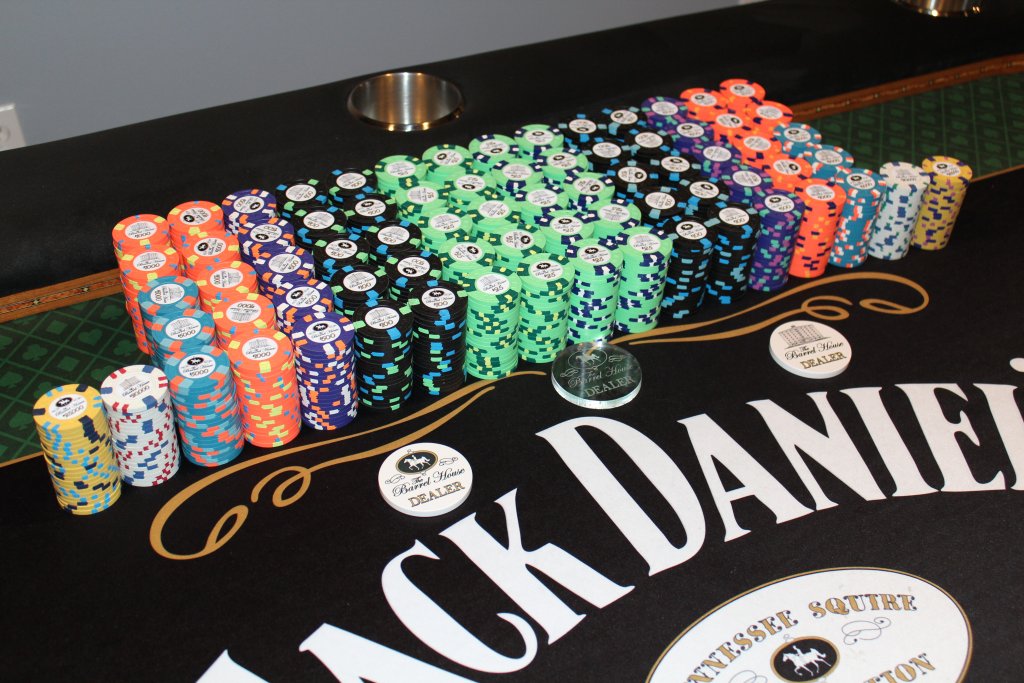 Quotes from the community:
"OMG. A+++++ for you. That primary 5K.
" -
@Changster
"EPIC! Congrats on your awesome new sets!" -
@Toby
"Incredible sets. Congratulations!" -
@MarquetteMonkey