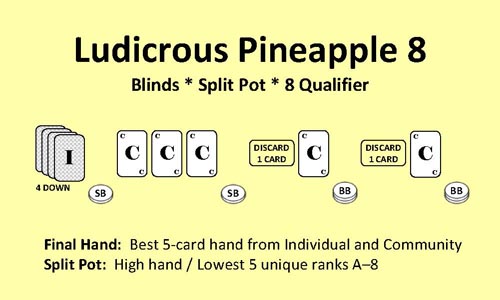 abby99's Mixed-Game Cards
Updates posted 09/14/2018:
Added Short-Deck (6+) Hold'em, 5-Card Double-Board Omaha, and 2-7 Drawmaha.
Updates posted 07/06/2018.
No new games, one new card, and various clarifications and enhancements. Thanks to @inca911 and @Jayvee94 for their contributions.
Updates 2017:
We now have 138 unique games and 204 cards (69 big-bet and 135 fixed-limit cards).
Updates 12/20/2016 and 12/20/2016.1:
Added several new games and more big-bet cards.
Update 10/02/2016: Added Chowaha 8; updated Chowaha; noted maximum number of players on additional cards.
Update 09/11/2016: There are now 100 different games in the collection. New games in this version: Four-Before, Oklahoma (Triple Flop Omaha 8 with a twist), Super Razz, Super Stud, and Super Stud 8. Formatting has been improved.
Update 08/25/2016:
T
wo additional versions of the PDF file are now included in the ZIP file. The first has a layout of 4 cards per page (2x2), suitable for printing on 8.5x11 sheets of card stock. The second has a layout of 9 cards per page (3x3), suitable for use as reference sheets. The major changes from the previous version are (1) Revised Criss Cross Omaha, which had the instructions for the high/low variant, and (2) improved text formatting.
_______________________________
The phone/tablet friendly PDF file is bookmarked, and the blue headers in the Contents section are "go-to" links to the eight major sections. The bookmarks work in Adobe Acrobat Reader. The Word versions of the underlying files are also in the .ZIP file.
Printing Options:
Print on colored 3x5 index cards or on card stock cut to size. Alternatively, add a colored background to groups of cards in the PDF file and print them on white index cards or card stock. Cards may be laminated, inserted into card sleeves, or used as is. Consider personalizing the cards by printing your image or logo on the back.
@abby99
is sharing these files as is, although she would appreciate it if you would let her know should you spot a typo or any other error. The files will be updated periodically. Suggestions are welcome.
These files are available for personal use only, with the condition that you not make sets or have sets made for resale or for a profit of any kind, or use them for commercial purposes. By downloading the files you agree to these terms.